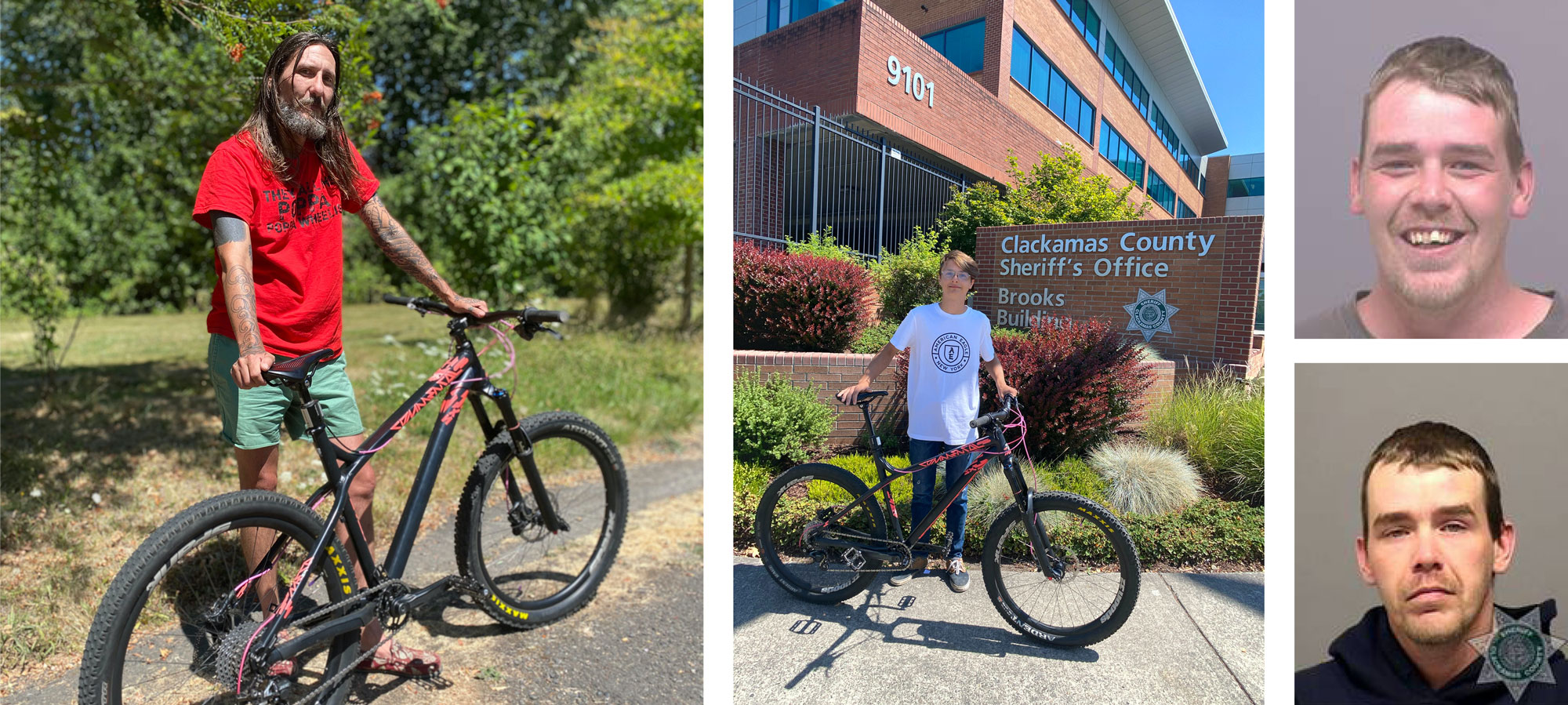 Photos:
On August 4, we helped reunite Dan Wille with his stolen mountain bike. In an unusual twist, this case sparked a friendship between Wille and the young man who was selling the bike online.
The young man was unaware the bike he'd purchased to fix up and re-sell had been stolen. (James Lee Adkins, the bike-theft suspect who sold the stolen bike to the young man, is under investigation after his February crime-spree arrest, detailed below.)
Here's the story:
Dan Wille (photo attached) had contacted the Clackamas County Sheriff's Office to report that he'd seen his mountain bike for sale online.
One of our deputies went to work, making contact with the seller.
The seller was identified as Rafael Bodnar, 16, of Portland. VERY IMPORTANT NOTE: Rafael Bodnar is NOT a suspect in this case. Rafael has been purchasing bikes, fixing them up, and selling them as a hobby. He was unawarethis bike had been stolen. 
Rafael was happy to drop the bike off at the Sheriff's Office so it could be returned to Wille, even though Rafael would lose his $500 investment in the bike he'd purchased to repair and re-sell. A photo of Rafael returning the bike is attached.
Deputies delivered the recovered bike to Wille yesterday at his residence. Wille was grateful for the assistance in recovering this bike and the attention his case was given, telling us, "Thanks to the Clackamas County Sheriff's Department... Rafael for returning the bike, the media for putting my story out there and getting my bike back to me as it was, and everyone else who sent photos and kept and eye out for my bike as well." (Media can download sound-bite video of Wille delivering this message here.)
Wille also spoke highly of Rafael, and told us the two have been communicating via text. Wille is well-connected within the local biking community, and has offered to help Rafael get a job at a bike shop if he wants to get more experience as a mechanic. Wille is also considering organizing community support to raise the $500 Rafael lost.
Our deputy is now looking into the person who sold the stolen bike to Rafael: James Lee Adkins.
James Adkins is well-known to authorities, with bike-theft cases proceeding through the court system. Careful readers may recall that Adkins was the subject of our Feb. 14 press release, reproduced below, in which he was arrested after a bike-theft crime spree that included "paying" for a bicycle with an envelope full of napkins and riding off with a 12-year-old's bicycle during a "test ride."
Below are links for two organizations that allow you to register your bike and will assist you with recovering it if should be stolen:
NOTE TO MEDIA: Both Dan Wille and Rafael Bodnar are willing to speak with reporters. Contact PIO Sgt. Mendoza if interested.
_____
EARLIER (Feb. 14, 2020) -- Serial bike thief steals for-sale bicycle using envelope of napkins instead of money; also rides off with 12-year-old's bike during 'test ride'; victims willing to speak to media
Please reference CCSO Case #s 19-020691, 19-025748 and #19-026727
The Clackamas County Sheriff's Office has submitted several criminal cases to the Clackamas County District Attorney's Office regarding James Lee Adkins, 33, of Portland.
Adkins is a serial bike thief who has stolen bicycles for sale under false pretenses -- including presenting an envelope of "money" that was instead filled with paper napkins, as well as riding off with a 12-year-old boy's bicycle for a "test ride" and never returning. Victims are willing to speak to the media.
A breakdown of the relevant cases:
Case No 1:
CCSO Case #19-020691
Adkins 'buys' a bike with an envelope full of napkins
Sept. 1, 2019
The crime spree began on September 1, 2019, when James Adkins was identified as the suspect who stole a bicycle from a victim named Daniel.
Daniel had posted a mountain bike for sale on Facebook. A person named James Adkins responded, and said he wanted to purchase the bike. They agreed to meet at Clackamas Town Center. Adkins showed Daniel an envelope of money and verified it was the agreed-upon $900.
But while Daniel had his back turned to remove the bike from his vehicle, Adkins switched the envelopes.
They made the exchange, and Adkins rode off with the bike.
Daniel later discovered the envelope he was holding contained only napkins.
Case No. 2
CCSO Case #19-025748 
A 'test ride' leads to a bike theft from a 12-year-old boy
Oct. 29, 2019
Following this incident, we took another report of James Adkins stealing a mountain bike from a victim named Jennifer. On October 29, 2019, Adkins met with Jennifer and her 12-year-old son; the boy's mountain bike had been listed for sale on Facebook for $1,395.
They agreed to meet at the Clackamas Fred Meyer.
Adkins asked if he could take the bike on a "test ride" in the parking lot.
Adkins reported rode a loop around the lot -- and then exited the lot with the bicycle, without notice and without paying for the bicycle.
After trying to find Adkins, the victims attempted to message and call Adkins, but he would not respond.
A screencap of an online ad in which Jennifer talks about the 33-year-old's brazen theft from a 12-year-old boy is attached.
Case No. 3
CCSO Case #19-026727
Shoplifting, meth -- and an arrest warrant
Nov. 11, 2019
On November 11, 2019, James Adkins was arrested for shoplifting and then subsequently for possession of Methamphetamine. One of our deputies was dispatched to Macy's, located at 12100 SE 82nd Ave. in Clackamas Town Center.
Adkins had been detained by loss-prevention officers for shoplifting. The deputy arrived, reviewed the facts of the case, and placed Adkins under arrest. During processing, it was discovered Adkins was in possession of Methamphetamine. He was transported and booked at the Clackamas County Jail.
The felony charges associated with these cases went to the Grand Jury on January 30, 2020. After the Grand Jury reviewed the case, a judge issued warrants for the arrest of Adkins.
Feb. 11, 2020: 
A Portland Police arrest; day in court set for March 11
Adkins was stopped by the Portland Police Bureau for a traffic violation on February 11, 2020. They arrested Adkins on two felony warrants out of Clackamas County and one misdemeanor warrant from Multnomah County. Adkins was booked at the Multnomah County Jail and released the following day, with a court date of March 11, 2020.
Tips, additional info sought
Deputies believe Adkins may have attempted or committed similar crimes in the metro area, as he has shown a pattern. In the two incidents listed above, Adkins used a Facebook profile using his own name and photo.
Anyone with information on James Lee Adkins or possible additional crimes involving Adkins can also contact the Sheriff's Office Tip Line -- by phone at 503-723-4949 or by using the online email form at https://www.clackamas.us/sheriff/tip .
Victims willing to speak to media
Two of the victims are willing to speak with the media. Media can contact PIO Sgt. Mendoza to obtain their contact information.
Booking photos of Adkins and a photo of one of the stolen bicycles are attached.
[END]