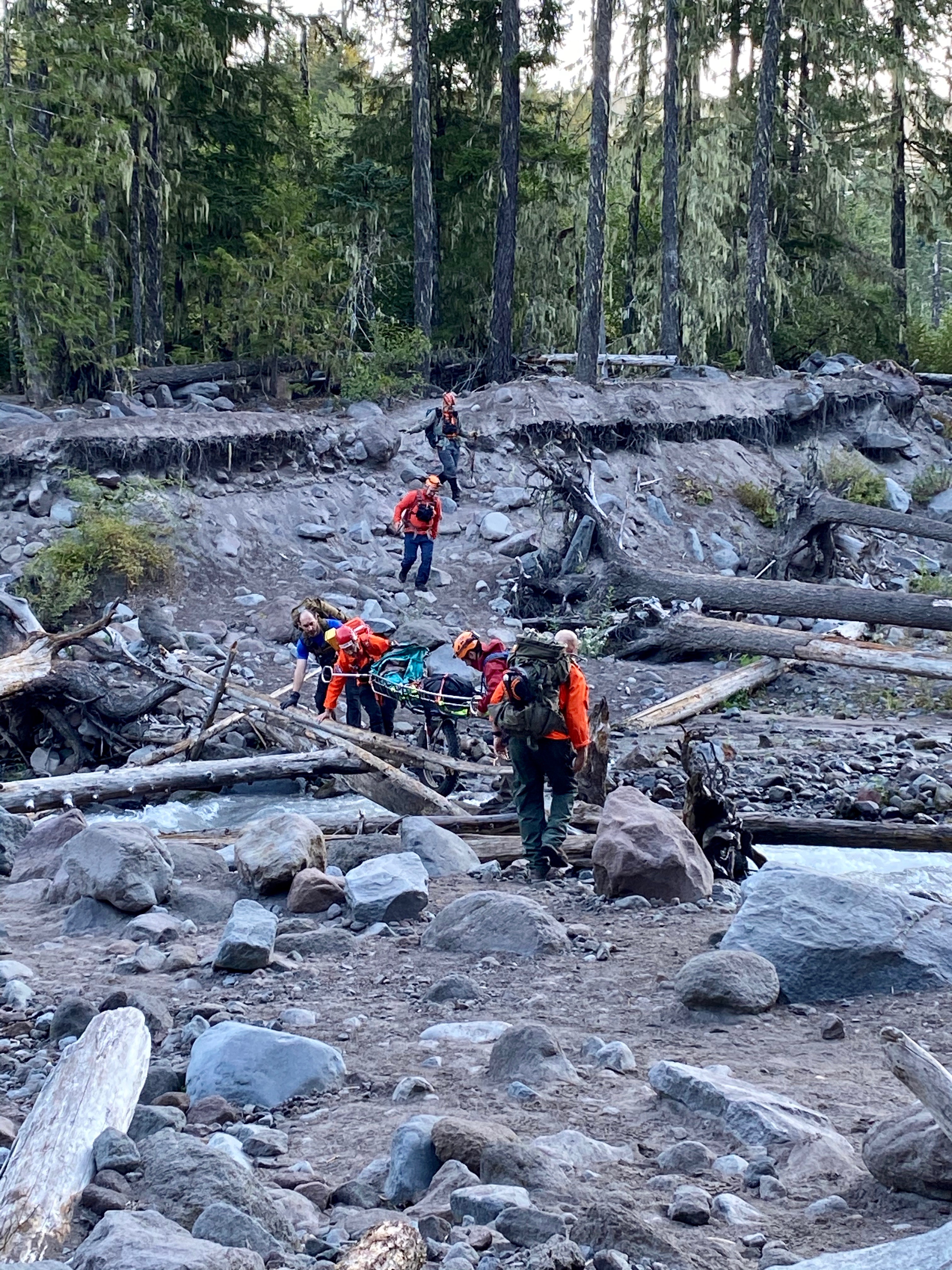 Mission photos: [ 1 ] [ 2 ] [ 3 ] [ 4 ]
At 11 p.m. on Saturday, Aug. 22, 2020, the Clackamas County Sheriff's Office received a report of a woman who was having medical issues while running on the Pacific Crest Trail, near Timberline Lodge.
Sheriff's Office Search & Rescue (SAR) Coordinators were notified. They initiated a rescue operation.
The subject -- Adena Vivanco, 40, of Hillsboro -- was on a 40-mile run around Mt. Hood. About 33 miles into the run, she reportedly became dizzy and felt sick, and her lips began turning blue.
Fortunately, Vivanco had a running partner with her -- Jenny Marietta, 43, of Forest Grove -- who was able climb to a point where she had cell-phone reception to call for help.
The SAR coordinators used Marietta's GPS coordinates to determine that she and Vivanco were likely located above Ramona Falls and below Paradise Park.
Members of the Clackamas County Sheriff's Office SAR Trail Running Team started from Timberline Lodge toward the likely location of the subjects. Meanwhile, members of CCSO SAR's ground team deployed to Ramona Falls, hiking up from there.
Mountain Wave Emergency Communications sent a volunteer to assist with communications, and American Medical Response's Reach and Treat Team also responded to help with the search.
Patient Adena Vivanco was located about 7 miles from Timberline Lodge, at about 4,200' elevation. She was being kept warm by some campers in the area. Temperatures had dipped into the 40s overnight at that location.
Rescue teams administered fluids, and Vivanco began to recover.
Vivanco was able to cross two rivers and hike out with rescuers, making it back to Timberline Lodge shortly before 8 a.m. on Sunday morning (Aug. 23).
This rescue had a good outcome: The patient was wisely running with a partner who was able to call for help. In addition, the increasing numbers of people recreating in the wilderness made it possible for Vivanco and Marietta to find others to help them stay warm.
Searchers had just come off another all-day SAR on Saturday. Because of these back-to-back missions, some rescuers found themselves ending a 26-hour day at the close of the Vivanco rescue mission.
Photos from the mission are linked above.
[END]
Sgt. Marcus Mendoza
Clackamas County Sheriff's Office
Public Information Unit