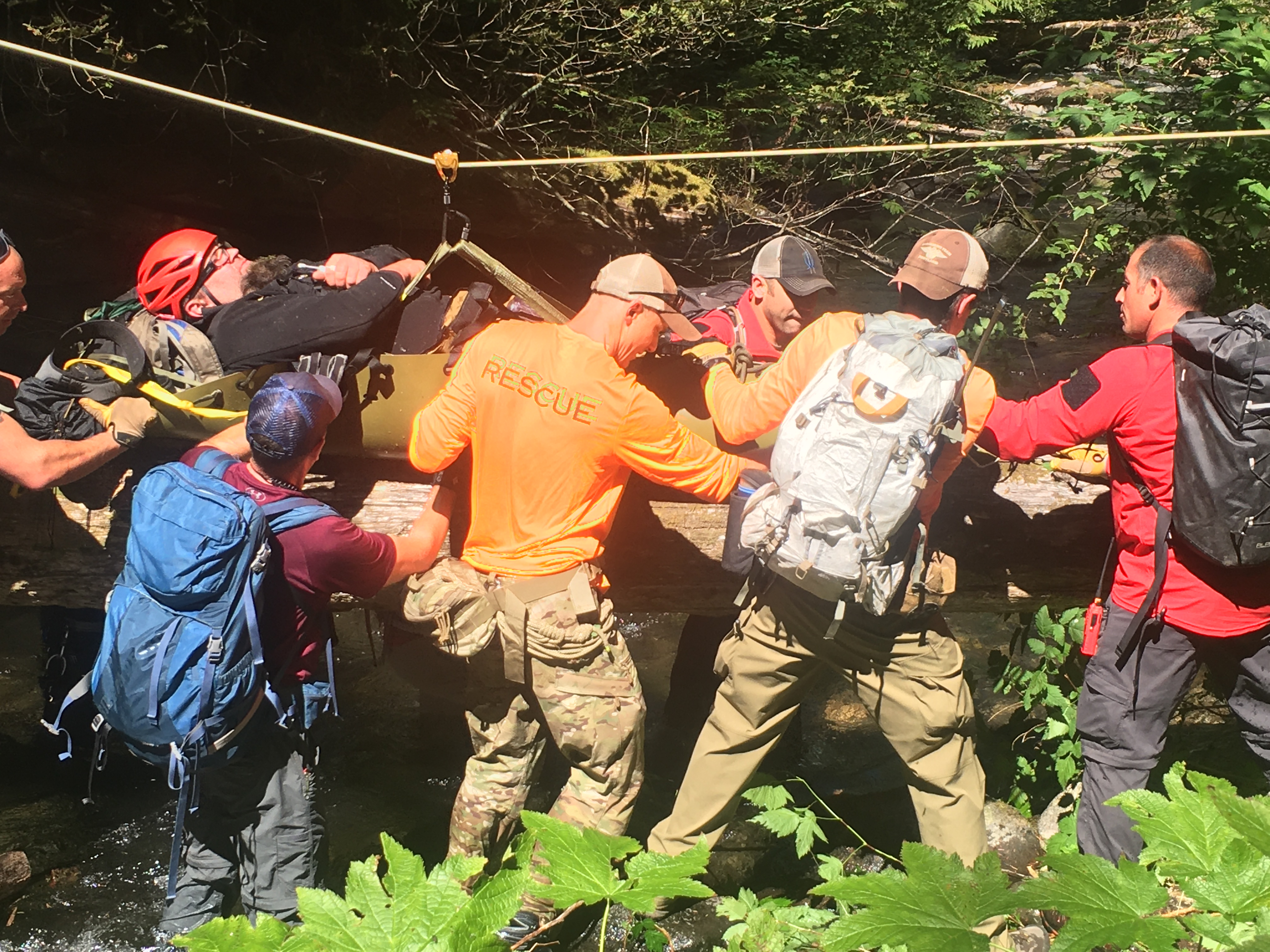 Please reference CCSO Case # 20-018818
B-roll video and photos of rescue (.mp4 format):
https://www.dropbox.com/sh/f894uy2x3nv7d1f/AAD0U1wwr1uvApw8F9tSvjlPa?dl=0
Clackamas County search-and-rescue teams worked tirelessly to successfully locate a man, his 7-year-old daughter and their dog near Kinzel Lake in the Mt. Hood National Forest. Video and photos from the dramatic rescue operation are available.
Around 2:30 p.m. on Wednesday, Sept. 2, 2020, Camille Munro called 911 from the Devil's Peak trailhead to report that her husband -- Peter William Munro, 37, of Canby -- their 7-year-old daughter Leila, and their dog Buck had been missing for at least 24 hours.
The previous evening (Tuesday, Sept. 1), Camille had arrived at their remote campsite at Kinzel Lake to join the rest of the family on a camping trip. Camille made it to the camp, but no one was there. She figured they were on a hike, but they never returned.
On Wednesday morning she searched for them, but still could not find them. Camille finally found Peter's truck at the Devil's Peak trailhead. The keys were still in the truck, and the daughter's stuffed animals were inside the vehicle.
Concerned, Camille called 911.
Clackamas County Sheriff's Office Search & Rescue (SAR) Coordinators activated a rescue mission Wednesday afternoon. As seen in the above-linked photos and video, the search area featured challenging terrain, and the mission would soon involve volunteers from:
Clackamas County Search & Rescue's (CCSAR's) Trail Running Rescue Team, search K9s, rope team and ground team;
AMR's Reach & Treat (RAT) Team;
125th Special Tactics Squadron, a special forces unit of the 142nd Fighter Wing of the United States Air National Guard;
and the Hood River Sheriff's Office Air Unit.
About 50 searchers ended up participating in the mission. Many of these volunteers deployed immediately following a prior full day of training.
Searchers worked through the night, with additional resources from the 304th Rescue Squadron and 125th Special Tactics Squadron deploying to the field at about 2 a.m. to assist the tired crews.
At approximately 6 a.m. on Thursday, Sept. 3, searchers from the 304th Rescue Squadron were able to make voice contact with Peter. It took at least another hour for them to reach Peter, Leila and Buck due to the difficult terrain. The subjects were found northwest of the Kinzel Lake trailhead, in a ravine -- about 1.25 miles and approximately 1,200 feet below the starting point of their Tuesday hike.
Perter was injured and unable to walk. Leila and Buck were in good spirits, but needed assistance.
Crews quickly began to assess and provide first aid. They learned Peter had become lost and had been moving downhill to where he thought a trail was located -- injuring himself in the process. 
After stabilizing Peter in a litter, crews began the exhausting process of carrying him out of this remote location through difficult terrain. They reached a waiting medical crew on Still Creek Road -- about 7 miles from Highway 26, near Rhododendron -- at about 12:30 p.m. on Thursday, Sept. 3.
Peter, Leila and Buck were stuck in the wilderness for over 48 hours without supplies.
Peter was transported to an area hospital for his injuries. Buck and Leila were reunited with their family and are resting safely.
Search crews want to offer special thanks to a nearby construction crew working on the Still Creek Bridge repair project. The construction crew sped up the rescue operation by using a crane to hoist the special forces' vehicles over the river. Without this help, it would have taken an estimated additional four hours to take the longer route to reach the location.
VIDEO AVAILABLE: B-roll video and photos from the rescue operation -- and the vehicle hoist -- can be downloaded from this Dropbox address:
https://www.dropbox.com/sh/f894uy2x3nv7d1f/AAD0U1wwr1uvApw8F9tSvjlPa?dl=0
[END]
Sgt. Marcus Mendoza
Clackamas County Sheriff's Office
Public Information Unit