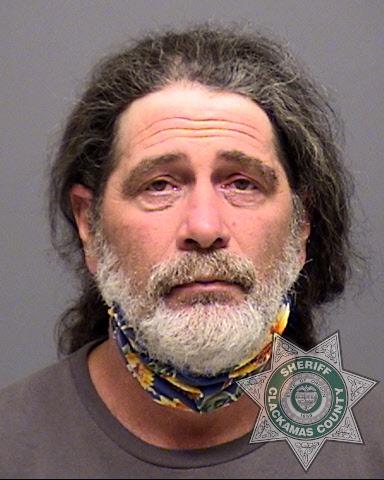 Please reference CCSO Case # 20-022080
Dash-cam video of deputy contact/arrest:
https://www.dropbox.com/s/9507ylovhqvmr89/20201013_Arrest%20Video_Case%20No.%2020-022080.mp4?dl=0
At 3:30 p.m. on October 13, 2020, Clackamas County Sheriff's Office deputies were dispatched to investigate a suspicious circumstance near SE Thiessen Road and SE Webster Road in Oak Grove.
The reporting party was a teenage girl who'd called 911, concerned that her friend might be in distress.
The reporting party's friend, a 17 year-old-girl, had arrived at a residence in unincorporated Clackamas County in a white truck driven by a 53-year-old man.
The concerned caller's father went out to speak with the man driving the truck. The man claimed (falsely, as it turned out) to be the teen passenger's grandfather.
The 17-year-old girl got out of the white truck and the truck left the scene before deputies arrived to investigate.
Deputies soon spotted the white truck in the area and conducted a traffic stop. Dash-cam video from the stop is here.
The driver was identified as Glenn Riley Burke, 53, of California.
Deputies quickly determined that Burke was a registered sex offender and not the teen passenger's grandfather.
Further investigation revealed Glenn Burke had travelled from California to visit the 17-year-old several times after meeting her on a website called "Sugar Daddy Meet" in May. Burke and the teen then continued to communicate via SnapChat.
Burke admitted to having sexual contact with the teen victim. There was evidence of this on his phone -- as well as additional images of child pornography.
Deputies contacted detectives about the case. They then placed Burke under arrest and transported him to the Clackamas County Sheriff's Office to speak to detectives.
After the detective interview, Burke was transported to the Clackamas County Jail, where he was booked on charges including:
ORS.163.670 - USE CHILD IN SEX DISPLAY
ORS.163.413 - PURCHASING SEX WITH A MINOR (2 counts)
ORS.167.007 - PROSTITUTION (2 counts)
ORS.163.425 - SEXUAL ABUSE II (2 counts)
ORS.163.415 - SEXUAL ABUSE III (7 counts)
ORS.163A.040-1 - FAIL TO REPORT AS SEX OFFENDER
His bail was set at $500,000. A booking photo is attached. His complete booking info is here: https://web3.clackamas.us/roster/#inmates
Burke's truck was seized as evidence, and detectives from the Clackamas County Adult Sex Crimes Unit are investigating this case.
ADDITIONAL VICTIMS SOUGHT: Based on Burke's statements and evidence located to date, detectives now believe there are additional victims associated with Burke. Anyone with information regarding Burke or his potential victims is urged to contact the Sheriff's Office Tip Line -- by phone at 503-723-4949 or by using the online email form at https://www.clackamas.us/sheriff/tip . Please reference CCSO Case # 20-022080.
[END]
Sgt. Marcus Mendoza
Clackamas County Sheriff's Office
Public Information Unit