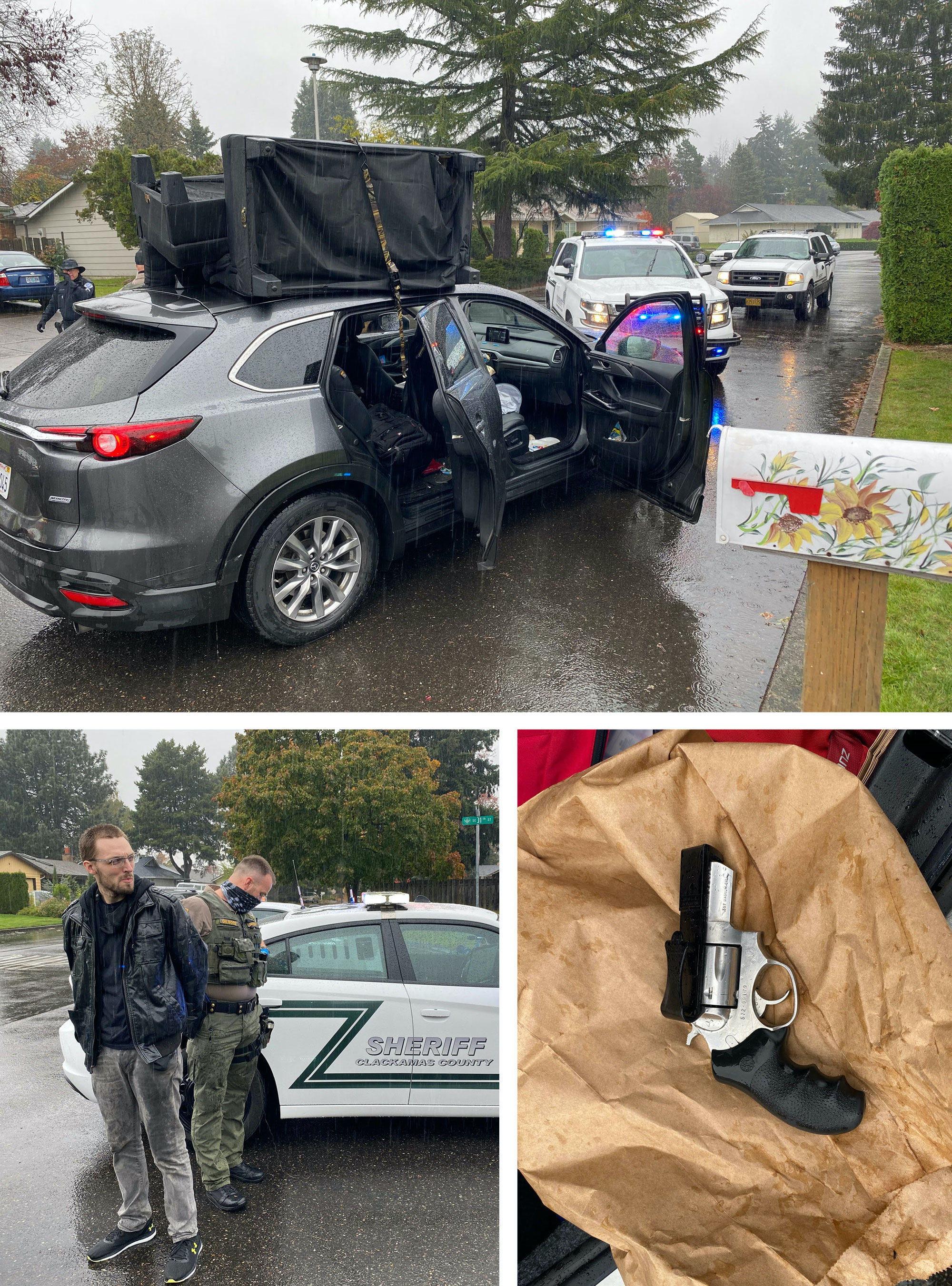 Please reference CCSO Case # 20-023647
At 10:50 a.m. on Tuesday, Nov. 3, 2020, the Clackamas County Sheriff's Office was notified of an armed robbery at the Ace Hardware Store located at 14718 SE Sunnyside Rd. in Happy Valley.
A witness to the robbery ran up to a deputy contracted to the Happy Valley Police Department to report the robbery. The deputy happened to be on a traffic stop near Ace Hardware.
The witness described what he had seen to the deputy, including a description of the suspect vehicle. A suspect had pulled a gun on an Ace Hardware employee and then fled in a dark colored Mazda CX-9.
The suspect Mazda would prove easy to spot: It reportedly had a large sofa strapped to its top.
Deputies spotted the suspect vehicle on Sunnyside Road within minutes.
Deputies attempted to stop the suspect vehicle near SE 132nd Avenue. The suspect refused to stop -- instead leading deputies on a pursuit west on SE Sunnyside Rd and then north on I-205.
Deputies called on outside jurisdictions to assist; working together, they followed the suspect into the City of Vancouver.
During the pursuit, the sofa remained firmly affixed to the vehicle's roof.
The suspect finally stopped the Mazda and fled the vehicle on foot at SE 119th Avenue and SE McGillivray Boulevard. Deputies gave chase and caught the suspect a block away without further incident.
A passenger in the Mazda was detained, and the gun believed to have been used in the robbery was located in the SUV near her.
The passenger was released a short time later after authorities determined she had not been involved in the robbery.
Deputies checked the VIN on the Mazda and discovered it had been reported stolen in the City of Portland.
The suspect was identified as Joseph Tyler Johnson, 34, of Milwaukie.
Johnson was placed under arrest by the Vancouver Police Department and transported to the Clark County Jail. He now faces charges including Robbery I, Unlawful Use of a Weapon, Attempt to Elude, Reckless Driving and Reckless Endangering in Clackamas County.
Photos from the arrest scene are attached.
This case is still under investigation. The stolen vehicle (and sofa, of uncertain provenance at this writing) were towed from the scene.
Agencies assisting the Sheriff's Office and Happy Valley PD in the arrest included the Vancouver Police Department.
Three Clackamas County cities -- Happy Valley, Estacada and Wilsonville -- contract with the Clackamas County Sheriff's Office to provide municipal police services.
[END]
Sgt. Marcus Mendoza
Clackamas County Sheriff's Office
Public Information Unit