Most Wanted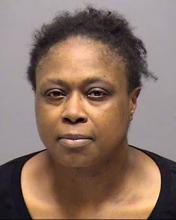 Sharundah Michelle Robertson is wanted on charges that include Criminal Mistreatment I, Unlawful Use of a Weapon, Assault IV, Harassment, and Failure to Appear. 
She is known to frequent the Happy Valley area.
Sharundah Robertson is 44 years old. She is an African-American female, stands 5'3", weighs 183 lbs. and has black hair and brown eyes.