Community Service Officers (CSOs) man our public desks, teach crime prevention and offer crucial backup to deputies investigating crimes. In a new series of Sheriff's Office web profiles, you can learn more about these unsung employees critical to CCSO's daily operations.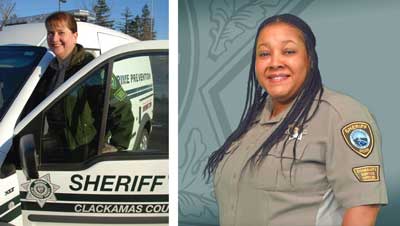 Community Service Officers Sara McClurg
(left)
and Letitia Walker.
One of the most public-facing jobs at the Clackamas County Sheriff's Office is also one of the least understood.
You meet them when you go to a Clackamas County Sheriff's Office station desk to file a police report or ask a question. You meet them when you attend a crime-prevention presentation or start a Neighborhood Watch. You might talk with them during a criminal investigation.
They're Community Service Officers, or CSOs. And they're critical to the day-to-day operations at the Sheriff's Office and in the Clackamas County Jail's public lobby.
"A CSO is a non-sworn, uniformed officer with limited peace-officer authority," explains Letitia Walker, who's worked as a CSO for over a decade and is currently stationed out of Happy Valley. "Basically, we can work on criminal investigations up to the point of an arrest."
They're also, as CSO Rose Parkhill explains, "the first point of contact for the public who come to the Sheriff's Office — we man the two walk-up windows."
"We're often the voice of the Sheriff's Office on calls for service that don't require immediate assistance," says Lorenzo Medina, a CSO who's worked for both the Patrol and Jail divisions over a 12-year period.
CSOs enjoy a broad range of duties. They're prepared to answer questions from the public on a dizzying array of issues — everything from directions to criminal law to procedural questions, such as the process for filing a restraining order.
They also register sex offenders, take police reports, and back up Search & Rescue Coordinators by helping corral resources.
They even conduct their own investigations.
"We help free up deputies on the road by responding to so-called 'cold crimes,'" often involving property crime, explains CSO Julie Fanger, who works out of Wilsonville (and also keeps track of cases for CCSO's popular "Can You ID Me?" webpage). "Because we respond from the desk by phone in all districts, we may also be the first to recognize certain crime trends — such as package thefts, scams or acts of criminal mischief." This can be critical when coordinating a police response to, say, a package-theft crime spree targeting a specific neighborhood.
CSO Sara McClurg is a critical public face for the Sheriff's Office. As CCSO's Crime Prevention Coordinator, she gives safety presentations across the county, leads office tours for visitors, and helps residents set up Neighborhood Watches. She's also part of the "Neighborhood Livability Project," a multi-agency initiative targeting nuisance houses across Clackamas County.
"The Neighborhood Livability Project has been especially rewarding work," says McClurg. "We devise and implement plans to reduce or eliminate the negative effects of highly problematic residential properties. Since its inception three years ago, we have 126 properties no longer considered a threat to the community, and another 24 still needing our attention."
The rewards of CSO work can also be smaller-scale but deeply satisfying. "My favorite moment as a CSO was when I was able to reunite someone with a wallet he'd lost while hunting a year earlier," remembers Walker. "A year later, another hunter had found it and returned it to us, dirty but intact. The $400 inside was a bit faded, but still there. It's always a good feeling to reunite victims with recovered property."
Want to learn more — much more — about Community Service Officers and their day-to-day work? The Clackamas County Sheriff's Office just profiled five CSOs in detail on their website and Facebook page. You can find the profiles below: