News Release from: Clackamas Co. Sheriff's Office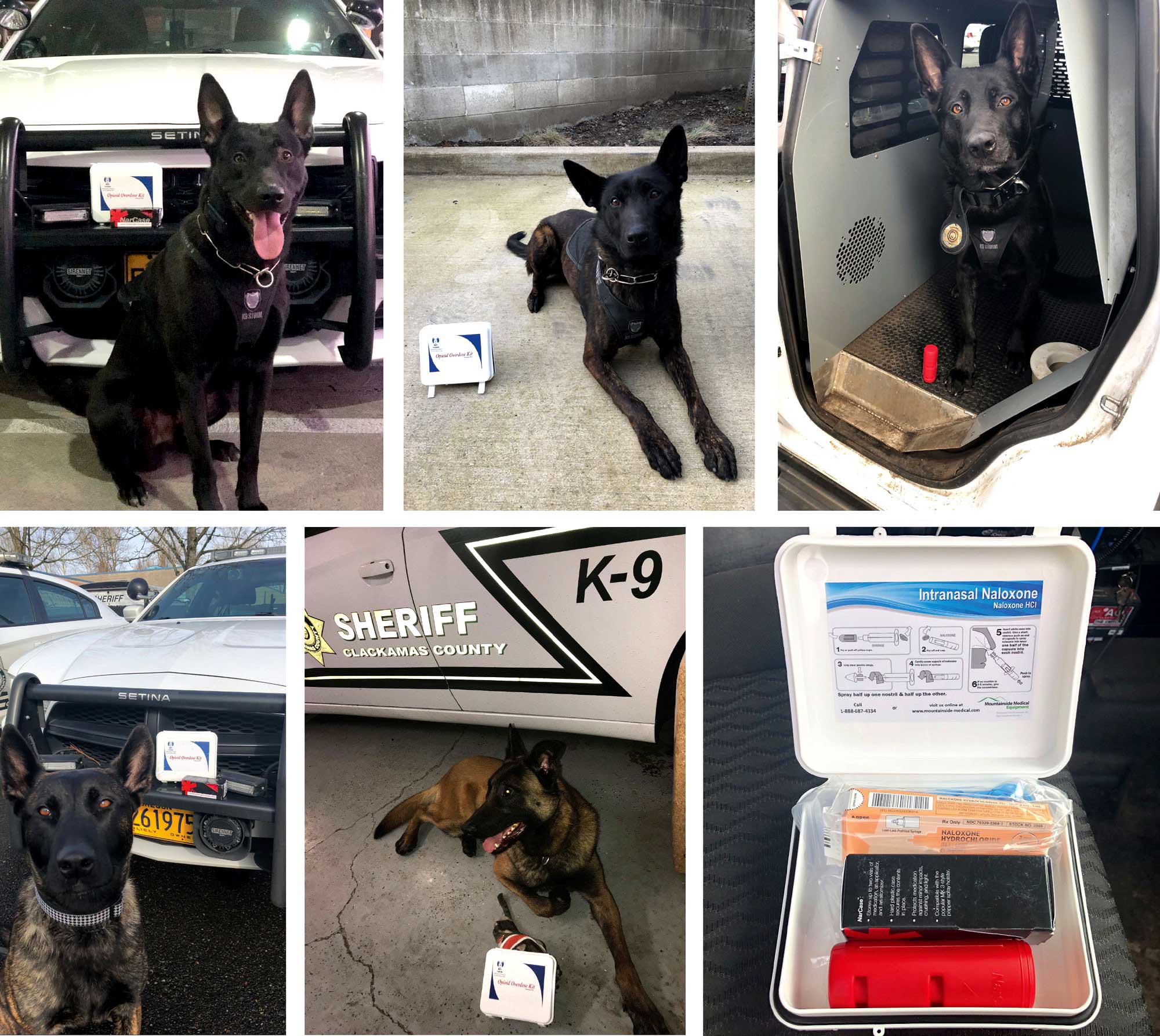 Photos/video:
Thanks to generous public donations, the Clackamas County Sheriff's Office K9 team was recently able to purchase six Narcan kits -- for the unit's dogs. The kits reverse the dangerous effects of drugs the animals might encounter on the job.
"Over the past couple of months, the nonprofit Friends of Clackamas County K9 received donations from the community for ballistic vests for our current dogs," explained Sgt. Brad O'Neil of the K9 Unit. "However, all our current working dogs already have vests. But the donors told us they still wanted their money to help out with life-saving measures for the K9 unit."
So the K9 team used the money to purchase six Narcan kits from the non-profit K9s of Valor for the dogs.
Narcan contains nalaxone -- a reversal drug for overdoses on opioids such as heroin, fentanyl and carfentanil. Fentanyl is 100 times more potent than heroin and 100 times stronger than morphine. Carfentanil is 10,000 times more deadly than heroin.
Heroin and other opioid drugs in pill form are often laced with fentanyl and carfentanil to make them more potent -- and also extremely addictive and deadly.
Fentanyl and carfentanil can be absorbed by the body through inhaling fine partials or through the skin by touch. They are virtually undetectable until the effects of the drug are seen first-hand.
Each Sheriff's Office K9 handler has been issued and trained in the use of the Narcan kits in case their K9 partners come into contact with these deadly drugs during the course of duty.
Photos and B-Roll Video/Sound-Bites
Photos of Sheriff's Office K9s with their new Narcan kits are linked above. Media outlets can also download B-roll and sound-bite video with Sgt. O'Neil and his K9 partner Coda from this Dropbox link.
About Friends of Clackamas County K9
Friends of Clackamas County K9 is a non-profit organization dedicated to helping the retired K9s of Clackamas County Sheriff's Office.
About K9s of Valor
K9s of Valor is an all-volunteer 501c3 non profit organization dedicated to keeping police K9 officers safe. K9s of Valor was launched after K9 Jethro with the Canton, Ohio Police Department was killed in the line of duty. K9s of Valor provides life-saving equipment and care packages to police dogs throughout the country.
[END]
Contact Info:
Sergeant Brian Jensen
Office of Public Information
Clackamas County Sheriff's Office