8:30 – 10:00 a.m.

Keynote
And So I Stayed: Finding Peace and Healing Beyond Abuse
Jennie Willoughby

xxxFor anyone working with possible victims of trauma, understanding the brain is crucial. Whether its understanding one's own behavior in a high-stress or traumatic scenario, such as a shooting, or understanding the behavior of victims of crime, it all starts with understanding the brain.

This talk will take you through how your brain responds to traumatic-threat/high-stress situations in a way that will make sense — with direct application to what it means to be trauma-informed.

10:00 – 10:30 a.m.

Break

10:30 a.m. – 12:00 p.m.

7A
Deception Detection
Jim Tanner, PhD

This presentation will strengthen professionals' ability to spot and defuse deception and denial when interviewing sex offenders. Join a Sociolinguist for an overview of Discourse Analysis — which allows you to identify words, phrases, and grammatical errors that indicate purposeful attempts to reduce or hide information.

This will be combined with an explanation of the four ways adults who sexually abuse children try to deny their guilt.

If you interview sex offenders for any purpose, you will walk away from this session better prepared to break through their defenses.

7B
Pediatric Transgender Health in Primary Care
Kenneth Carlson, MD

This session will offer background and demographic information about transgender children — with a specific focus on their increased social and mental health risks. Dr. Carlson will discuss treatment with a special emphasis on the positive impact of affirmation, as well as creating a safe, inclusive clinical space.

7C
Minimizing Miscommunication in Child Forensic Interviews (Part 1 of 2)
Julie Kenniston, MSW, LISW

Children acquire language in a cultural context. The meaning of words does not come as quickly as the use of those words when communicating. Some words are less reliable, such as pronouns and prepositions. Other words are not reliable because the cognitive processes needed to understand the use of these words have not been mastered by the child, such as "when" and "how many times" something happened.

This presentation will provide information on children's use of language as preschoolers and as school-aged children. These concepts will be applied to the process of gathering information from children in forensic interviews. By understanding children's abilities to communicate, a forensic interview can be linguistically sensitive to the child's needs and be conducted in a legally sound manner.

Objectives:

Participants will understand how the developmental issue of being concrete affects information-gathering in investigations.
Participants will be able to identify small but important words and know how to minimize misinformation.
Participants will learn to maximize the potential of gathering accurate data from children by using linguistically sensitive interview questions.

This two-part session will continue from 1:30 – 3:00 p.m.

7D
It's All Fun and Games Until… : When 'Playing Doctor' Becomes a Problem
Michaela Coglianese, MA • Elizabeth "Bitsy" Taylor, LCSW

When parents learn that their young child has engaged in behaviors that involve touching or looking at another child's private parts, they often have one of two responses: to panic or to write the behaviors off as normal and exploratory. Sometimes, we as professionals have the same knee-jerk reaction. What is the right response? How do we as professionals understand these behaviors? What information can we give to families about child sexual behaviors? If the behaviors are problematic, how can we best support the child and their family, and provide the help and treatment they need?

In this talk, the presenters will review what is typical child sexual behavior, what is problematic sexual behavior and what the National Children's Alliance offers up as evidence-based information about Problematic Sexual Behaviors and their response to treatment. The presenters will also talk about children accessing pornography, how to address it with the child and how to keep up to speed about the child's internet use.

Presenters will also discuss how Clackamas County is currently responding to the rapidly increasing cases of children in their county who have Problematic Sexual Behaviors. Time will also be spent exploring new ideas of how county-wide systems can respond to children who have these types of behavioral struggles.

7E
Assessing/Evaluating Children's Statements for Investigative and Court Purposes
Amy Russell, MSEd, JD, NCC

This training includes techniques child abuse investigators and legal professionals can use to evaluate the child's interview, based upon his or her statements, behaviors and emotions.

While no single factor or characteristic is indicative of abuse, interviewers can utilize several factors within the interview itself to assess the reliability and credibility of a child's report. Such information may be used to explain the results of an interview in court, or may be used to guide the team members in establishing corroborative factors to support the child's interview statements.

Learning objectives:

Participants will understand elements necessary to evaluate the reliability and credibility of a child's report of abuse.
Participants will understand how children experience and talk about violence and victimization, and how that information may be presented in court.
Professionals will learn techniques and skills to elicit corroborative information from children's reports.

7F
Stalking: A Pattern of Behaviors that Cause Fear
Jane Straub

When the word "stalking" is searched in Google, quite a few results will try to compare stalking to romance; many results minimize the harm; still others confuse harassment with protection. Our culture uses terms such as "stalking," "creeping/creeper" and "hanging around" to normalize this real, extremely harmful and scary criminal act.

This presentation will provide information on stalking — including its definition; statistics and prevalence; technology; its connection to domestic violence and sexual assault; and its link to other crimes such as vandalism, identity theft and harassment.

Objectives:

Define stalking and understand its prevalence in our society.
Identify other crimes that may coincide with stalking behaviors.
Learn ways to support victims — including safety plans, documentation and reporting.

7G
Online Investigations
Abigail Schmidt • Devin Le Brun Cusack

This two-hour block will be packed full of valuable tips and tricks for finding and investigating your subjects/victims online.

Topics covered will include online operational security, legal considerations, IP address research, and popular social media applications.

Class intended for law enforcement only.

7H
Domestic Minor Sex Trafficking: The Legal Landscape
Justin Fitzsimmons, JD

This presentation examines current federal and state laws for prosecuting cases of Domestic Minor Sex Trafficking (DMST). Attendees will learn about states that are employing creative ways to prosecute human traffickers, as well as ways to protect the victims. The presentation also covers the issues of immunity, expunged records, and limiting defense attacks on victims.

7I
Coordinated Investigations
Sgt. Jim Sears

This session looks at sexual and physical abuse and bringing CPS, law enforcement, and the rest of the multi-disciplinary team (MDT) into those investigations.

Topics covered will include:

What to expect in these investigations
How important the team is to the investigations
Strategies and theories to overcome team issues
How to successfully bring your MDT into each case

This class is intended for first responders (CPS and law enforcement), all investigators, and prosecutors.

7J
Maintaining your Balance: Technology Tools for Wellness
Elizabeth Tow

How do law enforcement professionals maintain their success? They use technology to enhance their wellness!

This class will look at some available technology that can help law enforcement professionals maintain their edge — both on the job and at home — by focusing on the following objectives:

Exploring technology based tools for dealing with different types of stress reactions.
Providing helpful technology based mechanisms for wellness.
Incorporating technology into everyday wellness.

7L
Understanding Technology
Detective Jeff Rich

Technology is complicated for those who are not ready to embrace it — and sometimes for those who have a desire but need more basic explanations.

This presentation will provide details about technology that you are usually afraid to raise your hand and ask about. We will start with the basics and evolve into an understanding of where you can gather evidence about your suspects using the online methods used by advanced users.

Technology can be confusing, and understanding some basic terms and ideas that are explained in plain English will help even the most seasoned investigator gather more evidence.

12:00 – 1:30 p.m.

Lunch

1:30 – 3:00 p.m.

8A
Understanding Sex Offenders (Part 1 of 2)
Jim Tanner, PhD

This session focuses on the cognitive set of the intrafamilial/position-of-trust sex offender.

We will expand and clarify elements of investigation, prosecution and effective containment.

We will discuss sex offenders' perceptions, ideation, grooming strategies and cognitive processes.

The impact of the Internet and offenders' digital behavior will be explored and explained.

Participants will leave this session with a new understanding of sex offenders, their thoughts and digital behaviors — which will enhance the ability to investigate, prosecute, supervise and treat sex offenders.

This two-part session will continue from 3:15 – 4:45 p.m.

8B
'I Know My Child is Being Sexually Abused!' What to Do When Caregivers Make Repeated Allegations of Abuse
Michaela Coglianese, MA • Sue Skinner, MD

Allegations of sexual abuse must always be taken seriously; children have a right to a medical exam and a chance to tell a trained interviewer their story. The additional involvement of child protection and law enforcement professionals aid in ensuring a complete investigation.

Sometimes the investigation and assessment can be anything but straightforward, however, and despite best efforts, it is difficult for systems to work together to figure out the truth.

In this presentation, we will review complex cases where repeated allegations of sexual abuse are made by one parent against the other parent regarding the child they share. Amidst frequent calls to Child Protection are multiple ER visits and medical exams, police reports, violation of custody orders and counseling appointments. It may be hard to keep up with "who said what to whom." Trying to keep the focus on the health and safety of the child, authorities consider the possibility of sexual abuse — but at times are also forced to consider the additional possibility of emotional abuse and/or medical child abuse by the "non-offending" parent.

This workshop will likely not provide "the answers" to participants. However, the presenter team will use case examples to illustrate problems and pitfalls. They will also help attendees with a framework for evaluation, clear definitions to both emotional abuse and medical child abuse, tips on interviewing, and suggestions for how to work together as a multidisciplinary team.

8C
Minimizing Miscommunication in Child Forensic Interviews (Part 2 of 2)
Julie Kenniston, MSW, LISW

See session 7C for description.

8D
Introduction to ACE and Trauma-Informed Care
Jane Straub

This training is a brief introductory presentation on:

Adverse Childhood Experiences (ACEs);
Data from the ACE Study;
How early adversity as a child can impact adult health; and
The steps that we can take to address trauma in those who we work with and create safe environments and relationships in which trauma can begin to heal.

8E
The ABCs of AHT (Abusive Head Trauma/Shaken Baby) and Meeting Defenses in Abusive Head Trauma Cases (Part 1 of 2)
Lawrence J. Braunstein, Esq.

This program, taught by a defense attorney (and former prosecutor), will examine the basics of abusive head trauma —including the mechanics of injury, the various injuries sustained, and the leading literature in the field.

Also discussed and analyzed: the various defenses to allegations of abusive head trauma cases — including the use and misuse of literature, cross-examination tactics, the art of obfuscation and misdirection, and other types of defenses.

This two-part session will continue from 3:15 – 4:45 p.m.

8F
C.A.R.E.: A New Perspective on the Dynamic of Violence and How to Break the Cycle
Maureen Lowell, LMFT

Violence is about power — but it is about power built on dysregulation, not merely status. Our efforts to confront the use of power as a willful entitlement has failed to recognize the many other dimensions of power and control in relationships, and has failed to offer pathways to breaking the intergenerational cycle.

In this workshop, participants will explore the dynamics of violence through a new lens that broadens the field to include different types of abusive partners as well as parents — the touchstone for intergenerational change.

8G
Internet Service Providers: What Information is Available to Corroborate Your Case
Justin Fitzsimmons, JD

A mobile device, including a smartphone or tablet, can leave evidence or a "digital footprint" from its use. This presentation explains what types of evidence investigators may recover from cyberspace. It also discusses the role of digital footprints as a part of almost every crime scene, and attendees learn evidence-based practices to preserve, seize, and search evidence from cyberspace.

8H
Human Trafficking Investigations: Building a Successful Human Trafficking Case to Convict (Part 1 of 2)
Bradley Schoenleben

This training will be a more advanced class on human trafficking — and is intended for members of law enforcement only.

This class will focus on the different types of operations and investigations that can be done to find and arrest a trafficker. There will be a heavy focus on evidence collection — which will include examples of where to find the evidence necessary to build a case against the suspect, as well as the tools to make the evidence collection effective. Examples will include: getting into locked cell phones, social media, and the simple surveillance video.

This advanced class will then focus on some creative methods used to find and prosecute traffickers.

This presentation will feature many examples from actual cases, actual victims, and actual victims.

Class intended for law enforcement only.

This session will continue from 3:15 – 4:45 p.m.

8I
Photography
Sgt. Jim Sears

This session will provide an understanding of what is needed in all cases dealing with violence. It will cover:

Strategies, ideas, and concepts on how to process the scene
What is expected in the courts (both civil and criminal)
What is needed for a successful multi-disciplinary approach in covering the scene

This class is intended for first responders (CPS and law enforcement), all investigators, and prosecutors.

8J
When Saving Lives Damages Your Own
Elizabeth Tow

Exposure to child sexual exploitation and abuse materials can have widespread and serious negative effects on professionals. Helping exposed individuals learn how to recognize and cope with problems, before they become severe or permanent, is the main priority of the SHIFT Program.

"Wellness" will be the main focus of this session — including acknowledging negative effects of chronic exposure to traumatic material and building resiliency to cope with the stress your job entails.

Participants will:

Describe and analyze vicarious trauma and how it affects you
Discuss and acknowledge the negative effects of chronic traumatic exposure
Apply tools and techniques for building resilience

8L
osTriage - Live Computer Preview Software Tool (Part 1 of 2)
Detective Jeff Rich

The osTriage preview tool has revolutionized the way ICAC Investigations are conducted. Utilization of this software tool guides interviews, provides better outcomes, and effectively gathers data related to the case.

This session will cover the new release, new functionality, and new artifact collection features of osTriage version 2.5.

This session will continue from 3:15 – 4:45 p.m.

3:00 – 3:15 p.m.

Break

3:15 – 4:45 p.m.

9A
Understanding Sex Offenders (Part 2 of 2)
Jim Tanner, PhD

See session 8A for description.

In Part 2, this presentation explores the degree to which the arousals, thoughts and behaviors of women who sexually exploit children are similar to or different from those of male perpetrators. Using a number of case studies, this presentation challenges preconceptions about women's involvement in the sexual exploitation of children.

9B
The Medical Evaluation of Sexual Abuse — from Simple to Strange
Caitlin Crumm, MD

Understanding medical findings in a child sexual abuse case builds a foundation to collect evidence, build a case, or counsel families and children through the process to recovery. Every multidisciplinary team member should understand the basics of pediatric genital anatomy, what happens during the medical evaluation, and how to cope with medical uncertainty.

With a few strange cases thrown in to keep things interesting, we will explore the child sexual abuse medical evaluation from start to finish.

9C
Why Didn't You Tell Me? The Dynamics of Child Abuse and Disclosure
Jennifer Wheeler, LPC

This presentation will review the process of disclosure for victims of child abuse.

Topics will include manipulation (grooming); barriers to disclosure; and denial, minimization, and recantation.

Research updates, case studies, and video clips will highlight the content.

9D
Creating Trauma-Informed Spaces for Victims and Families Throughout the Justice System
Jane Straub

After learning about Adverse Child Experiences (The ACE Study), most professionals want the next steps. Creating trauma-informed spaces and training staff members to respond to behaviors linked to trauma will strengthen relationships.

Experiences throughout the justice system — from disclosure to verdict — can be triggering, traumatizing and re- traumatizing for victims and families.

This session will share steps to:

Improve the environment in order to create safe spaces
Recognize and identify behaviors that impact disclosure to testimony
Ensure that clients feel listened to and their experiences acknowledged

Objectives:

Understand how trauma may impact disclosure and cooperation with the justice system
Learn ways to create/change or update environments to become trauma-safe
Create strategies and tools to enhance relationships with victims and families

9E
The ABCs of AHT (Abusive Head Trauma/Shaken Baby) and Meeting Defenses in Abusive Head Trauma Cases (Part 2 of 2)
Lawrence J. Braunstein, Esq.

See session 8E for description.

9F
Collaboration in Response to Family Violence
Maureen Lowell, LMFT

If we are truly going to have an impact on family violence, we need to address the multiple dimensions of this complex problem. To fully address the needs of the families and communities impacted, we need to align and integrate multiple approaches informed by diverse perspectives. We each have our part to play and we need each other.

In this workshop, we will explore what true collaboration demands of us and how it rewards us. We will also look at the interpersonal neurobiology of working with difference to enhance our inclusive approach and our collective innovation.

9G
The Darknet and Emerging Technologies
Justin Fitzsimmons, JD

As the Internet continues to evolve, new layers populate where offenders commit criminal offenses. One such area is known as the Darknet.

Participants will learn how the Darknet works — and how potential criminal activity facilitated on the Darknet is crucial to investigating and prosecuting child exploitation cases.

In addition, new software applications are being added to mobile phones and tablets daily. This presentation will demonstrate several of the newer applications for mobile devices that are popular for teenagers. Participants will also learn about "vault applications" and the ability to secretly store information.

9H
Human Trafficking Investigations: Building a Successful Human Trafficking Case to Convict (Part 2 of 2)
Bradley Schoenleben

Class intended for law enforcement only. See session 8H for description.

9I
Testifying 101 for Medical Professionals
Julie Germann, JD

Doctors and nurses work under extreme pressure to help sick and injured kids. Despite their ability to remain cool under all sorts of pressures in the emergency department, exam room or operating room, the courtroom often terrifies them.

Learn how to prepare to testify, what prosecutors are looking for in your testimony, and how to remain calm, cool and collected under cross-examination.

9J
Self-Defense Basics (Part 2 of 2)
Paul Wade • Ashleigh Force

See session 6J for description.

9L
osTriage - Live Computer Preview Software Tool (Part 2 of 2)
Detective Jeff Rich

See session 9L for description.
Evening Activities
'Experience PDX'
Downtown Portland • Buses leave hotel at 5:30 p.m. and 6:30 p.m.
Join us for a night of fun, relaxation and networking in downtown Portland. Free bus transportation will be provided from the hotel to the Pearl District — where we will be within walking distance of a great many breweries, pubs, and eateries for which Portland is famous!
The first bus will leave promptly at 5:30 p.m. on Thursday, and the second bus at 6:30 p.m., from outside the Grand Ballroom entrance to the Red Lion Hotel on the River. Buses will be returning to the hotel beginning at 8:00 p.m., and again at 9:00, 10:00 and 11:00 p.m.
Sign-up is available at the Summit Information Table, Lower Level Foyer, on the first day of the Summit. Spaces on the buses go quickly, so don't forget to reserve yours!
Vine Gogh Artist Bar
6:00 – 8:00 p.m. • Coffee Bar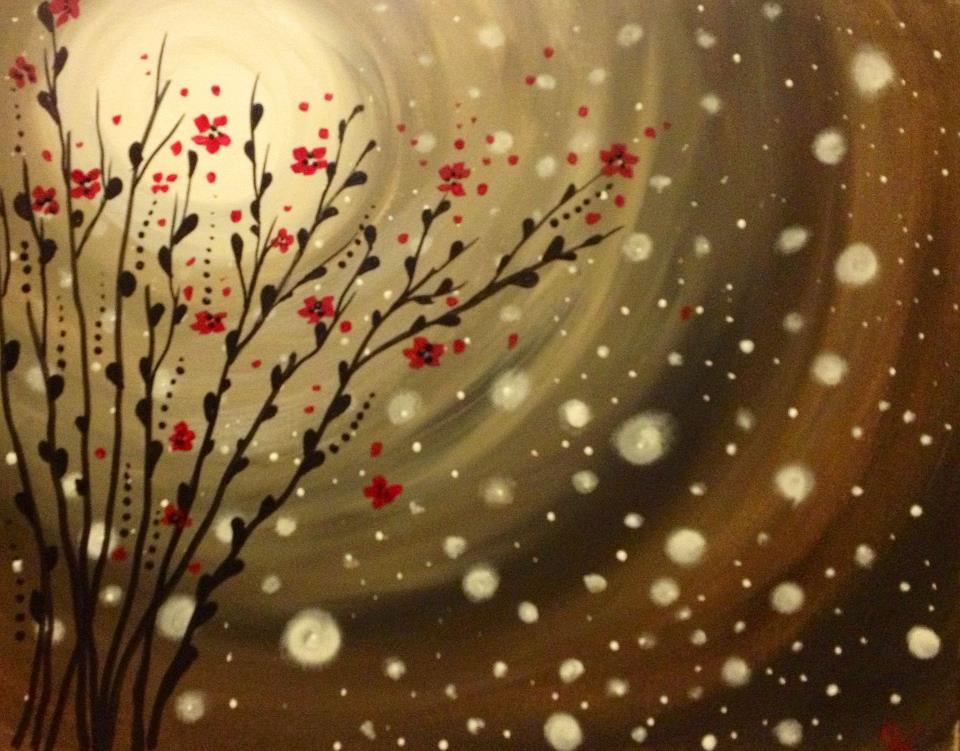 Join the fun on Thursday night, April 18th from 6 to 8 p.m. as Vine Gogh Artist Bar takes you through the step-by-step process of re-creating their Starlit Blooms painting (pictured) on 11x14 canvas. Vine Gogh has given a discounted rate of $25 per person.
All materials (canvas, brushes, easels, paint, aprons to wear) are provided in the price. Vine Gogh's owner Jenny will be leading you through every step of the process until you have finished with your own masterpiece to bring home. Wine will be available to purchase to get the full experience (and provide a little liquid encouragement). Music, painting, and wine will provide the ultimate fun for an event you won't forget!
Pre-registration and payment required to secure your spot! Register at our Information Tables in the Lower Level Foyer by noon on Thursday, April 18.
Self-Defense Basics (Part 2 of 2)
Paul Wade and Ashleigh Force
5:30 – 7:30 p.m. • Glisan Room
Students will be taught basic but extremely effective skills to counter attacks from every angle — including ground attacks. The class will be led by certified self-defense instructors Detective Paul Wade and Ashleigh Force. These skills they will teach are derived from Krav Maga — the Israeli military fighting technique with a proven combat record — and Brazilian Jiu Jitsu, the premier ground-fighting and ground self-defense art in the world. No prior experience is required, and the class is open to all Summit attendees.
Class limited to 12 participants. This is a two-part class — participants are encouraged to participate both Wednesday and Thursday evenings. You will need to sign-up to participate at the Summit Information Table in the Lower Level Foyer of the Red Lion Hotel on the River.