Background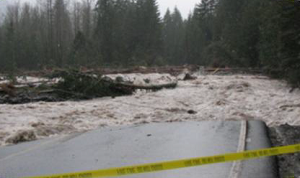 Lolo Pass Road has been damaged by floods in the past – most recently in 2011. Future floods are also expected. Roadway damage can cut off access to residences and U.S. Forest Service facilities until repairs are made. In 2015, the County and Western Federal Lands Highway Division studied possible alternatives to Lolo Pass Road with a lower risk of flooding that would maintain access to Zig Zag Village and the Mt. Hood National Forest.
Lolo Pass Road is in an area on the side of Mt. Hood that is geologically unstable. In the last 100 years, the upper Sandy River next to Lolo Pass Road has had several major floods that have resulted in erosion, road damage and loss of private property. After each flood, the county has repaired and restored the road.
The Sandy River is a young river that is still establishing its permanent channel. Each new flood will create changes in the river and possible damage to Lolo Pass Road and adjacent properties. Due to this unpredictability, the study did not identify an affordable alternative that eliminates all risk.
Status
Aug. 2, 2016 - Board of Commissioners (BCC) votes to take no further action because none of the studied alternatives result in a substantial mitigation of the risk to Lolo Pass Road and could be built in a reasonable period of time at a reasonable cost. Read BCC policy session report.
September 2015 Alternatives Analysis Report
The Clackamas County Department of Transportation and Development, in partnership with the Western Federal Highways Division of the Federal Highway Administration, identified and evaluated possible alternatives to maintain access to Zig Zag Village and the Mt. Hood National Forest.
Contact: Steve Williams, Project Manager, at swilliams@clackamas.us or 503-742-4696
Updated: 10/3/16