April 1, 2018 Update
On May 2, 2013, the Board of County Commissioners levied assessments for the project known as Assessment District 2009-1 (AD2009-1), which funded construction of the public sanitary sewer system improvements in the North Clackamas Revitalization Area (blue, green and brown areas of the map below). Final assessments were mailed to property owners with AD2009-1 on May 9, 2013.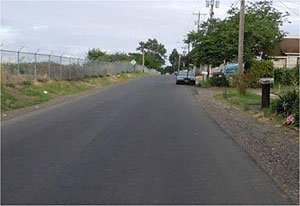 2013 The most visible result of the recent sanitary sewer project is approximately 8.5 miles of reconstructed or restored roads. Above and below SE Alberta Street in the Phase 2 project area.
To date, 80% of property owners have paid the assessment in full or have arranged for installment payments through Clackamas County Service District No. 1. For those who have not yet made payment arrangements, the installment payment option is still available:
There are no application fees, appraisal, income limits or prepayment penalties associated with the installment payment plan.
Simply complete the Application to Pay Assessment in Installments and return it our office at 150 Beavercreek Road, Oregon City OR 97045. An example payment schedule is shown below.
Please note, all owners of the property need to be listed and sign the application.
Installment payments are applied to the unpaid account balance in the following order:
A regular full installment payment received by the due date is credited to the account with interest and principal payments credited to the account as shown on the statement.
Any other payment, such as a monthly or partial payment or a late payment, is credited first to interest due, then to the balance of the assessment principal.
NCRA Sewer Assessment Safety Net Grant Program
The NCRA Sewer Assessment Safety Net Grant Program has been offered since 2013. The program is intended to assist qualified property owners with their assessment payments. An overview of the current Grant Program is available below.
Decision to Connect to the Public System:
Please note the sanitary sewer assessment is due regardless of a property owner's decision to connect to the public system.
Public sanitary sewer service is available to all properties within the assessment district; however, CCSD #1 does not have a mandatory connection policy. Property owners may continue to use their current on-site wastewater disposal system so long as it functions properly. Please be aware that the Oregon Department of Environmental Quality's current regulations will require connection to the public sanitary sewer system once the old system fails.
Please call Water Environment Services at 503-742-4567 or WES-SewerInfo@clackamas.us if you have questions about your assessment, connection to the new sewer system, and/or available financial assistance.
Connection costs:
A System Development Charge is due prior to connection, as well as a monthly service charge. A System Development Charge credit is available to those who connect within 5 years of project completion. Please contact Water Environment Services at 503-742-4567 for more information.
A limited Sewer Hook-Up Grant Program is also currently available to those property owners who are ready to connect to the public system. This program funds the private costs of hiring a contractor to connect the plumbing in the home to the public sewer system, as well as decommission the old on-site system and helped over 65 properties connect to the new sewer system. Funds are very limited so contact WES today if interested in this Program. The Program Overview is available below.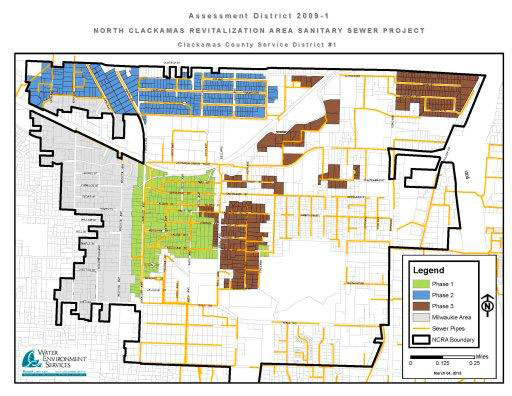 For questions and more information about your assessment, please call Water Environment Services at 503-742-4567.
For more information about the NCRA contact Project Manager Ken Itel at 503-742-4324.