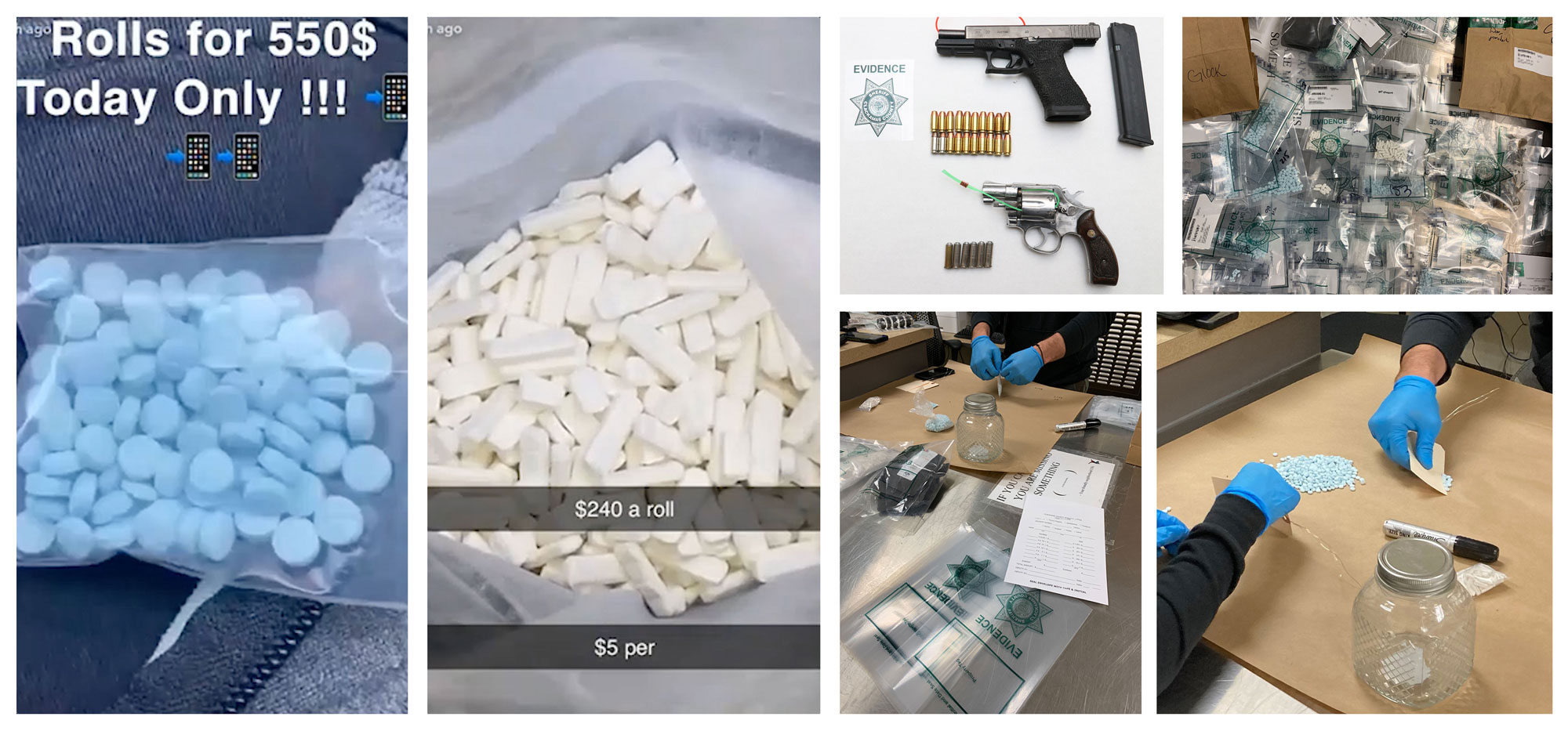 Please reference CCSO Case #s 21-070128, 21-070129, 21-070130, 21-070131, and 21-070132
VIDEO: Giovanni Smith's Snapchat drug storefront (.mp4 format):
https://www.dropbox.com/s/roqvz9p4im623be/M30SnapchatStorefront.mp4?dl=0
Social-media surfing by our narcotics task force led to five arrests; a sizeable seizure of guns and fentanyl-laced counterfeit pills; and detectives from outside agencies scrambling to interview the suspects.
Earlier this month, deputies on the Clackamas County Inter-agency Task Force (CCITF) decided to check in on social media.
The CCITF is a multi-agency team tasked with reducing illegal drugs and related crimes. Locally, the task force is seeing a spike in a specific form of drug crime: Dealers are freely advertising drugs for sale on popular social-media platforms including Snapchat.
Recently, task-force members have seen increased sales of counterfeit M30 pills. These pressed oxycodone pills are laced with potentially lethal amounts of other substances, including the synthetic opioid fentanyl.
Deputies have seen a recent increase in overdose calls involving counterfeit Oxycodone /M30 pills. These pills have been known to be laced with fentanyl, which makes these pills extremely dangerous, even in small doses. Some subjects can be revived with doses of Narcan; others aren't so fortunate. Recent news stories on the problem:
Earlier this month, CCITF investigators posing as potential buyers quickly found a seller of these dangerous fentanyl-laced pills on Snapchat. The seller: Giovanni Smith, 18, of Portland.
Photos of Giovanni Smith's Snapchat drug storefront are attached, and video taken from his social-media feed can be downloaded from this Dropbox address:
https://www.dropbox.com/s/roqvz9p4im623be/M30SnapchatStorefront.mp4?dl=0
Investigators posting a buyers quickly arranged a deal with Mr. Smith at a meeting spot in Clackamas County. The purchase would include M30 pills and cocaine.
Smith arrived at the designated meeting location with four juveniles in his vehicle. Task-force members then took the subjects into custody without incident.
The cocaine the suspects had brought was quickly dumped inside the car, in an unsuccessful attempt to discard some of the evidence. Inside the vehicle the investigators found the cocaine as well as over 1,000 counterfeit M30 pills, two loaded guns, ammunition, and spent bullet casings. Photos of the seized drugs and weapons are attached.
The four arrested juveniles were males between the ages of 16 and 17. These arrests sparked several follow-ups by detectives from other agencies in Multnomah County due to their involvement in felony crimes in other jurisdictions.  The juveniles were booked into the Donald E. Long Juvenile Detention Center on a mix of charges including Unlawful Possession of a Weapon (Firearm) and warrants for Distribution of a Controlled Substance, Possession of Controlled Substance, Burglary and Assault.
Giovanni Smith was arrested and transported to Clackamas County Jail, where he was booked on charges including:
Distribution of a Controlled Substance -- Cocaine (ORS 475.880)
Possession of a Controlled Substance -- Cocaine (ORS 475.884)
Distribution of a Controlled Substance -- Schedule II 475.752-6
Possession of a of a Controlled Substance -- Schedule II (ORS 475.834)
Possession of a Controlled Substance -- Schedule I (ORS 475.752)
Endangering the Welfare of a Minor (ORS 163.575)
ABOUT THE CCITF:
Learn more about the Clackamas County Inter-agency Task Force at http://countytaskforce.com . In the first quarter of 2021, the CCITF has posted the following results:
DRUGS SEIZED: 
Cocaine: 33 pounds
Fentanyl pills: 12,500 pills
Heroin: 10 pounds
LSD: 30 doses
MDMA: 3 ounces
Meth: 171 pounds
Oxys: 5 pills
Oxys (pills in bag): 14 ounces
Xanax: 6,000 pills
OTHER STATS:
24 arrests
9 firearms seized
7 agency assists
9 overdose investigations
ADDITIONAL TIPS SOUGHT: Anyone with information on criminal activity by Giovanni Smith is urged to contact the Sheriff's Office Tip Line — by phone at 503-723-4949 or by using the online email form at https://www.clackamas.us/sheriff/tip . Please reference CCSO Case #s 21-070128, 21-070129, 21-070130, 21-070131, and 21-070132.
[END]
Sgt. Marcus Mendoza
Clackamas County Sheriff's Office
Public Information Unit