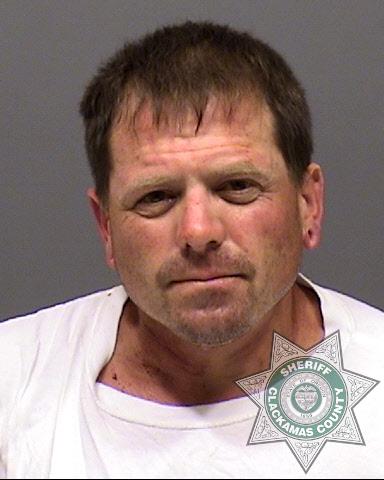 Please reference CCSO Case # 22-018503
On Aug. 15, the Clackamas County Sheriff's Office arrested a suspect in a purse-snatching crime spree involving over 40 victims in the parking lot of Costco, located at 13130 SE 84th Ave, Clackamas, OR 97015. Authorities believe there may be additional victims and are seeking tips.
The arrest comes after nearly a year of purse-snatching and fraud incidents in which the suspect targeted single women loading groceries into their vehicles --stealing their purses, wallets, and/or credit cards while they were distracted. The credit cards were used to make fraudulent purchases of gift cards, tools, and other items in the Clackamas and Happy Valley areas.
Thanks to eyewitness accounts, surveillance footage, and other information, the Sheriff's Office was able to link several theft cases to a single suspect: Darren Dean Goff, 40, of Eagle Creek.
On Monday, Aug. 8, Sheriff's Office deputies attempted to take Goff into custody at SE 84th in Clackamas; he eluded capture in a vehicle with a stolen license plate.
A week later, just after 8:30 p.m. on Monday, Aug. 15, Clackamas County SWAT executed a search warrant at Goff's Eagle Creek residence. At the time, Mr. Goff was sitting in the driveway at the residence in a vehicle reported stolen out of Gresham; he exited the vehicle and attempted to flee on foot, but was apprehended by a K9 Unit in a neighboring yard. He was also found to be in possession of a handgun.
Goff was transported to a local hospital where he was treated and released for injuries sustained from a dog bite during the apprehension.  Upon release he was transported to the Clackamas County Jailwhere he was booked on charges including Felon in Possession of a Firearm, Attempting to Elude a Police Officer, Unauthorized Use of a Vehicle, Possession of a Stolen Vehicle, and multiple warrants. Complete booking info is here: https://web3.clackamas.us/roster/#inmates He is being held on $150,000 bail.
We are releasing Goff's booking photo from this incident. The release of the booking photo is for law enforcement purposes and is in accordance with Oregon House Bill 3273 for the identification of additional criminal activity.
ADDITIONAL VICTIMS, INFO SOUGHT: Sheriff's Office detectives are looking to determine if there are additional victims. Were you a recent victim of a similar theft? Do you have information on criminal activity involving Darren Goff? Contact the Sheriff's Office Tip Line -- by phone at 503-723-4949 or by using the online email form at https://www.clackamas.us/sheriff/tip . Please reference CCSO Case # 22-018503.
[END]
Deputy John Wildhaber
Clackamas County Sheriff's Office
Public Information Unit