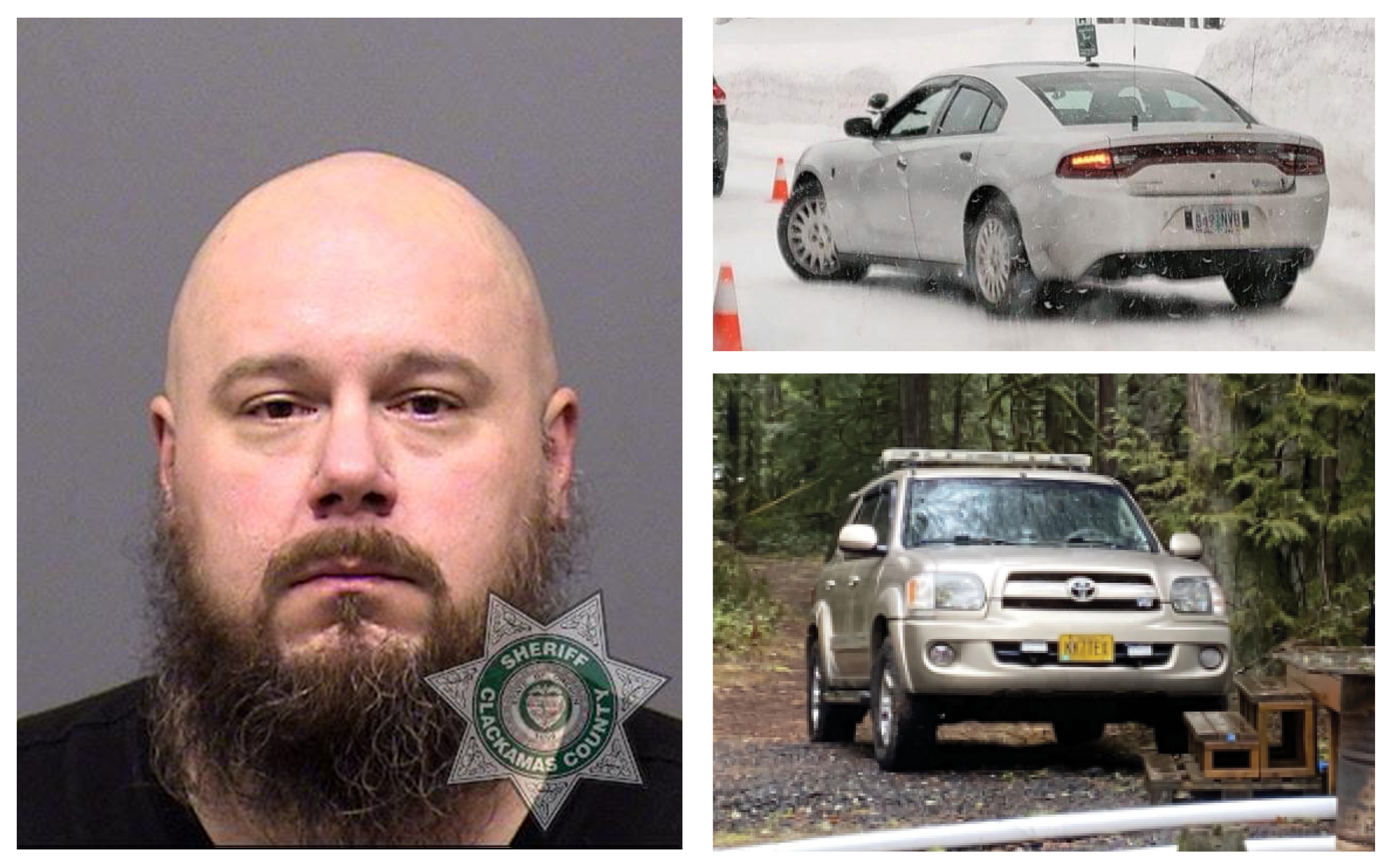 Please reference CCSO Case # 23-002619
The Clackamas County Sheriff's Office is asking the public for additional tips and info after arresting a man on Feb. 4 for impersonating a police officer in the Mt. Hood area.
Timothy Jacob Benz, age 41, of Rhododendron, is currently being held without bail in Clackamas County Jail on charges including Impersonating a Police Officer, Felon in Possession of a Firearm, and Felon in Possession of a Restricted Weapon. His complete booking info is here.
Sheriff's Office deputies arrested Benz on Saturday, Feb. 4 following multiple reports from callers to Clackamas 911 (C-COM), Oregon State Police, and other sources that he had been impersonating a police officer in a vehicle.
Investigators learned Benz was spotted "patrolling" the Mt. Hood Meadows parking lot in a silver Dodge Charger and engaging in other unusual behavior. Benz was reportedly wearing black body armor while driving a vehicle that looked like an unmarked police car, and claimed to be a member of the Oregon State Police when contacted by Mt. Hood Meadows security personnel.
In 2011, the Oregon State Police arrested Benz after he reportedly drove recklessly and used a vehicle equipped with a full-roof light bar, strobe lighting, and siren to move through traffic after the Hillsboro International Air Show. Benz later pled guilty to reckless driving.
Benz is the registered owner of two vehicles with aftermarket emergency lights:
A silver four-door 2019 Dodge Charger, license plate 849NVB, outfitted with a spotlight, aftermarket emergency lights, and black badge decal near the driver's-side door
A gold 2006 Toyota Sequoia sport utility vehicle, license plate KK7TEX, outfitted with a rooftop light bar
Photos of these vehicles are linked above.
If you were contacted by Benz or witnessed him impersonating law enforcement, please call the Sheriff's Office Non-Emergency Line at 503-655-8211.
Anyone with additional information on Timothy Benz is urged to contact the Sheriff's Office Tip Line -- by phone at 503-723-4949 or by using the online form. Please reference CCSO Case # 23-002619.
We are releasing Benz's booking photo from this incident. The release of the booking photo is for law-enforcement purposes, and is in accordance with Oregon House Bill 3273 for the identification of additional criminal activity.
[END]
Deputy John Wildhaber
Clackamas County Sheriff's Office
Public Information Unit