UPDATE (October 23, 2023): Sheriff's Office Identifies Couple in Welches Shooting

Please reference case #23-020750
Family notifications have been completed and the Clackamas County Sheriff's Office is identifying the two deceased individuals involved in a shooting that happened on October 6, 2023 at the Mount Hood Village RV Resort in Welches. The victims are Matthew Reid Mullin, age 46, of Welches and Kimberly Taylor Mullin, age 50, of Welches.
The investigation is ongoing.
[END]
_____
EARLIER (October 6, 2023): Sheriff's Office Investigating Shooting Incident near Welches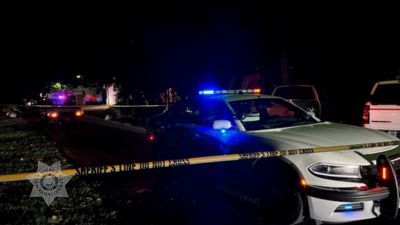 Please reference case #23-020750
On Thursday, October 5, 2023, at approximately 7:45 p.m., Clackamas County Sheriff's Office deputies responded to reports of a domestic disturbance at the Mount Hood Village RV Resort at 65000 E Hwy 26, Welches, in unincorporated Clackamas County. 
Upon arrival, deputies discovered one man who appeared deceased in front of a trailer and located an injured woman inside the trailer.  Both had apparent gunshot wounds.
Deputies attempted lifesaving efforts on the woman and she was transported by Life Flight Network to a Portland hospital where she died.
A third man who was present was identified and is cooperating with investigators. No further details are available for release at the time.
ADDITIONAL TIPS & INFORMATION WANTED: Anyone with information about this case is urged to contact the Sheriff's Office Tip Line -- by phone at 503-723-4949 or by using the online email form at: www.clackamas.us/sheriff/tip
Please reference case #23-020750
SIGN UP for ClackCo Sheriff News Releases in your inbox: https://www.clackamas.us/sheriff/constantcontact.html
[END]
Brian McCall, Public Information Officer
Clackamas County Sheriff's Office
Communications Unit