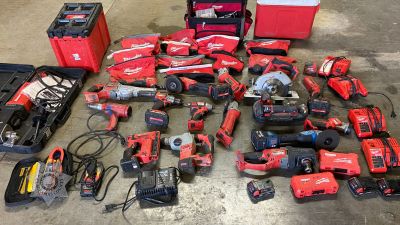 PHOTOS: [ 1 ] [ 2 ] [ 3 ] [ 4 ] [ 5 ] [ 6 ]
Deputies Working to Locate Additional Suspect and Reunite Victims with Stolen Property
In September, Clackamas County Sheriff's Office deputies arrested a man on a long list of vehicle-theft, burglary and driving charges involving multiple Clackamas County businesses. The Sheriff's Office is now working to reunite victims with their stolen property, and we're asking the public for tips that might link the suspect to additional crimes and identify another possible suspect.
Pawel "Paul" Sebastian Szkutnik, 39, is alleged to have embarked on a crime spree that included thefts at multiple heating and cooling businesses, as well as multiple commercial-vehicle thefts, detailed across several different cases. The first known case happened on September 23, 2023, when the suspect is believed to have stolen a white 2005 Ford pickup out of Portland. Here's what happened in Clackamas County:
CASE #23-019946:
Shortly after 9 a.m. on Sunday, Sept. 24, Szkutnik worked with an unidentified female accomplice to steal another vehicle, a Robben & Sons Heating Inc. company van, parked at the business on SE Piazza Avenue in Clackamas. A Sheriff's Office deputy would later locate this stolen van abandoned on the side of the road in Oregon City.
CASE #23-019932:
At 1:15 p.m. on Sunday, Sept. 24, Szkutnik eluded a deputy on Highway 212 in the Clackamas area who spotted him driving the stolen white Ford pickup from Portland.
CASE #23-019942:
At 3:40 p.m. on Sunday, Sept. 24, deputies responded to a reported theft in progress at Milwaukie Heating & Cooling at 9961 SE Hwy 212 in Clackamas, a short distance away from Robben & Sons Heating Inc. Szkutnik had been spotted on the property, breaking into an outbuilding and loading items out of the stolen white Ford pickup into a Milwaukie Heating & Cooling company van he was planning to steal next.
As deputies arrived and surrounded the business, Szkutnik jumped into the company van and drove it through a closed front gate and fence, driving west on Highway 212. He then drove the van over a sidewalk, up a grass berm and into the parking lot of the Comfort Suites Hotel located at 15929 SE McKinley Ave. Deputies took Szkutnik into custody after he abandoned the van and tried to run away on foot.
Szkutnik was found to have methamphetamine on his person at the time of his arrest.
The stolen Milwaukie Heating & Cooling van was filled with $5,000 worth of stolen property taken from an outbuilding at Milwaukie Heating & Cooling. The remainder of the stolen property in the van, including two bicycles, tools, HVAC foil tape, a vehicle fleet MasterCard, clothes and pill bottles, was transported to the Sheriff's Office Property Room. Authorities are currently working to reunite these items with their original owners. (Photos attached)
Pawel "Paul" Sebastian Szkutnik was booked into Clackamas County Jail on a long list of charges including: Unauthorized use of a Vehicle, Eluding a Police Officer, Burglary in the Second Degree, Theft in the First Degree, Criminal Mischief in the First and Second Degree, Reckless Driving, and Reckless Endangering. He is also being held without bail for Probation Violations out of Multnomah County (Unauthorized Use of Vehicle and PCS Meth).
ADDITIONAL SUSPECTS, INFORMATION WANTED
Deputies are working to identify additional crimes involving Szkutnik, and are also working to identify his female accomplice in the Sept. 24 theft of the Robben & Sons Heating Inc. company van.
Pawel "Paul" Szkutnik is believed to be involved in additional vehicle and bicycle thefts, including the Sept. 19 theft of a Kaiser Sunnyside Medical Center work van (Case #23-019636).
Anyone with information on Pawel "Paul" Szkutnik, his criminal activity, or his associates is urged to contact the Sheriff's Office Tip Line by phone at 503-723-4949 or by using the online email form at: https://www.clackamas.us/sheriff/tip
Please reference CCSO Cases: 23-019636, 23-019589, 23-019932, 23-019942, & 23-019946
SIGN UP for ClackCo Sheriff News Releases in your inbox: https://www.clackamas.us/sheriff/constantcontact.html
[END]
Brian McCall, Public Information Officer
Clackamas County Sheriff's Office
Communications Unit