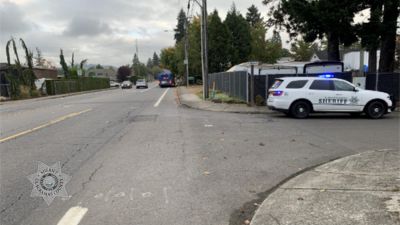 Please reference case #23-021198
The Clackamas County Sheriff's Office is investigating a fatal crash following a hit-and-run incident that involved children waiting for a school bus.
On Thursday, October 12, 2023, at approximately 8:00 a.m., Clackamas County Sheriff's Office deputies responded to a reported hit-and-run on SE 82nd Drive near SE Tiffany Court in Clackamas. The initial report indicated that a child had been hit on a sidewalk, and the suspect driver had left the scene in the involved vehicle. Upon arrival, deputies learned that one child had been pulled back from the vehicle's path by an older sibling, but not before the child's feet were run over. The child received medical treatment at the scene.
Moments later, deputies learned of a separate head-on crash on SE Jennifer Street near SE Evelyn Street, less than a mile away. Additional deputies went to this second location, and determined the vehicles involved were a Kia Spectra and a Subaru Forester. The Kia Spectra matched the description of the vehicle involved in the hit-and-run involving the child.
The driver of the Subaru, identified as 81-year-old Carol Marie Day Bordeaux, of Oregon City, was transported to the hospital with serious injuries.
The driver of the Kia, identified as 24-year-old Ilya Ilech Bosovik of Clackamas, was also transported to a local hospital where he later died. The Sheriff's Office inter-agency Criminal Reconstruction and Forensic Technicians (CRAFT) team is investigating the fatal crash. Investigators believe the driver of the Kia may have been under the influence of intoxicants.
The following agencies assisted: Oregon State Police, Gladstone Police, Clackamas Fire, and American Medical Response (AMR).
ADDITIONAL TIPS & INFORMATION WANTED: Anyone with information about this case is urged to contact the Sheriff's Office Tip Line -- by phone at 503-723-4949 or by using the online email form at: www.clackamas.us/sheriff/tip
Please reference case #23-021198
SIGN UP for ClackCo Sheriff News Releases in your inbox: https://www.clackamas.us/sheriff/constantcontact.html
[END]
Sergeant Ross Clemson, Public Information Officer
Clackamas County Sheriff's Office
Communications Unit