Clean-Fire Ammunition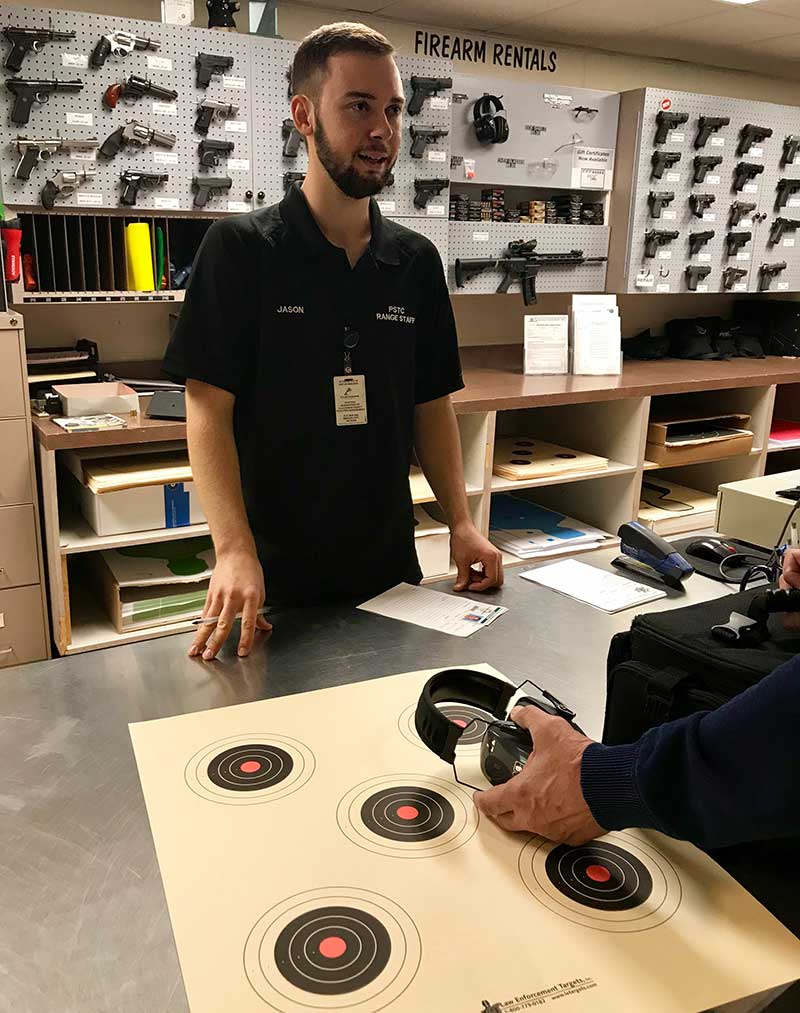 All ammunition must be purchased from the PSTC Armory. When available, "clean fire" ammunition will be used. It virtually eliminates lead vapors generated at the firing point — by combining a total metal jacket and a priming mixture containing no toxic elements.
Ammunition for all classes must be purchased from the Public Safety Training Center on day of class.
All ammunition prices are subject to change without notice
Armory Supplies
For the convenience of the shooting enthusiast, the PSTC Armory carries eye protection, hearing protection (electronic and standard over-ear options), targets and self-defense carry ammunition catering to both the public and law enforcement. Additional items include holsters, speed loaders, cleaning supplies, knives, pepper spray and branded PSTC merchandise.
Gun Rentals
The PSTC features a variety of firearms for rental. You must also purchase our ammunition to shoot at the PSTC's ranges.
Gun Rentals
You must have a working firearm with you to rent one.
| | |
| --- | --- |
| Members | $10 |
| Non-Members | $12 |
| Revolvers | $6 |
Handguns

Make
Model
Caliber
Beretta
BB84
.380 cal
Beretta
92fs
9mm
Browning
Hi-power
.40 cal
Colt
1911
.45 cal
Colt
Cobra
.38 spl
Colt
Detective
.38 spl
Colt
Python
.357 cal
CZ
75 BD
9mm
Glock
G17 GEN5
9mm
Glock
G19 GEN 5
9mm
Glock
G20C
10mm
Glock
G21
.45 cal
Glock
G22 GEN 5
.40 cal
Glock
G23
.40 cal
Glock
G26
9mm
Glock
G27
.40 cal
Glock
G30 GEN 5
.45 cal
Glock
G34 LE GEN 5
9mm
Glock
G36
.45 cal
Glock
G42
.380 cal
Glock
G43
9mm
Glock
G43X
9mm
Glock
G44
.22 cal
Glock
G45
9mm
Glock
G48
9mm
H&K
USP
.40 cal
H&K
USP
9mm
H&K
USPc
.45 cal
H&K
USPc
9mm
Kahr
K9
9mm
Kel-Tec
PMR-30
.22 WMR
Ruger
22/45
.22 cal
Ruger
Blackhawk
.44 mag
Ruger
GP100
.357 cal
Ruger
LCP
.380 cal
Ruger
LCR
.357 cal
Ruger
Mark III
.22 cal
Ruger
P94
.40 cal
Ruger
P95DC
9mm
Ruger
Single Six
.22 cal
Sig Sauer
P220
.45 cal
Sig Sauer
P226
9mm
Sig Sauer
P229
.40 cal
Sig Sauer
P230SL
.380 cal
Sig Sauer
P239
9mm
Sig Sauer
P365
9mm
Sig Sauer
P938
9mm
Smith & Wesson
1911
.45 cal
Smith & Wesson
BG380 Bodyguard
.380 cal
Smith & Wesson
M&P
.40 cal
Smith & Wesson
M&P 9 M2.0
9mm
Smith & Wesson
M&P 9C Compact
9mm
Smith & Wesson
M&P 9C Shield
9mm
Smith & Wesson
M&P 15-22
.22 lr
Smith & Wesson
Shield EZ
.380 cal
Smith & Wesson
317-1
.22 cal
Smith & Wesson
317-1 Airlite
.22 cal
Smith & Wesson
Model 19
.38 spl
Smith & Wesson
Model 60
.357 mag
Smith & Wesson
Model 60
.38 spl
Smith & Wesson
Model 337
.38 spl
Smith & Wesson
Model 340sc
.38 spl
mith & Wesson
Model 629
.44 mag
Smith & Wesson
Model 640
.38 spl
Smith & Wesson
Model 686
.357 mag
Springfield
Hellcat
9mm
Springfield
XD
.40 cal
Springfield
XD Tactical
.45 cal
Springfield
XD9c
9mm
Springfield
XDS
9mm
Taurus
PT138
.380 cal
Walther
P22
.22 cal
Walther
PPK
.380 cal


Long guns

Make
Model
Caliber
Ruger
10/22
.22 cal
Smith & Wesson
M&P 15-22
.22 LR