Our Mission, Vision and Values
Sheriff Craig Roberts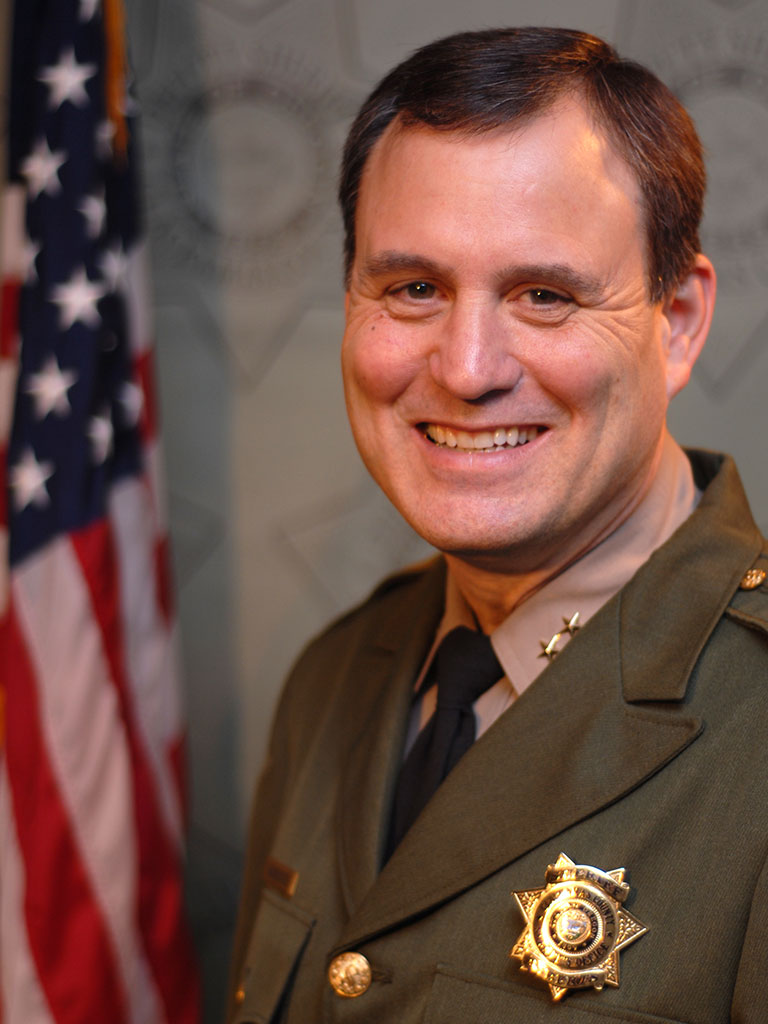 Craig Roberts was sworn in as the Sheriff of Clackamas County on Jan. 4, 2005, and re-elected to office in 2008, 2012 and 2016.
Born and raised in Clackamas County, Roberts has risen through the ranks of the Clackamas County Sheriff's Office over the past four decades.
After starting out as a reserve deputy in 1979, he was hired full time in 1982, and subsequently joined the SWAT team, serving for 10 years as a member of the elite tactical unit. After five years on patrol, he transferred to an undercover narcotics unit, working cases that led to the successful prosecution of major drug trafficking organizations in federal court.
Read more about Sheriff Roberts...
Promoted to detective after five years on the drug unit, Roberts started working property crimes before moving up to investigating armed career criminals and ultimately rape and homicide cases.
Roberts was then selected for a position at CARES Northwest at Legacy Emanuel Medical Center, a medically-based child abuse assessment and intervention program based in Portland that serves 1,400 families each year. Roberts worked with abused children with a variety of other service providers, mental health, child protective services, and medical providers and served as a liaison for other law-enforcement agencies to the center.
As a father of three, he was especially affected by cases that involved the death or abuse of children, which prompted him to launch several initiatives to address the problem.
First among these was the formation of a Child Abuse Team -- a group of dedicated investigators that combined the resources of law enforcement, social services, the medical community and other professionals to identify and protect children in danger of abuse.
In 1999, he launched the annual Child Abuse & Family Violence Summit -- now recognized among the best family-violence conferences in the nation. Over the past two decades, this landmark conference has trained over 13,000 attendees from 13 countries, awarded over 2,000 scholarships and featured over 1,100 classes and workshops taught by over 700 presenters.
His CARES experience also led him to see the need for a child-abuse center in Clackamas County. Roberts teamed up with a researcher and conducted a needs assessment. The need was clear — and after helping present the idea to county leaders, the Children's Center of Clackamas County became a reality in 2004. Roberts served as a Children's Center board member through a successful fundraising effort and the construction of a new Children's Center facility that opened in 2011.
Other initiatives have included the multi-agency Domestic Violence Enhanced Response Team (DVERT), which he led as its director.
Building on the creation of the domestic violence unit in 2014, in Sheriff Roberts and Clackamas Women's Service Director Melissa Erlbaum proposed and helped spearhead the creation of A Safe Place, the first Family Justice Center in Oregon. The Family Justice Center concept is simple but powerful: Bring together a wide range of domestic-violence services in a single location. During one visit, a client might have the opportunity to talk to a domestic-violence advocate, speak with a police officer, receive counseling and spiritual guidance, develop a safety plan, obtain medical care, get food and clothing, or find out about available shelters. This was identified by the U.S. Department of Justice as the best-practice model to provide intervention services for domestic violence survivors. In 2016, the National Association of Counties named A Safe Place Family Justice Center "Best in Category" for Criminal Justice and Public Safety.
A key initiative from A Safe Place is Camp Hope Oregon, a two-week camp for children who've survived or been exposed to trauma. Participating children work with counselors for an entire year to help them address the trauma they experienced.
Sheriff Roberts also spearheaded the creation of the National Family Violence Apprehension Detail -- a coordinated warrant sweep by law enforcement agencies all over the country, which has served as a model for more recent federal efforts. The sweep was started in 2001 -- a regional effort involving six counties making 129 arrests on 1,226 warrant-service attempts. The first national sweep was held in 2003, with agencies in 12 states participating; to date, the sweep has led to over 76,000 warrant attempts and over 16,000 warrants served, with triple the number of participating states.
Sheriff Roberts was also among those who lobbied in support of the passage of Oregon Senate Bill 1562, which increased the crime of strangulation during domestic violence to a felony. The new law took effect on Jan. 1, 2019.
Sheriff Roberts has also launched numerous law enforcement initiatives to help those struggling with mental illness and addiction issues. He began by introducing Crisis Intervention Team (CIT) training and Advanced Crisis Intervention training to the Sheriff's Office to better prepare deputies for encounters with persons suffering with mental illness.
Sheriff Roberts then proposed a partnership with Health, Housing & Human Services and created a Behavioral Health Unit within the Patrol Division to allow earlier intervention and better services overall for those with mental illness. To continue improving this response, he formed a workgroup called IBIS (Identifying Barriers and Implementing Solutions). IBIS comprises professionals from the courts, the Clackamas County District Attorney's Office, social services, the National Alliance for the Mentally Ill (NAMI), Clackamas County Veterans Services, medical providers, Community Corrections and others.
Sheriff Roberts also championed a $42.7-million public-safety levy, passed by voters in 2006 with 52.89% voter support, that re-opened 84 jail beds that had previously been shuttered due to lack of staff. The Clackamas County Jail has since made several facility modifications and added an additional 31 beds. In 2011, Sheriff Roberts campaigned for continued funding of the public safety levy; this passed with 75.6% voter approval.
Since becoming Sheriff in 2004, he has developed two new multi-jurisdictional teams to address specific criminal threats. To combat the trafficking of illegal drugs, Roberts created the Clackamas County Inter-agency Task Force (CCITF), a coordinated group effort by local, state and federal law-enforcement officials to reduce illegal drugs and related crimes, including child endangerment, in Clackamas County. In 2016 the CCITF received the "Outstanding Task Force Award" from Oregon-Idaho HIDTA and the Oregon Narcotics Enforcement Association. This team has made major impacts on drug trafficking organizations, and has been praised as "the gold standard" by an Oregon U.S. Attorney.
Then, recognizing the danger to children from Internet sexual predators, he formed INTERCEPT -- the Inter-agency Child Exploitation Prevention Team. INTERCEPT includes investigators from the Clackamas and Multnomah County Sheriff's Offices, as well as state and federal partners; this multi-agency team focuses on online predators who target children — those who distribute child pornography and those who go online seeking sex with children.
In 2007, building on the Sheriff's Office search-and-rescue expertise, Roberts launched Northwest SARCon in response to the Governor's Report that followed the 2006 search for TechTV host James Kim and his family. This fall conference brings nationally recognized leaders and experts to Oregon to educate public-safety officials and volunteer search teams.
Understanding the link between drug addiction and criminality, Sheriff Roberts has also dedicated resources to inmate substance abuse recovery and ending the county jail's "revolving door" for those struggling with addiction.
In 2008, Community Corrections came under Sheriff's Office management. In 2008, Community Corrections re-opened the Residential Center and Men's CSAP, a men's drug and alcohol program for those on probation. In September 2009, Community Correction opened a 10-bed facility to start Women's CSAP; today, that facility has 34 beds. Since opening, Women's CSAP has provided treatment services to over 250 women. This program is unique — the only one of its kind in Oregon and one of the few in the United States. It features longer treatment not dictated by insurance, uses medication-assisted treatment, and addresses depression and other mental health issues. It also extends care by moving clients to clean and sober living, and helps program participants get living wage jobs while providing access to mentors. All of this gives participants a genuine shot at success.
In 2014, the Sheriff's Office earned accreditation through the Oregon Accreditation Alliance.
Sheriff Roberts has also taken the lead to ensure deputies in his department serving in the military receive all the help they need while on a deployment and transitioning back into civilian life when they return from overseas. The Clackamas County Sheriff's Office launched the Military Employee Support Program in July of 2014. The program offers financial and logistical support for employees and their families during a deployment. He also supported legislation passed in 2015 that allows public agencies at the state and local level to supplement the military pay received by employees who serve in the National Guard or Reserves. This allows public employers to make up the difference in pay while on a deployment if the employees military salary is less than that of their civilian job. This led to the Department of Defense honoring the Sheriff's Office with its Freedom Award -- the highest honor given to employers for their support of employees in the National Guard and Reserve forces.
The Sheriff's Office was recognized by President Obama for its response to the December 2012 active-shooter incident at Clackamas Town Center. Sheriff Roberts was invited to the White House to meet with others from Sandy Hook and Virginia Tech to share lessons learned. The Sheriff and his staff also provided assistance during the June 2014 Reynolds High School shooting and the 2015 Umpqua Community College mass shooting.
In 2015, Sheriff Roberts was asked to participate on a conference call and provide recommendations to the subcommittee reporting to President Obama on 21st-century policing.
Roberts is a graduate of the National Sheriffs' Institute, a board member of the federally funded High Intensity Drug Trafficking Area (HIDTA), a Family Justice Center Board Member, a member of the Association of Threat Assessment Professionals, and Chair of the Oregon Task Force on School Safety (OTFSS).
In his capacity as OTFSS chair, he helped introduce HB 2327 and SB 584, which just passed to fund the "Oregon Safe to Learn Act" — which establishes a Statewide School Safety and Prevention System within the Oregon Department of Education. This will provide 15 full-time Technical Support Specialists who will work directly with schools to develop mental wellness and suicide prevention strategies. It will also help schools establish local multi-disciplinary safety assessment teams to respond to threats of violence — with law enforcement playing an important role on these teams.
He currently serves as the President of the Oregon State Sheriffs' Association. He previously represented the OSSA as a task-force member on technology matters including body cameras and license-plate readers.
He is also a member of the Local Public Safety Coordinating Council and subcommittees of the Oregon State Sheriffs' Association. He has also served on the Children's Center Board, the Clackamas County Emergency Services Foundation, the Clackamas County Police Officers Benevolent Foundation (CCPOBF), the North Clackamas Chamber of Commerce, and the State Medical Examiners Board, appointed by the Governor.
Undersheriff Angela Brandenburg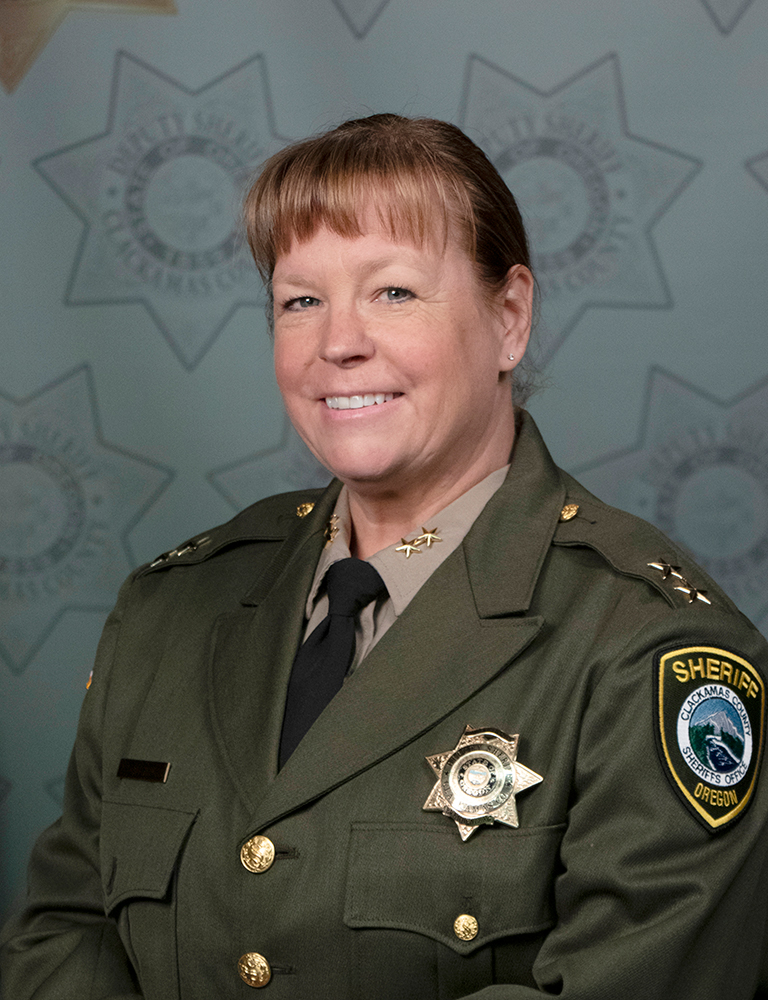 Undersheriff Angela Brandenburg has served with the Clackamas County Sheriff's Office for 27 years. She is also a veteran who served nine years in the Oregon Army National Guard.
During her career at the Sheriff's Office, Undersheriff Brandenburg has served in a variety of capacities. She has worked as a Reserve Deputy, Patrol Deputy, Civil Deputy, Patrol Sergeant, Civil Sergeant and Lieutenant. She also spent five years as the Public Information Officer, and was a member of the Search & Rescue and SWAT Teams.
Before taking over as Undersheriff, she served for five years as the Director of A Safe Place Family Justice Center. She was also responsible for leading our Domestic Violence Enhanced Response Team (DVERT).
She lives in Molalla with her husband and two children.
Chief Deputy Jenna Morrison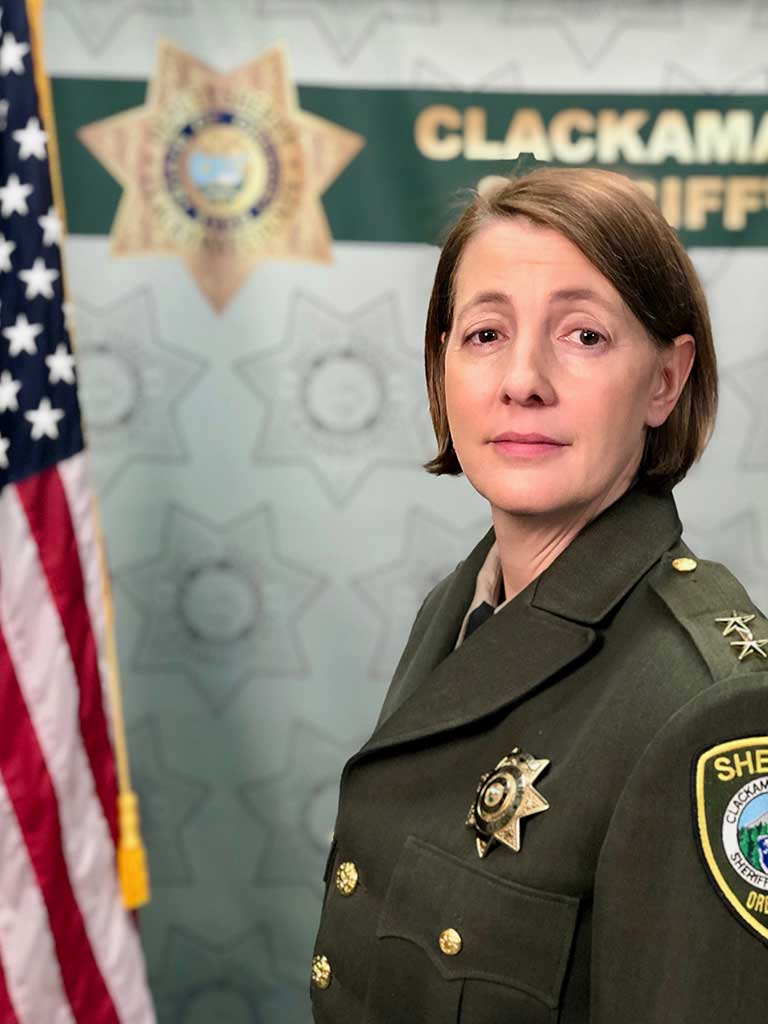 Chief Deputy Jenna Morrison graduated from The Ohio State University in 1995 with her Bachelors of Science in Social Work. She began her career at the Benton County Sheriff's Office where she spent 12 years as a Parole & Probation Officer, Corporal and Sergeant. While there, she was part of Search and Rescue, a member of the Public Information Officer team and certified as a Defensive Tactics Instructor. In 2009, Jenna was hired as a Community Corrections Manager for Clackamas County Community Corrections. In November 2015 she was promoted to Clackamas County Sheriff's Office Captain and served as the Community Corrections Director. In 2019 she was promoted to Chief Deputy.
Read more about Chief Deputy Morrison...
She holds Basic, Intermediate, Advanced, Supervisory, Management and Executive Certifications in Parole and Probation from DPSST; and is currently working on certification in Corrections. Jenna has served as the Secretary of the Oregon Association of Community Correction Directors and served two terms as a board member of the Oregon Psychiatric Security Board. She is a graduate of Clackamas County's Leadership program. Jenna received the award from Oregon State Sheriff's Association as Parole and Probation Commander of the Year in 2016. Clackamas County's Women in Business and Leadership featured her in 2018.
Captain Lee Eby
Jail Division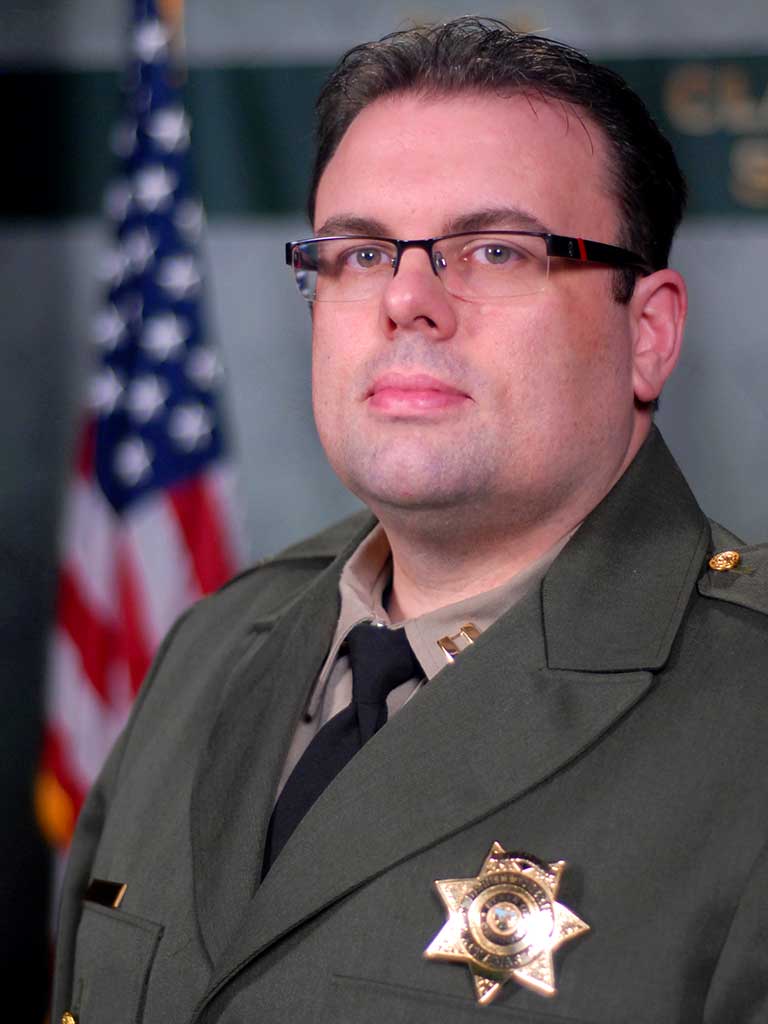 Captain Lee Eby began his career in law enforcement as a Reserve Officer with the Clackamas County Sheriff's Office in 1999, where later that same year he was hired as a deputy at the Clackamas County Jail. In 2006, he was promoted to Sergeant. In 2009 he was promoted to the rank of Lieutenant. In 2015, he was promoted to Captain and appointed Commander of the Clackamas County Jail.
Read more about Captain Eby...
Captain Eby holds Basic, Intermediate, Supervisory, Middle Management and Executive Certification in Corrections from DPSST. He also holds an instructor certification at DPSST, where he trains Basic Corrections and Basic Police classes in corrections law and other legal topics. These classes have covered topics including civil liability and PREA, the criminal justice system, use of force for corrections personnel, inmate rights, employee discipline and collective bargaining. He is also a Certified Jail Inspector for the State of Oregon, and has written for the National Institute of Corrections (NIC), an agency of the U.S. Department of Justice.

During his career, Captain Eby has earned numerous awards for his expertise and accomplishments in the corrections field. He was named the Clackamas County Sheriff's Office "Corrections Deputy of the Year" in 2004 and the Oregon State Sheriffs' Association "Employee of the Year" in 2006. He was also honored with a Meritorious Service Award from the Clackamas County Sheriff's Office in 2006, and the Oregon State Sheriffs' Association (OSSA) Jail Command Council named him "Outstanding Supervisor of the Year" in 2010. Captain Eby was OSSA's "Jail Commander of the Year" in 2016. He has served as the President of the Oregon Sheriff's Jail Command Council and is currently on the executive board for Clackamas County chapter of the National Alliance of the Mentally Ill (NAMI).
Captain Malcolm McDonald
Community Corrections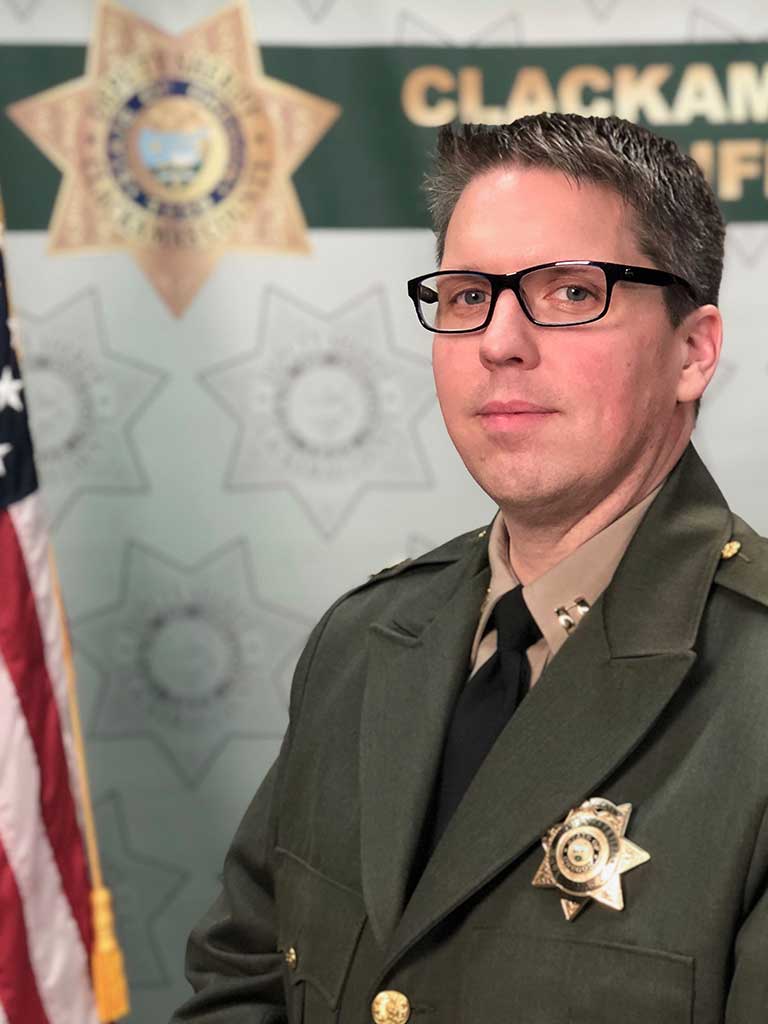 Captain Malcolm McDonald began his career with Clackamas County Community Corrections Residential Services in 1997 as a Community Corrections Officer. He was promoted to Parole and Probation Officer in 2000, to Community Corrections Supervisor in 2004, to Community Corrections Manager in 2016 and Community Corrections Deputy Director in 2017. He was named Captain of Community Corrections in January of 2019.
Read more about Captain McDonald...
During his career, Captain McDonald has represented Community Corrections in numerous local community groups, statewide networks and been the face of the agency for several media outlets. As a Community Corrections Supervisor, he helped lead a local and statewide effort to increase the collections of restitution owed to crime victims. Captain McDonald represents the Oregon Association of Community Corrections Directors (OACCD) as a liaison to the Sex Offender Supervision Network (SOSN), working on legislative concepts and providing testimony on laws and legislation. He holds his Basic, Intermediate, Advanced, Supervisory and Middle Management Certification in Parole and Probation from DPSST. Captain McDonald is a graduate of the Clackamas County Leadership Academy.
He graduated with a Bachelors of Criminal Justices from Seattle University in 1997.
Captain Kevin Poppen
Professional Standards Unit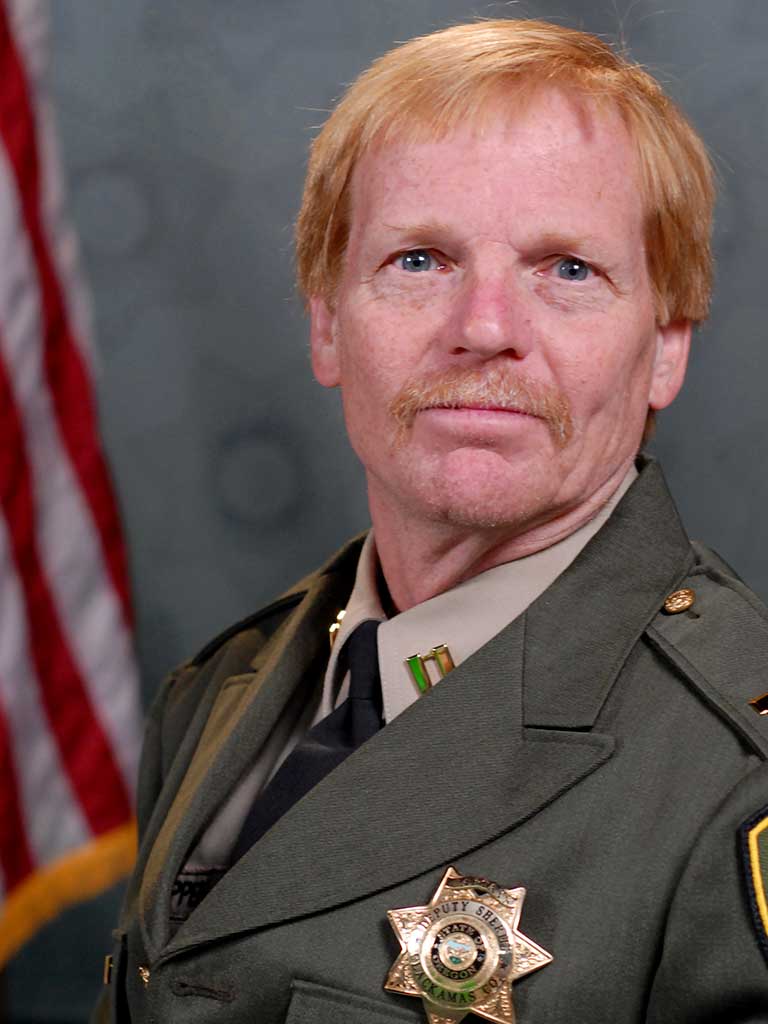 Captain Kevin Poppen has been with the Sheriff's Office for over three decades. He graduated Southern Oregon State College (now Southern Oregon University) in 1981 with a BS in Criminology, and was hired as a Corrections Deputy in September 1982. He was promoted to Deputy Sheriff (Patrol) in December 1984; to Detective in January 1992; to Sergeant in August 1994; to Lieutenant in March 1999; and to Captain in July 2007.
Read more about Captain Poppen...
As Captain, he was first assigned to the Support Services Division, switching to the Investigations Division in February 2012.
Capt. Poppen was the Founding Director of the Clackamas County Inter-agency Task Force (CCITF) -- the first coordinated group effort by local and federal law-enforcement officials to solve methamphetamine and other drug problems in Clackamas County.
Captain James Rhodes
Civil Division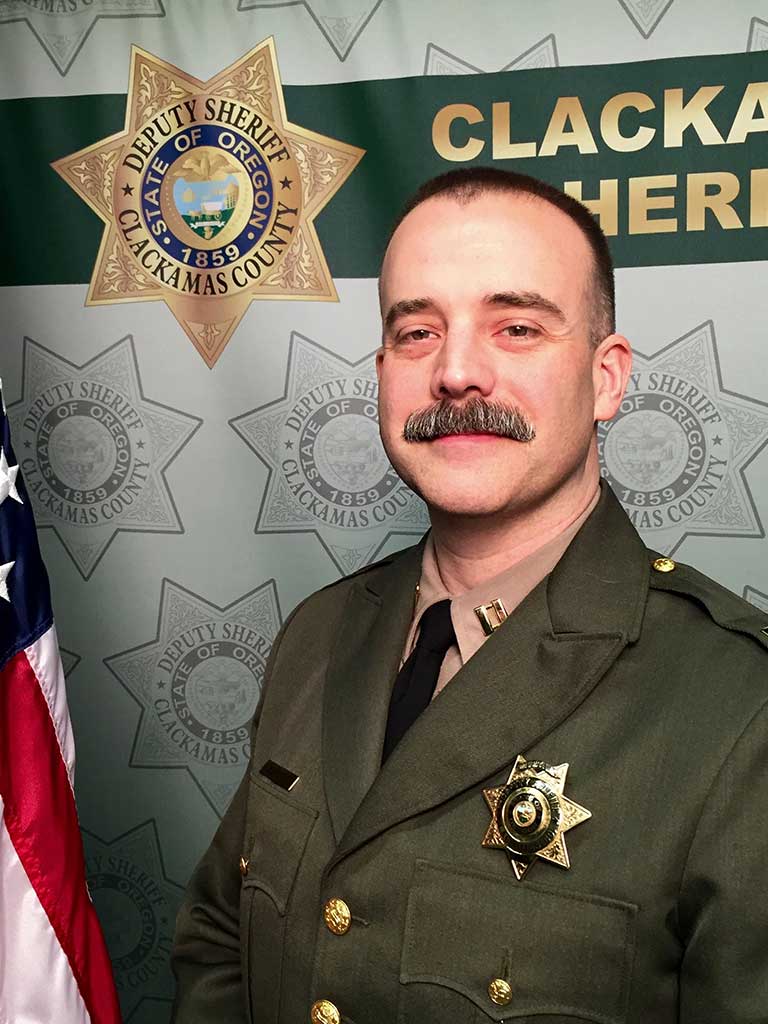 Captain James Rhodes began his career in law enforcement as a Reserve Officer with the Oregon City Police Department, where he was later hired as a Police Officer. In 1997, he was hired as a Deputy Sheriff with the Clackamas County Sheriff's Office. He was promoted to Detective in 2007, to Sergeant in 2009, and to Lieutenant in March 2012. From August 2013 to February 2014, he served as Chief of Police for the City of Wilsonville, which contracts with the Sheriff's Office for dedicated police service. Rhodes has since served as Chief Deputy and as Captain of the Patrol and Civil Divisions.
Read more about Captain Rhodes...
Captain Jeff Smith
Support Services Division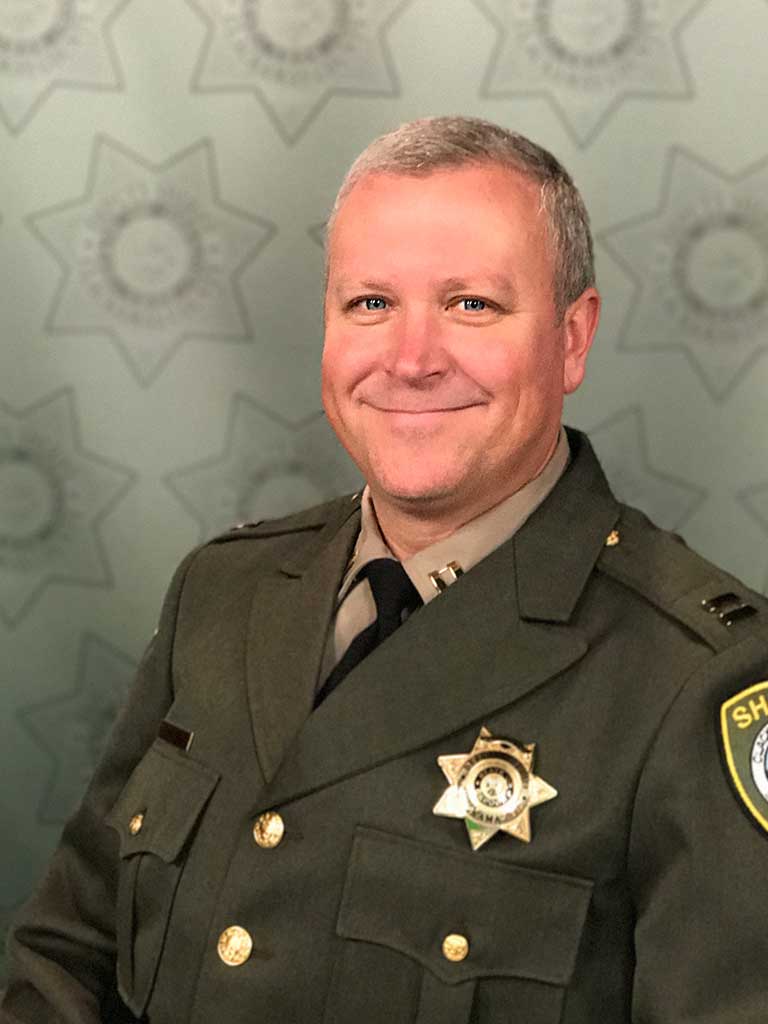 Captain Jeff Smith started his career with the Clackamas County Sheriffs Office as a Deputy Sheriff in 1995. Prior to that he served as a reserve police officer with the West Linn PD from 1994-95. At the Sheriff's Office he has served as a member of the Domestic Violence Enhanced Response Team (DVERT) and as a Patrol Sergeant (2004-08), Detective Sergeant (2008-12), Patrol Lieutenant (2012-14) and contracted Chief of the Wilsonville Police Department (2014-16). He was named Investigations Division Captain in November 2016.
Read more about Captain Smith...
Over the course of his law enforcement career, Captain Smith has represented the Sheriff's Office on the Homeland Security Task Force, Oregon Fugitive Task Force, and Explosives Disposal Unit, as well as at HOPE drug court and at several community planning organizations. As Lieutenant, he served as supervisor of the Sheriff's Office Drug Recognition Experts. He also served as Shop Steward (2000-03) and Vice President (2003-12) of the Clackamas County Peace Officers' Association.
Captain Smith has a Bachelor of Science degree from the University of Oregon School of Business and graduated at the top of his class at the Oregon Police Academy.
Captain Shane Strangfield
Patrol Division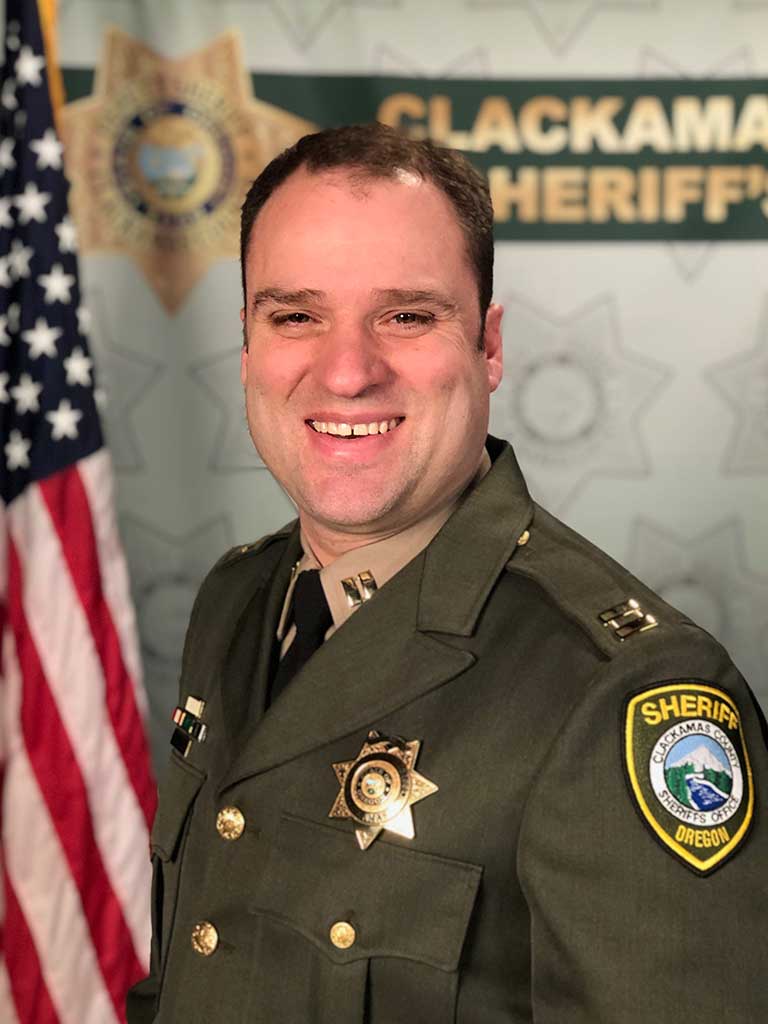 Captain Shane Strangfield has served with the Clackamas County Sheriff's Office since 1996 when he was hired as a Corrections Deputy. In 1998 he was promoted to Patrol Deputy, promoted in 2008 to Patrol Sergeant, promoted in 2010 to Patrol Lieutenant, and promoted to Captain in 2018. From January 2011 to January of 2017 he served as the Police Chief for the city of Happy Valley which contracts with the Sheriff's Office for police services. He also served as the police chief for the cities of Estacada and Damascus.
Read more about Captain Strangfield...
Captain Strangfield holds his Basic, Intermediate, Advanced, Supervisory, Middle Management and Executive police certifications from the Department of Public Safety Standards and Training. He was awarded the agencies lifesaving award in 2007, deputy of the year award in 2007, meritorious service award in 2012, Search and Rescue unit citation in 2012, Honor Guard unit citation in 2015 and a meritorious service award in 2015.
Captain Strangfield has worked many assignments at the Sheriff's Office including Defensive Tactics Unit instructor and supervisor, Watch Commander, Search and Rescue Program Manager, Cadet Program Manager, and the Professional Standards Unit manager. In 1999, he was assigned to the agency's Honor Guard Team, currently serving as team commander. Captain Strangfield is a founding member of the Oregon Fallen Badge Foundation and serves as the foundation's president.