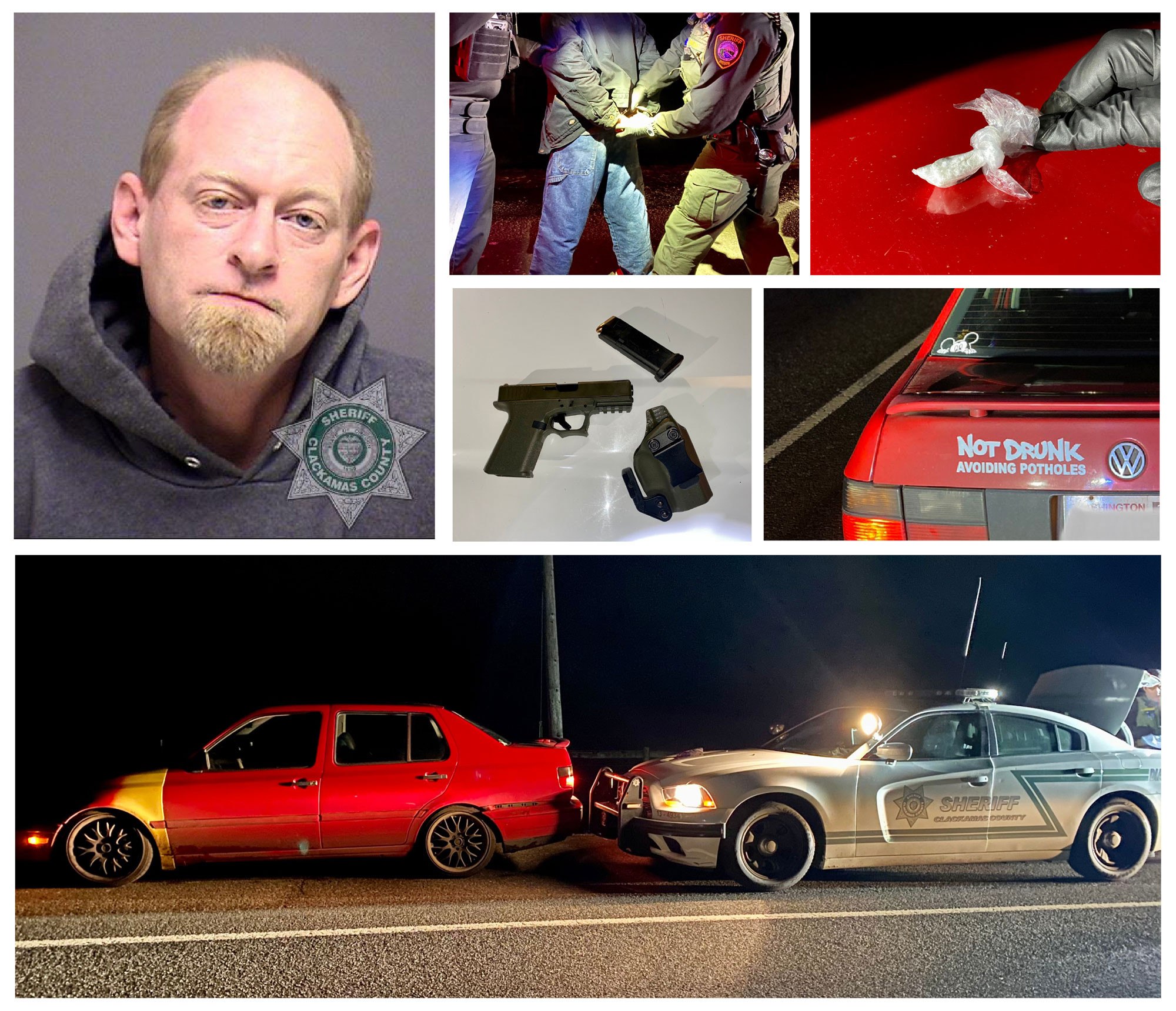 Please reference CCSO Case # 21-002806
Just before 11 p.m. on Saturday night, Feb. 6, a Clackamas County Sheriff's Office Patrol deputy was traveling eastbound on Highway 26, near Sandy, on his way to a welfare check in Government Camp, when he noticed a fast-moving red Volkswagen Jetta rapidly approaching from behind.
The Jetta was clearly speeding.
The deputy pulled his marked patrol car to the right lane to see if the Jetta would pass him.
The vehicle did in fact pass the patrol car -- at a speed estimated between 80 and 90 mph. 
The deputy activated his emergency lights. The Jetta pulled over.
As the deputy walked up to contact the driver, the deputy called out to the driver to turn off his car. The driver didn't respond. Instead, the Jetta rolled backward about 25 feet -- only coming to a stop when it hit the front of our patrol car.
The deputy could smell the odor of an alcoholic beverage coming from the inside of the car. He noticed an open can of Busch Light in the Jetta's cupholder. 
The deputy contacted the driver: Jeffery Dewayne Cannon, 41, of Portland.
The deputy asked Cannon why he let the Jetta roll backward into the patrol car.  Cannon reportedly looked confused and then looked back, saying, "I didn't know that happened."
The deputy asked Cannon if he had any weapons. Cannon admitted to having a concealed pistol: a loaded Glock handgun. The deputy took possession of the weapon -- and later noticed the gun did not have a serial number.
A search of the vehicle revealed the following:
The Busch Light can in the cupholder was half-full.
The Jetta interior was filled with several empty beer cans
There was a baggie in the center console containing cocaine. 
Mr. Cannon explained that he planned to party with a friend this weekend.
Responding deputies soon determined Cannon was a convicted felon. His driver's license was also suspended. 
Mr. Cannon performed a field sobriety test.  When asked how he thought he did, Mr. Cannon responded, "Not good." (However, Mr. Cannon also pegged himself as a "4" on a scale of 1-10 measuring how intoxicated he was.)  Cannon later provided a breath sample, measuring .22% blood alcohol concentration (BAC).
Jeffrey Cannon was arrested and transported to Clackamas County Jail, where he was booked on the following charges:
Offense 1: FELON IN POSSESSION OF FIREARM (FELONY) | 166.270-2
Offense 2: DUII - ALCOHOL (MISD) | 813.010-3
Offense 3: POSSESSION OF CONTROLLED SUBSTANCE-COCAINE (MISD) | 475.884
Bail was set at $15,000. A booking photo is attached. Complete booking info is here: https://web3.clackamas.us/roster/#inmates
[END]
Sgt. Marcus Mendoza
Clackamas County Sheriff's Office
Public Information Unit