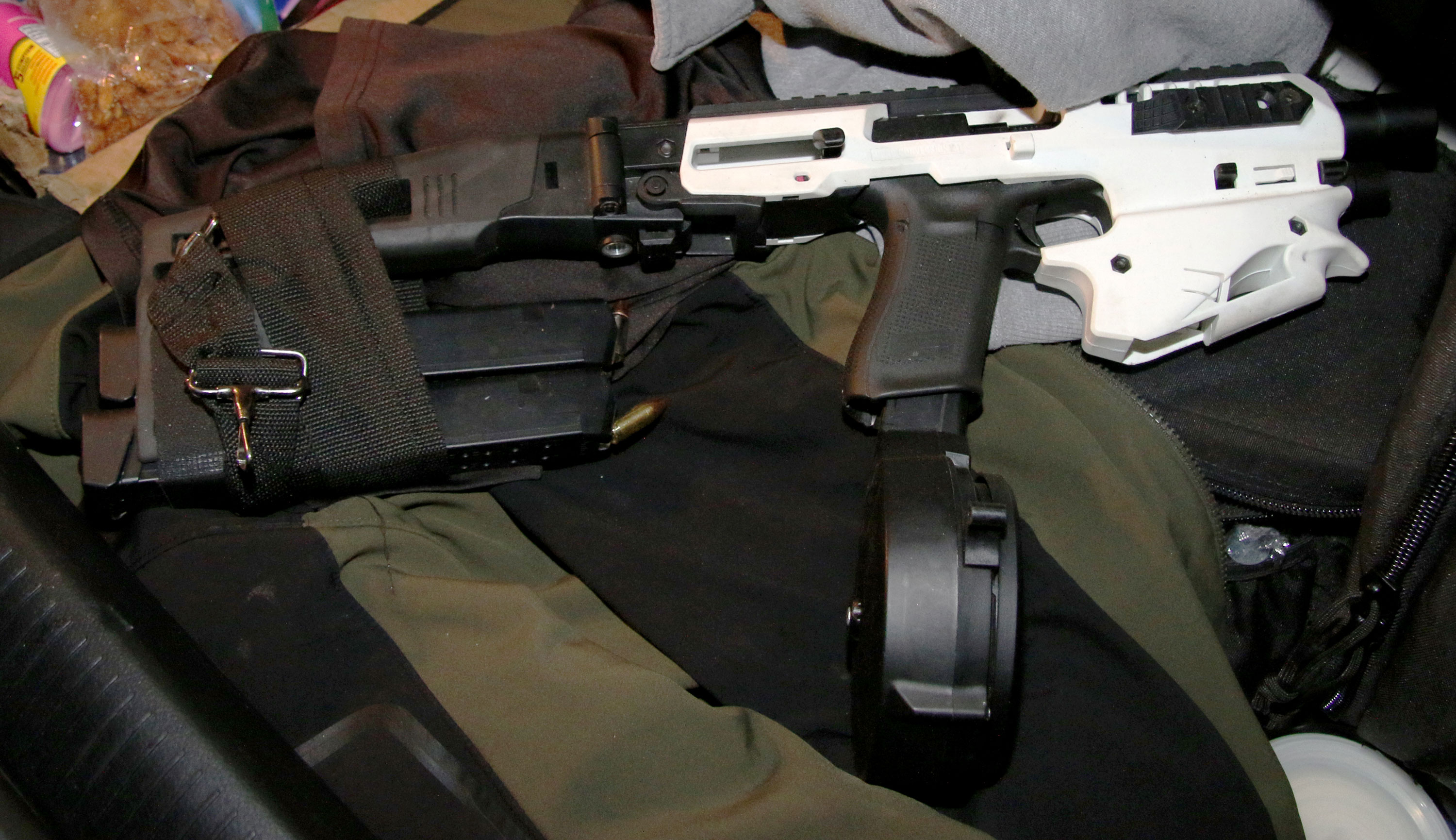 _____
Joint release from Milwaukie Police, Oregon City Police and the Clackamas County Sheriff's Office; original May 9 release from Clackamas County Major Crimes Team and May 10 update from Oregon City Police included below.
_____
Today (Monday, May 17), a Clackamas County Grand Jury indicted Gerald Leroy Barnes II, 48, on the following charges:
3 counts of Attempted Aggravated Murder
1 count of Assault 1
2 counts of Attempted Assault 1
1 count of Unlawful Use of a Weapon
1 count of Attempt to Elude
_____
MAY 8 INCIDENT TIMELINE 
A timeline of the May 8, 2021 pursuit and officer-involved shooting:
• At 6:46 p.m. on Saturday, May 8, Clackamas County Sheriff's Office Deputy Robert Cordova, a five-and-a-half-year veteran of the Sheriff's Office, was conducting routine traffic enforcement in Mulino when he attempted a traffic stop on a 1985 Chevrolet Monte Carlo, driven by suspect Gerald Barnes II, 48, of Portland. Barnes was driving 16 miles over the posted speed limit of 35.
• The deputy caught up with Barnes' speeding vehicle several miles to the north, then activated his emergency lights to initiate a traffic stop on Highway 213.
• Barnes refused to pull over and stop, instead fleeing north on Highway 213. When he reached Leland Road, Deputy Cordova advised dispatch he was in a pursuit.
• Several Oregon City Police officers responded to assist -- staging ahead of the pursuit and laying out spike strips on Highway 213 and Redland Road in Oregon City. An Oregon City Officer successfully deployed spike strips just south of Redland Road.
• At 6:52 p.m., Barnes' vehicle approached another Oregon City officer, Christopher Brosseau, a three-and-a-half-year veteran of OCPD, who was positioned on Hwy. 213 just north of Redland Road. Officer Brosseau was outside his patrol car, and threw spike strips in front of Barnes' vehicle as Barnes approached his location.
• As Barnes's vehicle was approaching Officer Brosseau, Barnes used a pistol to fire several rounds out the suspect vehicle's windshield and passenger-side window at Officer Brosseau, shattering the suspect car's windows in the process. A fragment from one bullet hit Officer Brosseau in the eye.
• Citizens, officers, troopers, and deputies immediately rendered aid to Brosseau as the pursuit continued. Officer Brosseau was later taken to a local hospital, where he underwent surgery.
• As the suspect vehicle passed Redland Road on Highway 213, CCSO Deputy Jonathan Zacharkiw, a six-year veteran of the Sheriff's Office, joined the pursuit. The pursuit continued northbound on Highway 213.
• The pursuit continued approximately another 1/8 mile, with the suspect slowing to about 30 mph. Barnes's vehicle weaved on Highway 213 as it continued toward the onramp to I-205 northbound. Barnes continued to shoot his firearm at pursuing deputies. A bullet struck Deputy Zacharkiw's patrol car.
• When the vehicle came to a stop on the I-205 northbound onramp, the suspect opened his door. The two deputies stopped their patrol vehicles a few car lengths behind the suspect and returned fire.
• Barnes was struck in the shoulder by a single bullet. Barnes dropped his gun on the ground. The deputies stopped firing their weapons and took him into custody without further incident.
• Deputies treated Barnes' shoulder injury until American Medical Response paramedics arrived and took over care. AMR transported Barnes to an area hospital for treatment.
• Meanwhile, detectives with the Clackamas County Major Crimes Team responded to the scene to process the scene, gather evidence, and conduct witness interviews.
• Investigators recovered two additional loaded firearms from the vehicle, as well as a high-capacity two-drum magazine. The weapon Barnes fired at deputies and officers was a pistol encased in a custom stock with a high-capacity single-drum magazine. Photos of this customized pistol (with and without the drum magazine) are attached.
• Barnes' shoulder injury was non-life-threatening, and he was released from the hospital that same evening to investigators.
• Milwaukie and Oregon City Police detectives assigned to the Clackamas County Major Crimes Team interviewed Barnes and transported him to Clackamas County Jail, where he was booked on charges to include Attempted Aggravated Murder. 
Bail was set at $1,000,000. He was indicted today (Monday, May 17).
This is an active investigation. Further questions on this case should be referred to the Clackamas County District Attorney's Office or the Milwaukie Police Department.
A May 10 Oregon City Police update on Officer Brosseau's injuries and a May 9 press release on the incident from the Clackamas County Major Crimes Team are reproduced below.
[END UPDATE]
_____
EARLIER (May 10, 2021): UPDATE ON INJURED OREGON CITY POLICE OFFICER
News release from Oregon City Police:
On Saturday evening, several of our officers were assisting CCSO with a vehicle pursuit that entered Oregon City. One of our officers successfully deployed spike strips on Hwy 213 just south of Redland Rd. Officer Christopher Brosseau, a 3 ½ year veteran with our department, was set up just north of Redland Rd. to also deploy spike strips. As the suspect vehicle passed by, Officer Brosseau was hit in the eye by a piece of material.
Multiple citizens and officers rendered aid to our officer. Officer Brosseau was taken to an area hospital with a serious but non-life-threatening injury. Officer Brosseau underwent surgery to remove what appears to be a metal object from his eye. On Sunday morning, he was released from the hospital and is at home recovering. Officer Brosseau will likely undergo more than one surgery before the long-term prognosis of his eye is known. At this point, whether or not Officer Brosseau retains his vision in that eye is unknown.
The preliminary investigation leads us to believe this was from a gunshot while Officer Brosseau was placing spike strips in front of the vehicle that was failing to stop for CCSO deputies. Investigators are working to determine whether the object came from the gunshot or another possible cause. No Oregon City Police officers fired their weapons during this incident. The cause of Officer Brosseau's injury is still under investigation by the Clackamas County Major Crimes Team.
We are thankful for the continued community support.
_____
EARLIER (May 9, 2021): PRESS RELEASE REGARDING OFFICER INVOLVED SHOOTING 
News release from Clackamas County Major Crimes Team:
On 5/8/21 deputies with the Clackamas County Sheriff's Office were involved in a vehicle pursuit on Hwy 213 in Oregon City. Oregon City Police officers assisted by deploying spike strips to stop the fleeing vehicle and an Oregon City Police Officer sustained a serious but non-life-threatening injury. The officer underwent surgery and was released from the hospital this morning. The cause of that injury is still under investigation.
The investigation has revealed that the driver of the vehicle, Gerald Leroy Barnes II, discharged a firearm multiple times at law enforcement officers, which led deputies to return fire. Mr. Barnes was struck once in the shoulder and deputies were able to take him into custody. Mr. Barnes' injuries were not serious and he was released from the hospital shortly after he was admitted. Mr. Barnes was subsequently lodged at the Clackamas County Jail on the charges of Attempted Aggravated Murder, Attempted Assault I, Unlawful Use of a Weapon and Attempt to Elude. No deputies were injured.
The investigation is being led by the Milwaukie, Oregon City and Canby Police Departments. The Clackamas County Major Crimes team appreciates their assistance. This investigation is ongoing and there will be no additional comment at this time.
[END]