UPDATE (Wednesday, June 2, 2021) -- SUSPECT DRIVER ARRESTED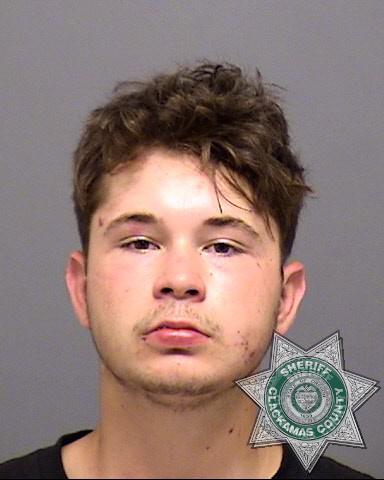 The driver of the black sedan in the fatal May 31 crash can now be identified as Devin Michael Kurtz, 18, of Estacada. Kurtz was transported to an area hospital for treatment on May 31.
Following treatment, Kurtz was released from the hospital and transported to Clackamas County Jail on Tuesday, June 1, where he was booked on the following charges:
ORS.163.125 - MANSLAUGHTER II (3 counts)
ORS.813.010-1 - DUII 
ORS.163.195 - RECKLESSLY ENDANGERING
ORS.811.140 - RECKLESS DRIVING
ORS.163.165-2 - ASSAULT III (DUII)
ORS.164.354 - CRIM MISCHIEF II
A booking photo is attached. Bail was set at $780,000. Complete booking info is here: https://web3.clackamas.us/roster/#inmates
[END UPDATE]
____
EARLIER (June 1, 2021) -- Sheriff's Office responds to two-vehicle fatal crash on Springwater Road; three passengers deceased
Please reference CCSO Case # 21-011344
Just after 9 p.m. on Memorial Day (Monday, May 31, 2021), Clackamas County Sheriff's Office deputies responded to a report of a two-vehicle accident with multiple fatalities at South Springwater Road and South Redland Road, near Milo McIver State Park in unincorporated Clackamas County, near Estacada.
Deputies arrived to find two vehicles with heavy damage on Springwater Road. Clackamas Fire had also arrived at the crash scene.
A witness told deputies a black sedan was reportedly traveling on Springwater Road when the driver appeared to lose control of the sedan and go into an uncontrolled spin. The sedan then crossed the center line and collided with a white Ford F350 pickup approaching in the opposite lane.
The black sedan had five occupants, ages 14-18. Their conditions:
The driver, 18, sustained a punctured lung is being treated at a local hospital.
Two of the four passengers were declared deceased at the scene. 
A third passenger was transported to a local hospital by Life Flight, and was later declared deceased at the hospital.
The fourth passenger, age 17, is currently being treated at a local hospital with unknown injuries.
The white Ford F350 was driven by a 27-year-old male who cooperated with authorities at the scene. The F350's driver did not require medical attention at the scene.
The Clackamas County Medical Examiner's Office and the Criminal Reconstruction and Forensic Technicians (CRAFT)team also responded to document the scene, conduct witness interviews and collect and process evidence.
This incident is still under investigation. Additional details are forthcoming. The names of the juvenile victims will not be released at this time.
An Estacada School District message to parents about the accident is here.
ADDITIONAL INFO SOUGHT: The Sheriff's Office is seeking additional information in this case. Anyone with information regarding the May 31 fatal crash is urged to contact the Sheriff's Office Tip Line -- by phone at 503-723-4949or by using the online email form at https://www.clackamas.us/sheriff/tip . Please reference CCSO Case # 21-011344.
[END]
Deputy John Wildhaber
Clackamas County Sheriff's Office
Public Information Unit