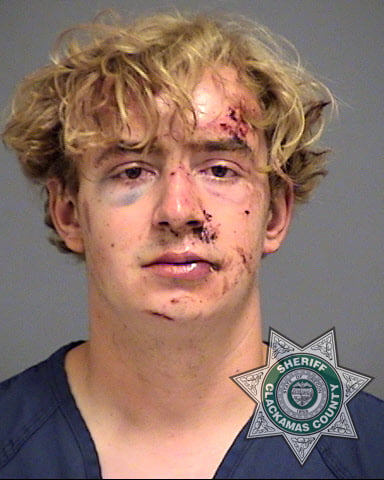 Please reference CCSO Case # 21-013514
At 5:21 a.m. on Monday, June 28, 2021, Clackamas County Sheriff's Office deputies responded to a report of a two-vehicle accident on SW Homesteader Road near SW Mountain Road in unincorporated Clackamas County, near West Linn.
Deputies arrived at the crash scene with Tualatin Valley Fire & Rescue; Life Flight was requested. The driver of a white sedan was transported by Life Flight to a local hospital with unknown injuries.
The driver of the white Dodge Ram, Trevor Jacob Larsen, 22, of West Linn, was transported to an area hospital for treatment. Following treatment, Larsen was released from the hospital and transported to Clackamas County Jail, where he was booked on the following charges:
ORS 811.140 - RECKLESSLY ENDANGERING
ORS 163.165-2 - ASSAULT III (DUII)
ORS 163.195 - RECKLESS DRIVING
ORS 164.254 - CRIM MISCHIEF II
ORS 813.010-3 - DUII - ALCOHOL
The Criminal Reconstruction and Forensic Technicians (CRAFT) Team and members of the Sheriff's Office Serious Injury Crash Team responded to document the scene and collect and process evidence.
This incident is still under investigation.
ADDITIONAL TIPS SOUGHT: The Sheriff's Office is seeking additional information in this case. Anyone with information regarding the June 28 crash is urged to contact the Sheriff's Office Tip Line — by phone at 503-723-4949 or by using the online email form. Please reference CCSO Case #21-013514.
[END]
John Wildhaber
Clackamas County Sheriff's Office
Public Information Unit