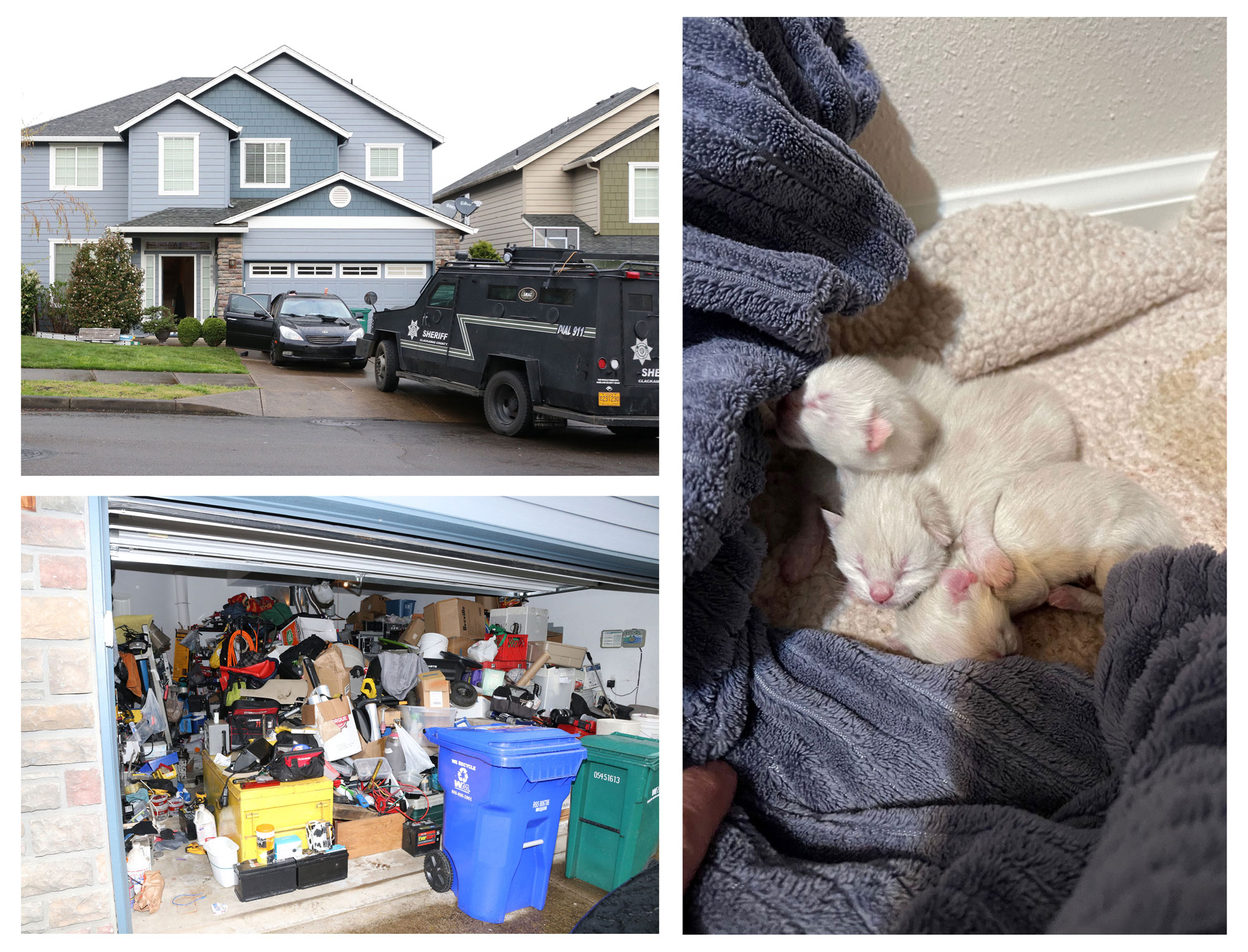 Please reference CCSO Case # 22-008308
Detectives recovered a trove of stolen items from a Damascus home Tuesday after an April 11 call about subjects prowling cars led to a pursuit, the recovery of a stolen truck, and several arrests.
At about 11:42 p.m. on Monday, April 11, Clackamas County Sheriff's Office deputies responded to a report of three or four suspicious subjects prowling cars on the 16600 block of SE Widgeon Lane in Damascus.
The subjects were reportedly wearing headlamps, and had arrived at the address in a gold pickup. People had reportedly been going through cars while wearing headlamps at this address for several weeks.
Deputies arrived at the scene as the gold pickup was leaving the scene. Two of the subjects stayed behind at the Widgeon Lane residence, and were reportedly inside a vehicle there.
One deputy attempted to initiate a traffic stop on the gold pickup. The suspect pickup fled the area, with deputies in pursuit. The pickup eluded deputies at SE 82nd Ave and SE Lambert St. Portland Police later spotted the truck driving recklessly around midnight in the area of SE 131st and Powell Boulevard. At approximately 12:25 a.m. on April 12, Gresham Police reported that the suspect driver had abandoned the pickup on the MAX tracks in the area of NE 172nd Avenue and E. Burnside Street. The driver then fled into the Burnside Firs apartment complex on the 17400 block of E. Burnside St. After a K9 track, Portland Police took the suspect driver into custody. He was identified as Paul Angelo Costello, 35, no fixed address. Gresham PD identified the pickup as stolen out of Gresham.
Meanwhile, back on SE Widgeon Lane in Damascus, responding deputies continued to investigate. Deputies contacted and detained one subject -- later identified as Yuriy T. Zvodzdetskiy, 31, of Damascus -- who was wearing a headlamp while sitting in the back passenger seat of a black 4 door sedan with its doors open. The plates on the sedan had been switched. A search of Zvodzdetskiy's person revealed cash, a large stack of credit/debit cards belonging to other people, a pocket knife, fentanyl pills, and keys modified to fit into the ignitions of multiple cars.
A John Deere Gator, white van with switched plates, and trailer found on the property were found to be stolen.
On Tuesday, April 12, CCSO detectives executed a search warrant at the SE Widgeon Lane residence. They seized a trove of items -- including firearms, identity documents, wallets, tools, clothing, scooters, pills, and catalytic converters. Many of these items were found to be stolen, and are being processed as evidence as authorities work to reunite these items with their original owners.
While searching the location, CCSO detectives also located and rescued three newborn kittens, who were delivered to the Oregon Humane Society for care. The kittens were mere days old; their mother could not be located. A photo of the kittens is attached.
BOOKING INFO ON SUSPECTS:
Paul Angelo Costello was transported to an area hospital, cleared, and booked into Clackamas County Jail on charges including Unauthorized Use of a Vehicle, Possession of a Stolen Vehicle, Attempt to Elude a Police Officer, Reckless Driving, and Parole Violation. Bail was set at $32,500. Complete booking info is here: https://web3.clackamas.us/roster/#inmates
 
Yuriy T. Zvodzdetskiy was arrested and booked on charges of Identity Theft and Theft I (Possession of Stolen Property).
ADDITIONAL TIPS, INFO SOUGHT
The Sheriff's Office is seeking additional information in this case. Anyone with information on Paul Angelo Costello, Yuriy T. Zvodzdetskiy or criminal activity operating out of the 16600 block of SE Widgeon Ln. in Damascus is urged to contact the Sheriff's Office Tip Line -- by phone at 503-723-4949 or by using the online email form at https://www.clackamas.us/sheriff/tip . Please reference CCSO Case # 22-008308.
[END]
Deputy John Wildhaber
Clackamas County Sheriff's Office
Public Information Unit