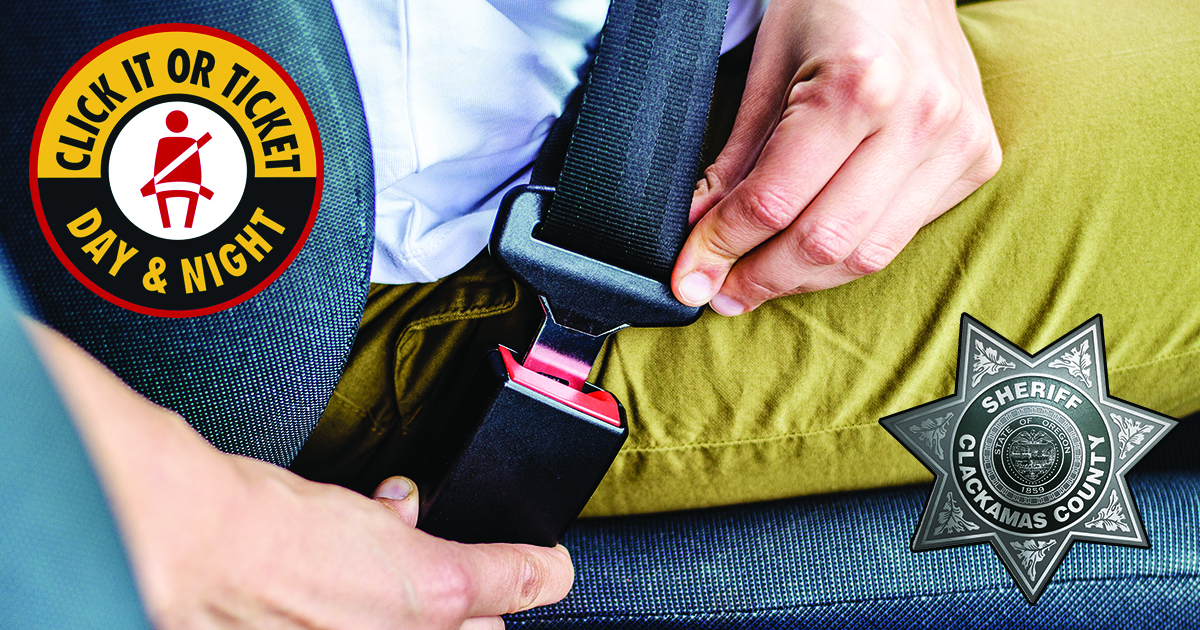 UPDATE (Thursday, June 9, 2022)
On Friday, June 3rd, 2022, the Clackamas County Sheriff's Office Traffic Unit conducted a Traffic Safety Operation in conjunction with the National Highway Traffic Safety Administration (NHTSA) Click It or Ticket Traffic Safety Campaign.
We were joined by Traffic Units from the Happy Valley Police Department, Wilsonville Police Department, Milwaukie Police Department, Oregon City Police Department, and Canby Police Department, as well as the Clackamas County Sheriff's Office Reserve program.
In total, during Friday's operation, deputies and officers made 73 traffic stops resulting in four arrests, 27 seat belt citations (3 were 2nd-time violations), and 29 Cell Phone citations were issued.
_____
EARLIER (Thursday, May 26, 2022)
The Clackamas County Sheriff's Office is participating in the national Click It or Ticket campaign.
Now through Sunday, June 5th, 2022, the Clackamas County Sheriff's Office will use grant-funded overtime to educate the public about safety belt and child seat laws.
The goal of the Click It or Ticket campaign is to save lives. While seatbelt education and enforcement will be their primary focus, deputies will also be on the lookout for speeding, distracted driving, and other violations impacting traffic safety.
Common Myths**
Vehicle type: There seems to be a misconception among those who drive and ride in pickup trucks that their larger vehicles will protect them better than other vehicle types would in a crash. The numbers say otherwise: 62% of pickup truck occupants who were killed in 2020 were not buckled. That's compared to 47% of passenger car occupants who were not wearing seat belts when they were killed. Regardless of vehicle type, seat belt use is the single most effective way to stay alive in a crash.
Seating position: Too many people wrongly believe they are safe in the back seat unrestrained. Fifty percent of all front-seat passenger vehicle occupants killed in crashes in 2020 were unrestrained, but 59% of those killed in back seats were unrestrained.
Rural versus urban locations: People who live in rural areas might believe their crash exposure is lower, but in 2020, there were 11,922 passenger vehicle fatalities in rural locations, compared to 11,683 fatalities in urban locations. Out of those fatalities, 52% of those killed in the rural locations were not wearing their seat belts, compared to 49% in urban locations.
For help selecting or installing a car seat: https://www.nhtsa.gov/equi.../car-seats-and-booster-seats...
Funding for the Click It or Ticket campaign is made possible through the use of federal grant dollars made available to law enforcement agencies throughout Oregon.
**National Data provided by NHTSA
[END]
Deputy John Wildhaber
Clackamas County Sheriff's Office
Public Information Unit