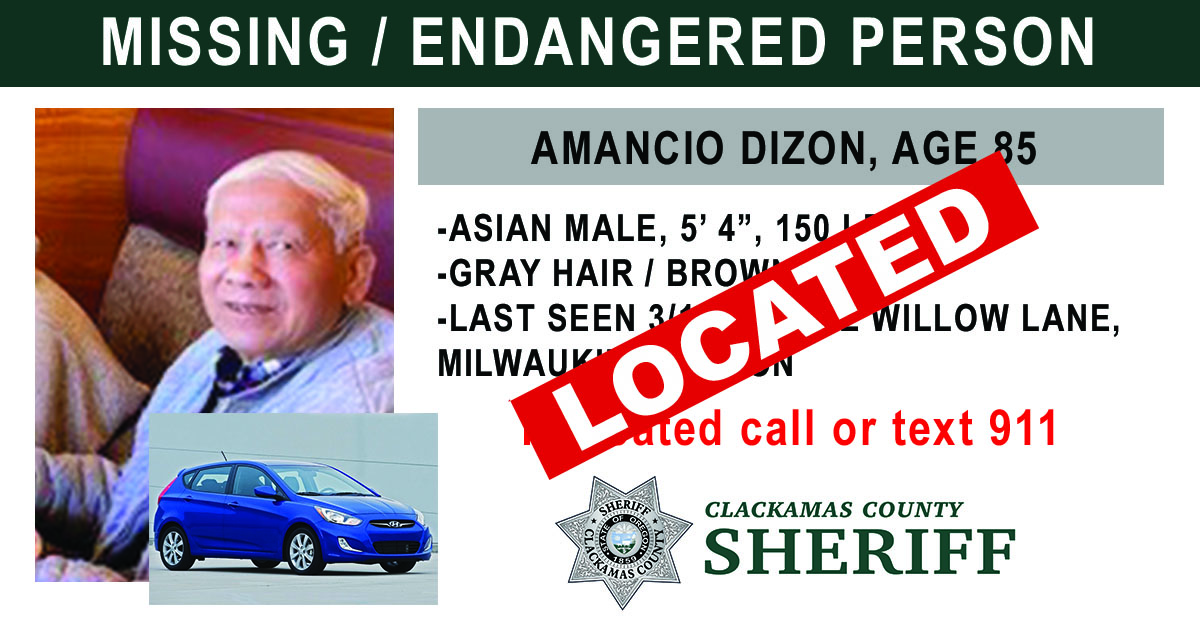 UPDATE (March 2): Amancio Dizon has been located. Thank you to everyone who helped spread the word.
_____
EARLIER: Amancio Dizon is believed to be driving a newly purchased blue 2013 Hyundai Accent Hatchback with gray hubcaps, Gage Auto Sales placards, and DMV Permit # 2194776. He may be driving to Lincoln City, Oregon.
_____
EARLIER: The Clackamas County Sheriff's Office is asking for the public's help to locate missing/endangered 85-year-old Amancio Dizon.
Amancio was last seen around 4 p.m. on Wednesday, Mar. 1, 2023, at his home on Willow Lane in Milwaukie. He has a heart condition and left home on foot without his cane. Amanico was last seen wearing a blue coat, blue jeans, and black boots.
If you see Amancio Dizon, call or text 911.
Know his whereabouts? Call our Non-Emergency Line at 503-655-8211 or send tips to https://www.clackamas.us/sheriff/tip or 503-723-4949. Reference CCSO Case # 23-004479.
[END]
Deputy John Wildhaber
Clackamas County Sheriff's Office
Public Information Unit