Photos/video:
The Clackamas County Sheriff's Office urges caution for people recreating in the heat following a weekend that included a drowning as well as multiple water rescues and a search-and-rescue operation to retrieve a person suffering from heat exhaustion.
Among the incidents over the past weekend (Saturday and Sunday, Aug. 12-13):
• DROWNING AT RIVERSIDE PARK: Shortly before 6 p.m. on Sunday, Aug. 13, the Sheriff's Office responded to a possible drowning in the Clackamas River at Riverside Park in Clackamas. A 44-year-old man had reportedly jumped off a cement water intake located in the middle of the river and disappeared under the water. After other swimmers were unable to locate the missing man, family members called 911. Clackamas Fire water-rescue personnel recovered the victim from the river shortly after deputies arrived on scene. Medics tried for over half an hour to revive him, but were unsuccessful.
• HEAT-RELATED SEARCH AND RESCUE NEAR RAMONA FALLS: Shortly after 7 p.m. on Sunday, Aug. 13, search-and-rescue volunteers responded to help retrieve a hiker suffering from heat-related symptoms. Two hikers on the Pacific Crest Trail near Ramona Falls had encountered another hiker who appeared to have heatstroke. A CCSO Search and Rescue Coordinator activated a mission, and Clackamas Search & Rescue (CSAR) ground-searchers and trail-runners and members of American Medical Response's Reach and Treat (RAT) Team deployed into the field, assisted on comms by Mountain Wave Emergency Communications. Trail-runners reached the patient at approximately 11:50 p.m.; once joined by paramedics, rescuers administered fluids and then transported the patient on a wheeled litter across the Sandy River to a trailhead about 5.4 miles away. The man was able to hike out the last mile of trail himself, and declined transport to a hospital. All told, rescuers covered 11 miles of trail, crossed the Sandy River four times and climbed 2,100 feet over the course of the mission. Photos from this rescue mission are linked above, and B-roll video from the mission can be downloaded here.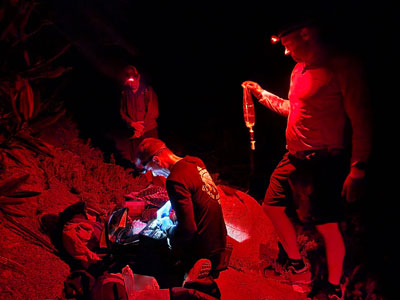 Above: Rescuers administer fluids during the SAR mission.
• ADDITIONAL WATER-RESCUE CALLS: The Clackamas County Sheriff's Office Marine Unit and Water Rescue Team are part of the Clackamas County Water Rescue Consortium. Member agencies responded to multiple water-rescue calls over the weekend:
Shortly before 7 p.m. on Saturday, Aug. 12, Clackamas Fire retrieved a woman reportedly suffering from heat-stroke symptoms on an island in the Clackamas River in Oregon City, near Springwater Road. AMR transported her to the hospital. 
Shortly after 7 p.m. on Sunday, Aug. 13, a group of people recreating on the Clackamas River pulled to one side after a woman in their group exhibited heat-stroke symptoms; Clackamas Fire retrieved the patient, and AMR transported her to the hospital. 
And just after 9:30 p.m. on Aug. 13, a 911 caller reported that he and his girlfriend were rafting after dark and got stranded on shore across from Highway 224 on the Clackamas River. The caller reported they were on land, but it was too steep an embankment to get around. Clackamas Fire once again responded and retrieved the two subjects, taking them to Carver Park.
As a heat wave continues to roll through Clackamas County -- with temperatures expected in the 90s and 100s through this Thursday -- the Sheriff's Office urges the public to stay hydrated and recreate safely.
[END]
Brian McCall, Public Information Officer
Clackamas County Sheriff's Office
Communications Unit