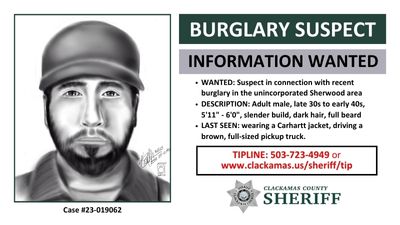 Please reference case #23-019062
On Tuesday, September 12, 2023, at approximately 8:30 a.m., deputies from the Clackamas County Sheriff's Office responded to a burglary on SW Westfall Rd near SW Baker Rd in unincorporated Clackamas County, near Sherwood. The victim and her elderly mother were home and asleep at the time of the burglary. One of the victims observed the suspect leaving and was able to provide a description to detectives. She worked with a forensic artist to complete the attached sketch. Detectives are not releasing any additional details at this time.
The suspect is described as an adult male, late 30s to early 40s, with a slender build. He may be approximately 5'11" to 6'0" tall. He has dark hair and a full beard. He was wearing a Carhartt jacket with a brown, full-sized pickup truck.
ADDITIONAL TIPS & INFORMATION WANTED: Anyone with information about this case is urged to contact the Sheriff's Office Tip Line -- by phone at 503-723-4949 or by using the online email form at: www.clackamas.us/sheriff/tip
Please reference case #23-019062
SIGN UP for ClackCo Sheriff News Releases in your inbox: www.clackamas.us/sheriff/constantcontact.html
[END]
Brian McCall, Public Information Officer
Clackamas County Sheriff's Office
Communications Unit