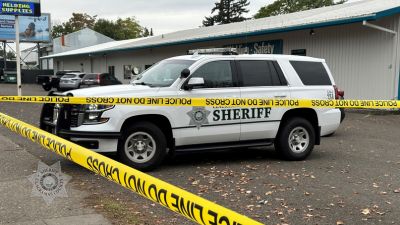 Please reference case #23-0022049
Shortly after 6:00 a.m. on Tuesday, October 24, 2023, Clackamas County Sheriff's Office deputies spotted a suspicious vehicle in a parking lot on SE 82nd Avenue, near SE King Road. The vehicle matched the description of a van suspected to be involved in recent burglaries reported at various businesses along SE 82nd Avenue. When deputies attempted to contact the driver, the man drove off, headed north on SE 82nd Avenue. Deputies attempted to initiate a traffic stop and the driver failed to stop and drove off at a high rate of speed, disregarding traffic signals. Deputies did not pursue the vehicle but notified the Portland Police Bureau.
As the vehicle entered the City of Portland, the driver crashed into another vehicle near SE Flavel Street and kept driving. The female driver of the vehicle the suspect crashed into was not seriously injured.
Deputies located the suspect's vehicle, a white Ford Econoline van, and observed two occupants exit the vehicle and run in opposite directions. Deputies observed a male suspect run northbound into a tightly-packed parking lot, full of commercial vehicles. A female passenger ran southbound and was located at a nearby business. She was identified as Hannah Melanie Thompson, age 35, and arrested for an outstanding warrant out of Washington for Escape. She was lodged into the Clackamas County Jail after she was treated and released from a local hospital following the crash.
Officers with the Portland Police Bureau responded to the location and helped secure the area around the parking lot where the suspect was believed to be hiding. The Portland Police Bureau's Special Emergency Reaction Team (SERT), along with drones, K9 units, and air support, successfully located the suspect hiding inside a vehicle at around 11:20 a.m.
The suspect, identified as Gary Duane Harrison, age 33 of Washington, reported he ingested drugs prior to his arrest and was transported to a local hospital as a precaution before being lodged in the Clackamas County Jail.
[UPDATED] Harrison was booked on charges of Attempt to Elude Police Officer, Unauthorized Use of Vehicle, Possession of Stolen Vehicle, Reckless Driving, and Failure to Perform Duties of Driver.
Complete booking information is available here: https://web3.clackamas.us/roster/
ADDITIONAL TIPS & INFORMATION WANTED: Anyone with information about this case is urged to contact the Sheriff's Office Tip Line -- by phone at 503-723-4949 or by using the online email form at: www.clackamas.us/sheriff/tip
Please reference case #23-0022049
SIGN UP for ClackCo Sheriff News Releases in your inbox:  www.clackamas.us/sheriff/constantcontact.html
[END]
Brian McCall, Public Information Officer
Clackamas County Sheriff's Office
Communications Unit