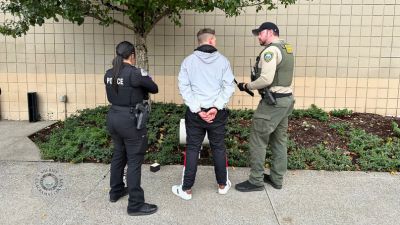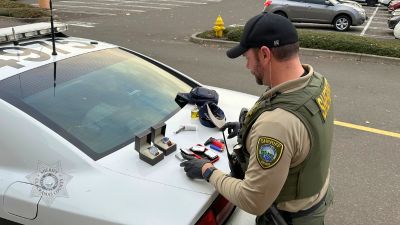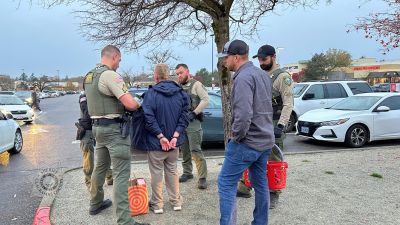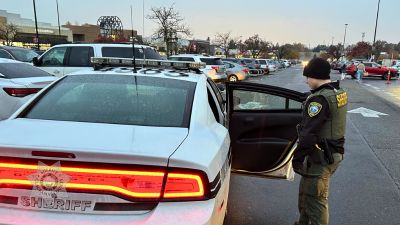 On Thursday, November 9, 2023, the Clackamas County Sheriff's Office led a retail theft operation at multiple retailers in the area of SE 82nd Avenue and SE Sunnyside Road.
The 10-hour operation resulted in the arrests of 28 people on multiple charges and the recovery of more than $5,000 in stolen merchandise and a stolen vehicle. Deputies were also able to clear more than 20 arrest warrants, and make arrests on charges of Theft II, Theft III, Criminal Trespass, Possession of a Stolen Vehicle, Unauthorized Use of a Vehicle, and Identity Theft.
The Sheriff's Office worked closely with security at the Clackamas Town Center as well as loss prevention officers at participating retailers, including Target, Kohl's, REI, Barnes and Noble, JCPenney, Dick's Sporting Goods and Sephora. 
The all-day mission included Clackamas County Sheriff's deputies and detectives, as well as several of our partner agencies including the Milwaukie Police Department, Molalla Police Department, Oregon City Police Department, West Linn Police Department, and the Beaverton Police Department.
The Clackamas County Sheriff's Office works in partnership with our business community to conduct these shoplifting details to help deter retail theft in our communities.
Custodies included:
Rustin Andrew Carroll - Theft II
Andrea Ray Abrahamson - Misdemeanor Arrest Warrant – DUII
Ruben Fernandez - Theft III
Abraham Sotero-Vazquez - Theft II
Nathaniel Edward Guidotti - Theft II, Theft III, Theft II, Theft II
Jesse Crayson Wallace - Theft III
Juvenile Suspect – Theft II
Juvenile Suspect – Theft II
Justin David Chesterman - Theft II, Misdemeanor Arrest Warrant – FTA Theft II
Dennis Anthony Nylin - Theft II, Felony Arrest Warrant – FTA UUV & PSMV, Misdemeanor Arrest Warrant – FTA Crim Mis II, Theft II, Felony Arrest Warrant – Unlawful Poss Firearm, PCS Meth (Multnomah County)
Colton James Olsen - Theft II
Zeret Lamar-Solei Lindsey - Theft III
Deborah Toe - Theft III
Andrey Vladimorovic Bombeshko - Theft III
Tiffany Coreen Warner - Theft II
Seth Hezekiah Montange - Theft II, Misdemeanor Arrest Warrant – FTA Theft III
Daniel Tuski Bertrand - Criminal Trespass II
Andrew Bartlett Farnsworth - Theft II, Misdemeanor Arrest Warrant – FTA Theft II
Angenee Brandis Nyrie Brant - Theft III
Shawna McAvoy - Theft II
Wyatt Delmar Evans - Theft II, Misdemeanor Arrest Warrant – FTA Theft II (Washington County)
Bonita Faye Denny - Theft II, Felony Arrest Warrant – FTA Supplying Contraband, PCS Heroin, Misdemeanor Arrest Warrant – FTA Theft III, Misdemeanor Arrest Warrant – Theft III (Multnomah County), Misdemeanor Arrest Warrant – Theft II (Multnomah County)
Clinton James Getty - Theft II, Misdemeanor Arrest Warrant – FTA Theft II, Misdemeanor Arrest Warrant – FTA Theft II, Misdemeanor Arrest Warrant – FTA Theft II (Washington County), Misdemeanor Arrest Warrant – FTA Theft II (Washington County), Misdemeanor Arrest Warrant – FTA Theft II (Washington County)
Ashley Ruth Ballaris - Theft II, Misdemeanor Arrest Warrant – FTA Theft II (Troutdale Municipal), Misdemeanor Arrest Warrant – FTA Theft II (Beaverton Municipal)
William Charles Day - Possession of a Stolen Motor Vehicle, Unauthorized Use of a Vehicle, Identity Theft, Felony Arrest Warrant – FTA PSMV, FTA UUV (Multnomah County), Felony Arrest Warrant – Fail to Appear I (Multnomah County)
Sara Elizabeth Musciano - Theft II
Kelsey Anahi Ault - Theft II
Alea Ray Wilson - Theft II, Misdemeanor Arrest Warrant – FTA Felon in Poss of a Firearm, False Info, Felony Arrest Warrant – Parole Violation – PCS Heroin
* Arrest warrants are from Clackamas County Circuit Court unless otherwise noted
SIGN UP for ClackCo Sheriff News Releases in your inbox:  www.clackamas.us/sheriff/constantcontact.html
[END]
Brian McCall, Public Information Officer
Clackamas County Sheriff's Office
Public Information Unit