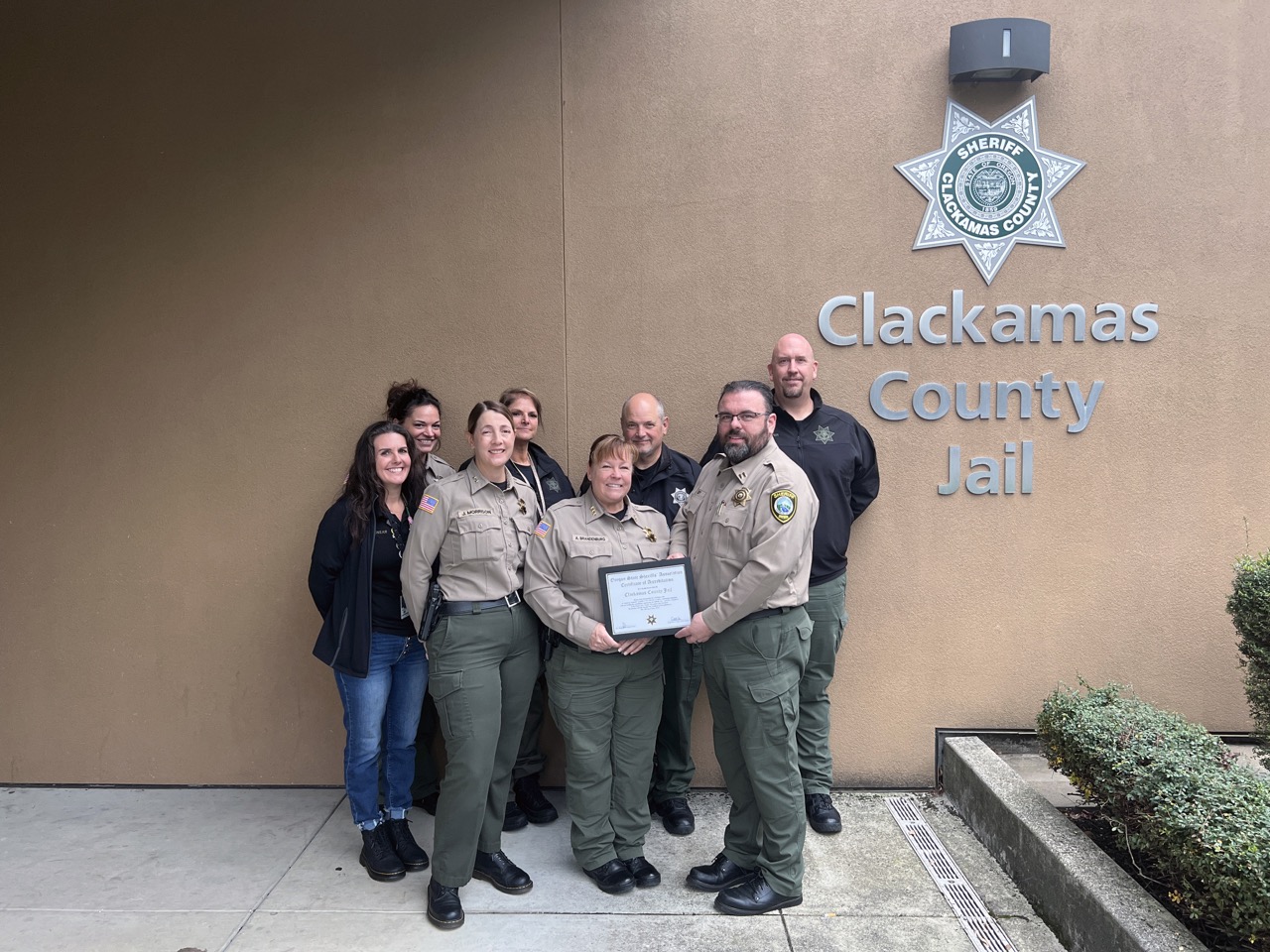 The Clackamas County Sheriff's Office Jail is the first jail in Oregon to be accredited by the Oregon State Sheriffs' Association (OSSA). In June, the Clackamas County Jail completed a new, comprehensive two-day inspection by a team of experienced and trained jail inspectors from across the state. Upon completion of this new accreditation process, the Clackamas County Jail received 100% compliance with all standards.
The overall inspection consists of 313 standards that provide a means of assessing and determining the operation and management of Oregon jails. The standards are based on both constitutional and statutory requirements as well as best practices from across the nation. The inspection reviews and compares all aspects of jail operations to the standards and determines compliance in areas including, but not limited to, security, management, health care, employee training, admission, classification, food service, visitation, mail, commissary, laundry, health care, sanitation, hygiene, and release. 
The new OSSA Accreditation joins two other accreditations earned by the Clackamas County Jail.
In 2020, the Jail earned full accreditation from the National Commission on Correctional Health Care for complying with the National Commission on Correctional Health Care's Standards for Health Services in Jails. 
In September 2021, the National Commission on Correctional Health Care accredited the Clackamas County Jail's Opioid Treatment Program. Learn more about the National Commission on Correctional Health Care's Opioid Treatment Programs Accreditation here: https://www.ncchc.org/accreditation/programs/opioid-treatment-programs-accredition/

SIGN UP for ClackCo Sheriff News Releases in your inbox:  www.clackamas.us/sheriff/constantcontact.html 
[END]
Brian McCall, Public Information Officer
Clackamas County Sheriff's Office
Communications Unit