Missing Person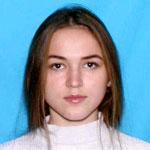 | | |
| --- | --- |
| DOB: | 12-01-1982 |
| Location Last Seen: | Leaving her residence on SE Fuller Road, walking towards the Ross Center at SE Causey and SE 82nd Avenue |
| Date Last Seen: | April 27, 2004 |
Details: Olga Valeryevna Ponomareva (DOB 12-01-1982) was reported missing on April 28, 2004. Olga was last seen on the April 27, 2004 at about 4 p.m., leaving her residence on SE Fuller Road walking towards the Ross Center at SE Causey and SE 82nd Avenue. Olga left all her belongings behind at her mother's residence, and has not been seen since.
Olga has no identification, nor did she have a lot of money. According to documents, Olga has not had any activity since 2004.
To Report Info: Call the Clackamas County Sheriff's Office Tip Line at (503) 723-4949 (or use the online e-mail form).