Murder
Case Number
46-22603, 68-8077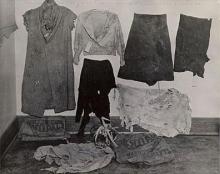 | | |
| --- | --- |
| Suspect: | Unknown |
| Location Found: | Willamette River, in the area of Milwaukie/Oak Grove |
| Date Found: | April 13, 1946 |
Details: In the early morning hours of April 13, 1946, the fully clothed torso of an unidentified middle-aged female was found floating in the Willamette River near Oak Grove. On April 14, 1946, the torso's arms and legs were located in the Willamette River. On October 13, 1946, the corresponding head was found in the Willamette River in the Oak Grove area.
Investigators determined that the cause of death was a blunt force injury to the head. Her head, arms and legs were then sawn off. The body was then wrapped in feed bags and weighted down with window sash weights.
The victim has never been identified, nor has a suspect been identified.
The victim is described as a Caucasian female with brown and gray hair. She was 40-50 years of age, 5'2"-5'4" in height and roughly 125 lbs.
To Report Info: Anyone with information about this crime is urged to call the Clackamas County Sheriff's Office Tip Line at (503) 723-4949 or use the online e-mail form.