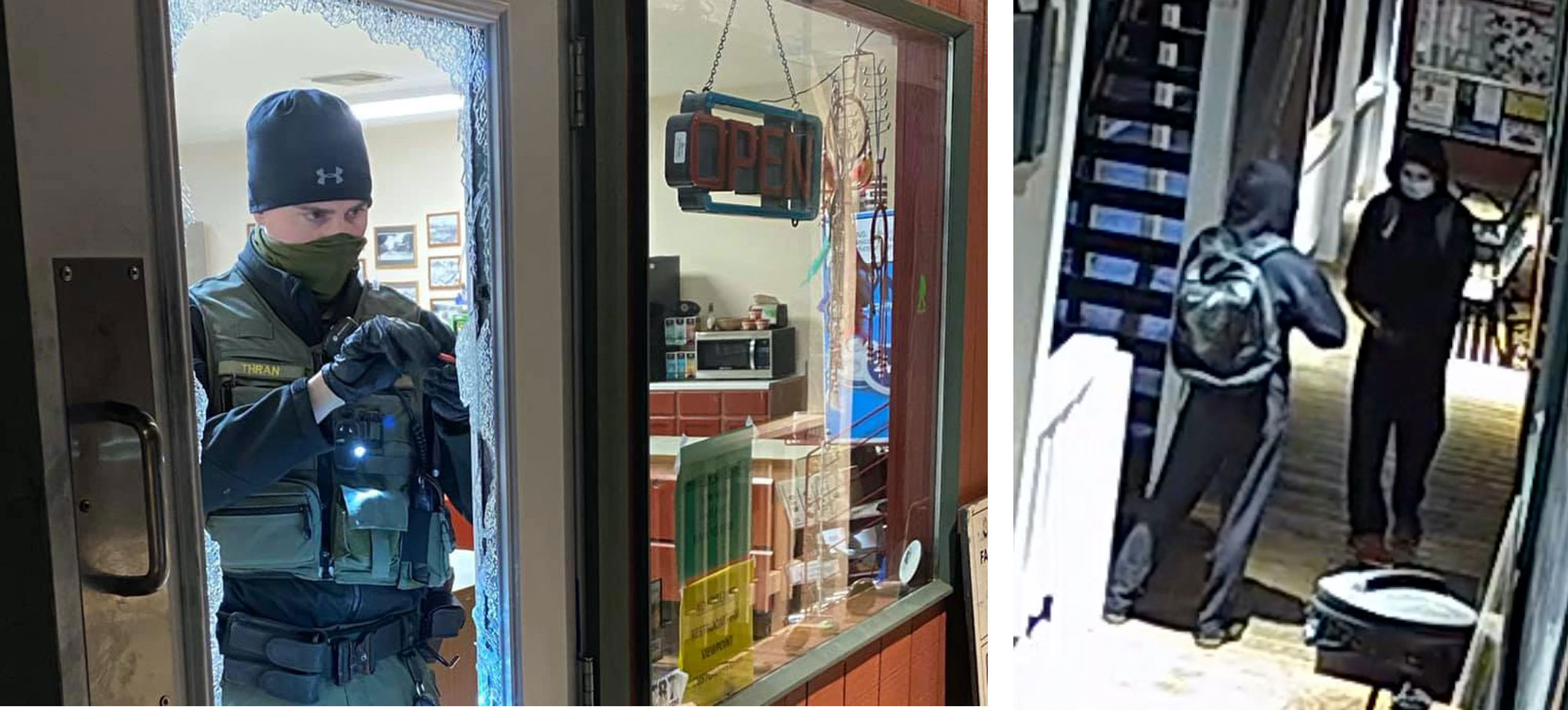 Please reference CCSO Case # 21-005778
SURVEILLANCE VIDEO of suspects (.mp4 format):
https://www.dropbox.com/s/li5huoxni5fnhb6/21-005778-ViewpointGroceryBurglary.mp4?dl=0
The Clackamas County Sheriff's Office is asking for the public's help as it searches for two burglars who broke into an Estacada grocery store on March 21. Surveillance video of the crime is available.
Shortly before 1 a.m. on Sunday, March 21, 2021, two male suspects burglarized the Viewpoint Grocery, which is located at 20179 Springwater Rd., near Estacada.
As seen in the surveillance video, the two suspects attempted to pry the door open with a yellow crowbar before breaking a window on the front door of the grocery. One suspect acted as lookout while the other entered the store; they stole $2,600 worth of Juul refills before fleeing the location.
The suspects begin breaking into the grocery at 12:46 a.m. and flee the scene at 12:54 a.m.
The burglars caused an estimated $1,200 in damage to this independently owned small grocery.
Deputies investigating this burglary obtained statements from the owners and collected forensic evidence from the scene. As seen in the video, the two suspects appear to be younger adult males of average build. One had a distinctive backpack.
Photos of the suspects and the crime scene are attached.
TIPS SOUGHT: Anyone with information is urged to contact the Sheriff's Office Tip Line — by phone at 503-723-4949or by using the online email form at https://www.clackamas.us/sheriff/tip . Please reference CCSO Case # 21-005778.
[END]
Sgt. Marcus Mendoza
Clackamas County Sheriff's Office
Public Information Unit