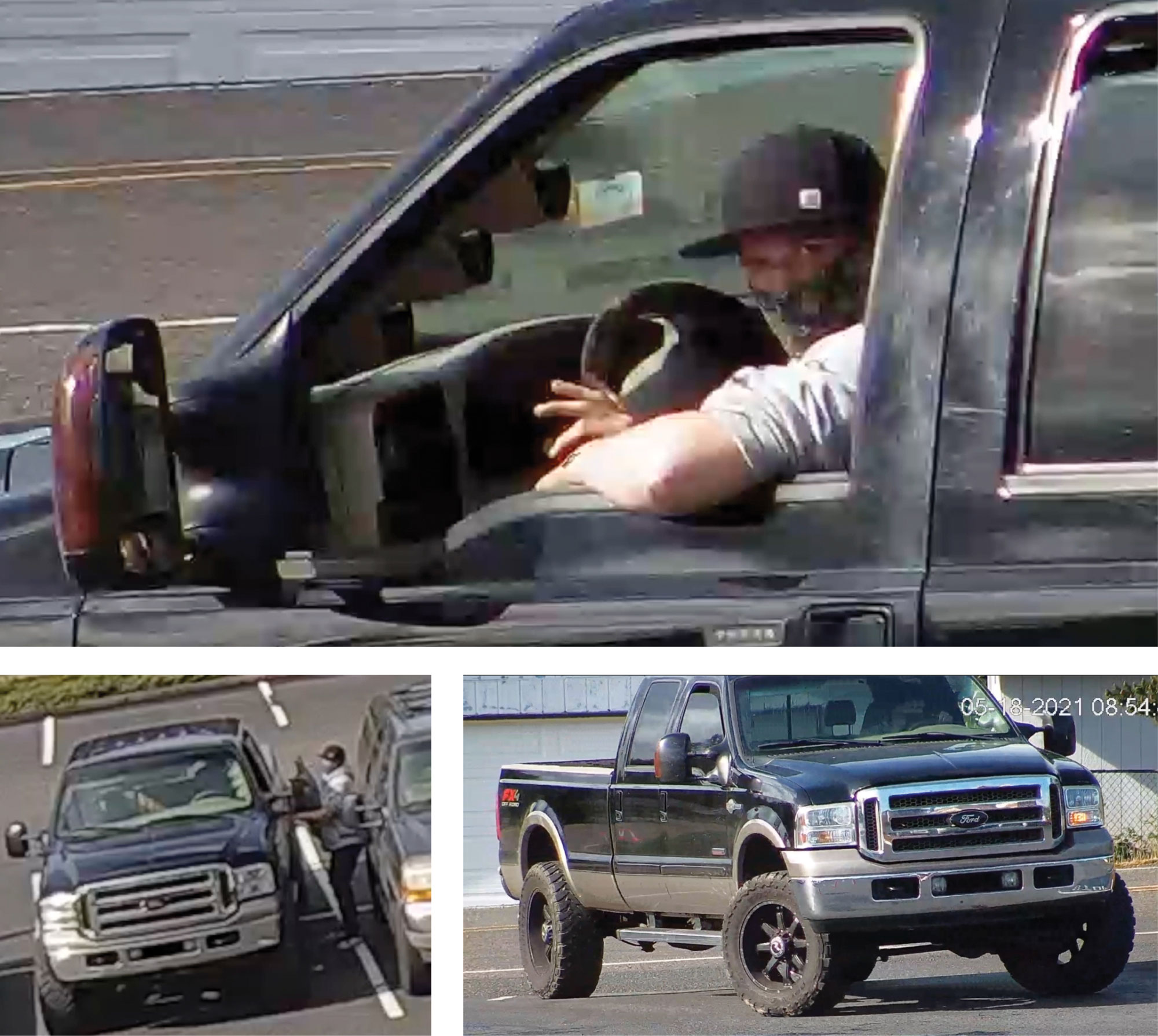 Please reference CCSO Case # 21-010292
SURVEILLANCE VIDEO OF THIEVES AND SUSPECT TRUCK (.mp4 format):
https://www.dropbox.com/s/ysljpqi0dll40rs/21-010292-CatalyticConverterTheftB-Roll.mp4?dl=0
Suspect and suspect-vehicle photos: [ 1 ] [ 2 ] [ 3 ] [ 4 ]
The Clackamas County Sheriff's Office is asking for the public's help to catch two brazen thieves who stole a catalytic converter off a Ford Excursion in a Beavercreek parking lot. Video of the crime and suspect vehicle are linked above.
As seen in the video, on Tuesday, May 18, 2021, the suspect vehicle -- a black Ford F350 -- parks next to a green Ford Excursion in a parking lot in the 14800 block of S. Leland Road in Beavercreek. Two suspects are inside the F350. One exits, climbs underneath the Excursion, and cuts away the catalytic converter before re-entering the F350 approximately a minute and 10 seconds later. The two suspects then flee the scene in the suspect truck.
The suspect vehicle is believed to be a 2006 black Ford F350 Crew Cab, and had a dealer plate on the back at the time of the theft. Authorities believe the vehicle may be stolen. It has a trailer hitch, black studded spoke wheel rims, and items including what appeared to be a small white bucket in its bed.
The suspect driver who cut away the catalytic converter is a white male wearing a grey sweatshirt, dark baseball cap, and what appears to be a green camouflage mask covering his nose and mouth.
Photos of the suspect and suspect vehicle are attached.
The region has seen a recent spike in catalytic-converter thefts from vehicles. As detailed in this OPB article, "A car's catalytic converter — which helps curb harmful emissions — contains precious metals more valuable than gold.... It takes mere minutes to saw off a catalytic converter. Selling it can summon several hundred dollars at a scrapyard. As a result, the illicit resale market in Oregon and elsewhere has exploded.... The catalytic converters, which have been installed on most gasoline vehicles, are coated with metals like palladium, rhodium and platinum, which help remove pollutants from a vehicle's exhaust system."
TIPS SOUGHT: The Sheriff's Office is asking for the public's help to ID and arrest these brash thieves. Anyone with information is urged to contact the Sheriff's Office Tip Line — by phone at 503-723-4949 or by using the online email form. Please reference CCSO Case # 21-010292.
[END]
Deputy John Wildhaber
Clackamas County Sheriff's Office
Public Information Unit