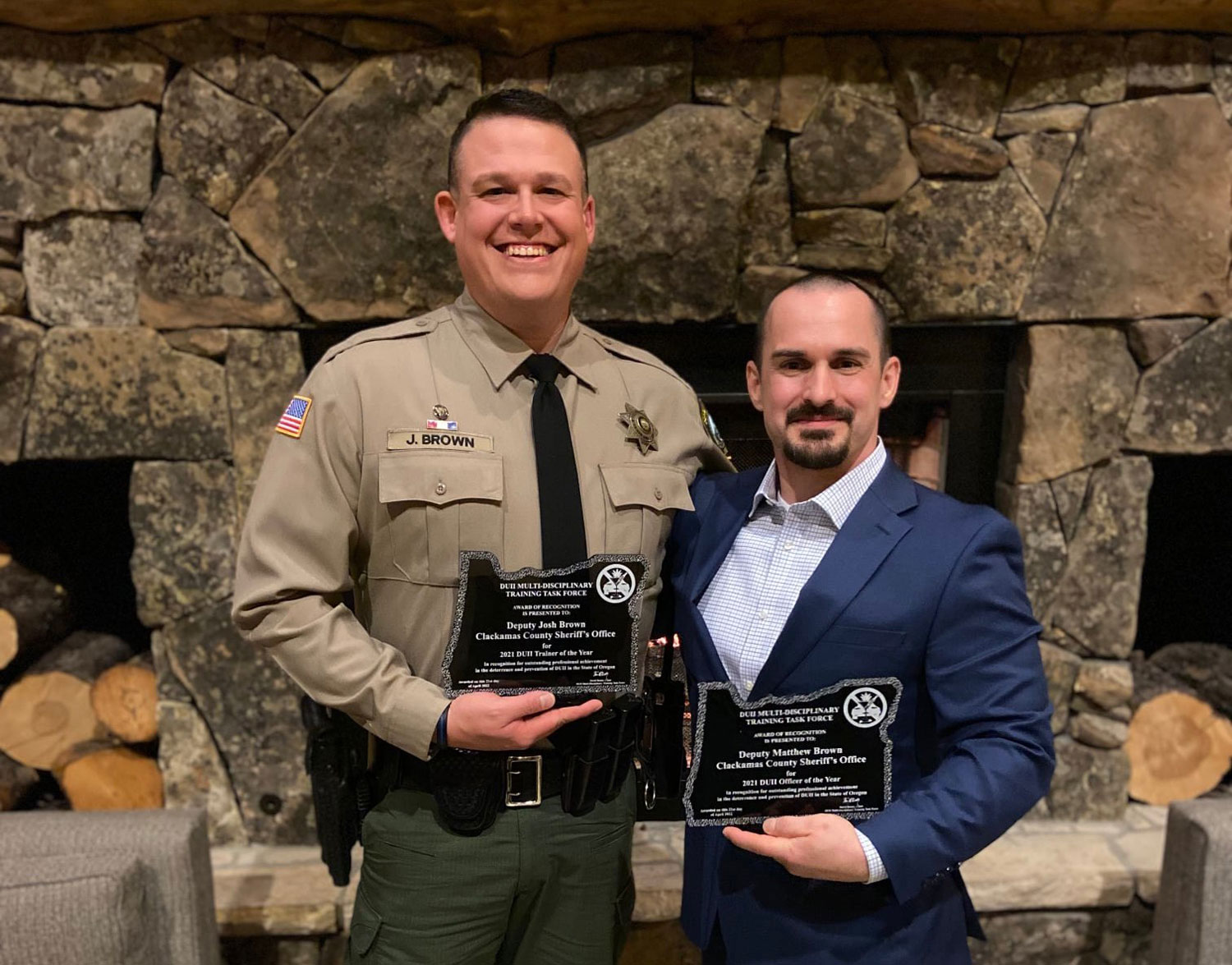 The Oregon DUII Task Force recognized two of our deputies for their efforts to keep drunk drivers off the street.
Last month, at its annual conference in Bend, the Task Force named CCSO Patrol Deputy Matt Brown its "DUII Officer of the Year" and Deputy Josh Brown its "DUII Trainer of the Year."
• Deputy Matt Brown serves as our dedicated DUII Deputy, and is a Drug Recognition Expert and Standardized Field Sobriety Test instructor. He spends the majority of his time on the road, looking for impaired drivers, as well as assisting other deputies with DUII investigations.
As of the time of the award, he'd made 369 DUII arrests over the course of his career. In 2021 alone, Deputy Matt Brown made 121 DUII arrests and completed 13 Drug Recognition Expert evaluations.
As noted at the award presentation: "He's become a great resource to Patrol... district partners would know to start driving his way when he stopped a car because the chances were good he was conducting a DUII investigation."
Learn more on our YouTube channel about Deputy Matt Brown and his full-time assignment to detect and arrest impaired drivers:
• The Task Force additionally honored Deputy Josh Brown as its DUII Trainer of the Year. During the awards presentation, he was praised for investing "a significant amount of time and energy to become a highly capable and knowledgeable DUII instructor. His desire to help others has made him a valuable resource during DUII investigations, trials and trainings."
In 2021, Deputy Josh Brown helped train his peers in classes including ARIDE (Advanced Roadside Impaired Driving Enforcement) and "Protecting Lives and Saving Futures." According to the award nomination, "He is particularly clear and concise with his delivery. His confidence with the material makes it easy to understand him, absorb the information, and apply the lessons in the field. He takes tremendous pride in the development of his fellow deputies and officers in his county to ensure they have the necessary tools and confident to address the problem of impaired driving."
[END]
Deputy John Wildhaber
Clackamas County Sheriff's Office
Public Information Unit