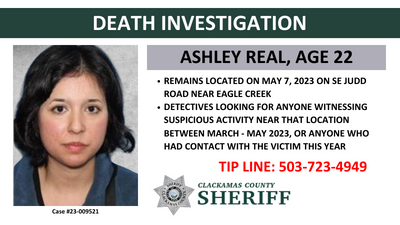 Please reference CCSO Case # 23-009521
On May 7, 2023, Clackamas County Sheriff's Office deputies responded to a death investigation call in the 29000 block of SE Judd Road in the Eagle Creek area. A man who was in the area to do some fishing at a nearby pond called 9-1-1 to report the discovery of human remains in a heavily wooded area. Additional deputies and detectives from the Homicide & Violent Crimes Unit responded to the area to investigate the remains and process the scene.
Since the remains were located, detectives have been working to identify the victim and cause of death, which has been determined to be suspicious in nature. The victim has been identified as, Ashley Real, 22, from Portland.
Detectives are looking for any tips from the public on suspicious activity that may have been observed in the 29000 block of SE Judd Road between the end of March 2023 and the beginning of May 2023. They are also interested in speaking with anyone who had contact with Ashley Real this year.
ADDITIONAL TIPS REQUESTED:  Anyone with information on this case is urged to contact the Sheriff's Office Tip Line -- by phone at 503-723-4949 or by using the online email form at: https://www.clackamas.us/sheriff/tip
Please reference CCSO Case # 23-009521
[END]
Brian McCall, Public Information Officer
Clackamas County Sheriff's Office
Public Information Unit