Tips, possible victims sought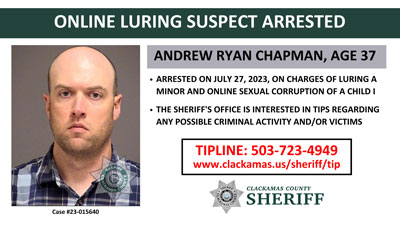 Please reference CCSO Case # 23-015640
At approximately 2:30 p.m. on Thursday, July 27, 2023, the Clackamas County Sheriff's Office arrested an Oregon City man on charges of luring a minor.
The suspect -- identified as Andrew Ryan Chapman, age 37, of Oregon City -- responded to an undercover detective's online post in which the detective was posing as a 15-year-old girl.
The purpose of the detective's undercover post was to identify adults engaging in sexually explicit conversations with minors who then take substantial steps to meet those minors in person for the purpose of sexual contact.
Following the online conversation, Chapman arrived at an-agreed upon meeting location in the Clackamas area. He was met by a team comprising Sheriff's Office detectives, Milwaukie Police Department officers and detectives, and Clackamas County Interagency Task Force (CCITF) deputies who took him into custody.
Chapman was taken to Clackamas County Jail, where he is being held without bail on charges of Luring a Minor and Online Sexual Corruption of a Child in the First Degree. Complete booking info is here: https://web3.clackamas.us/roster/#inmates
Detectives believe Andrew Chapman may have engaged in similar criminal activity previously, and are asking the public for information  -- including information on any minors he may have previously contacted. Chapman's booking photo is linked above.
ADDITIONAL TIPS, INFO WANTED: Anyone with information about additional criminal activity involving Andrew Ryan Chapman is urged to contact the Sheriff's Office Tip Line -- by phone at 503-723-4949 or by using the online form at: www.clackamas.us/sheriff/tip . Please reference CCSO Case #23-015640.
[END]
Sergeant Ross Clemson
Clackamas County Sheriff's Office
Communication Unit
SIGN UP for ClackCo Sheriff News Releases in your inbox: www.clackamas.us/sheriff/constantcontact.html