Crash started fire, damaged powerlines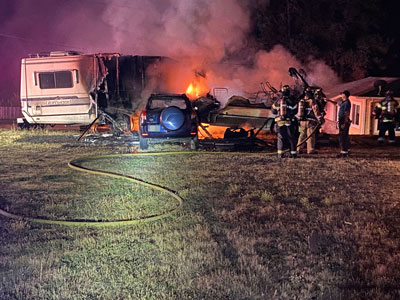 Please reference CCSO Case # 23-016923
Photos: [ 1 ] [ 2 ] [ 3 ] [ 4 ] [ 5 ] [ 6 ]
A man was arrested Monday morning after driving an SUV through a fence and crashing into a motorhome, then fleeing the scene as a fire at the crash site damaged nearby power lines.
Shortly before 3 a.m. on Monday, Aug. 14, Clackamas County Sheriff's Office deputies responded to a report of a crash at SE 190th and Tillstrom Road in Damascus. The suspect driver -- later identified as Mario Apolinar Quinonez Verduzco, 30, of Portland -- reportedly drove a 2007 Toyota RAV-4 straight through the t-intersection at 190th and Tillstrom and crashed through a fence on a homeowner's property.
The vehicle traveled approximately 180 feet off the roadway. In addition to punching through the fence, the RAV-4 also snapped a support cable connected to a Verizon Wireless pole, damaged a PGE electrical box, struck a retaining wall, and colliding with an unoccupied motorhome.
Quinonez Verduzco then ran from the crash scene, fleeing on foot across a field.
Meanwhile, the crash caused the motorhome and RAV-4 to catch fire; the property owner reported that a propane tank had exploded. Damaged power lines also began to arc. Grass around the crash site also caught fire; the flames reportedly came within 20-30 feet of the residence at the address.
Clackamas Fire responded to the scene to extinguish the blaze, and PGE responded to address damage to the power lines. Deputies advised that the homeowner and his dog evacuate to safety as the blaze was extinguished, and advised a neighbor of the safety concern due to the fire and dry conditions.
Deputies located Quinonez Verduzco about a half-mile away from the crash, walking along SE Tillstrom Road. A breath test indicated that his blood alcohol content (BAC) was .11, over the legal limit of .08. He was arrested on charges including Hit and Run — Vehicle-Property, Reckless Driving and DUII — Alcohol.
Photos from the crash scene are attached.
[END]
Sergeant Ross Clemson
Clackamas County Sheriff's Office
Communications Unit