More than 200 agencies across the United States participated in the domestic violence Warrant Sweep's 20th year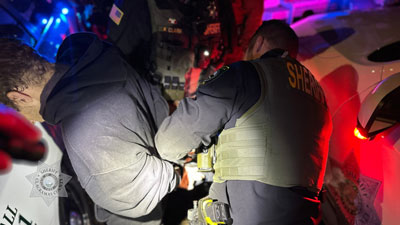 Photos and B-roll video from the Warrant Sweep: [ DOWNLOAD LINK HERE ]
On Wednesday October 25, 2023, the Clackamas County Sheriff's Office celebrated the 20th anniversary of its Family Violence Apprehension Detail, also known as the Warrant Sweep, working with law enforcement agencies across the country to arrest people with outstanding family-violence warrants.
In the two decades since the Clackamas County Sheriff's Office founded the Warrant Sweep, thousands of participants across the U.S. have attempted to serve over 129,000 warrants and made over 17,600 arrests.
This year, 214 agencies in 16 states joined the effort. Across Oregon, 25 law enforcement agencies participated to include the Sheriff's Offices of Benton, Deschutes, Jackson, Marion, Multnomah, Tillamook, Washington, and Yamhill Counties.
In Clackamas County, the Warrant Sweep kicked off with a welcome by Clackamas County Sheriff Angela Brandenburg to over 40 CCSO deputies, parole & probation officers, and officers from the Canby, Gladstone, Happy Valley, Lake Oswego, Milwaukie, Molalla, Oregon City, Sandy, Wilsonville, and West Linn Police Departments.
Following Sheriff Brandenburg, First Assistant Clackamas County District Attorney Scott Healy addressed the group on the importance of their efforts and work in holding domestic violence offenders accountable. Before the teams left to serve warrants, they also heard powerful testimony from domestic violence survivor Leslie McDonell, a member of the VOICES Committee of A Safe Place Family Justice Center.
While the national numbers are still being collected, deputies and officers in Clackamas County arrested ten people on existing arrest warrants and made an additional 92 warrant service attempts.
One of the domestic violence warrants deputies were attempting to serve (CCSO Case #23-022181) drew a significant amount of resources from participating agencies. Shortly after 7:30 p.m., teams arrived at The Shadows apartment complex on SE Courtney Ave in Milwaukie. Deputies attempted to arrest Derek Mitchell Nelson, age 33, of Canby, who was inside an apartment. Nelson refused to surrender and was believed to be armed. The Clackamas County SWAT Team and Crisis Negotiation Team (CNT) responded and were able to convince Nelson to surrender and leave the apartment. He was taken into custody without further incident and booked into Clackamas County Jail on charges including Felon in Possession of a Weapon. Nelson is also facing charges stemming from warrants out of Clackamas and Marion counties, one related to a domestic violence assault charge.
Family Violence Resources (Local & National):
If you or someone you know is experiencing domestic violence, help is available right now. In Clackamas County, contact A Safe Place Family Justice Center at 503-655-8600 or Clackamas Women's Services' 24-hour crisis and support line at 503-654-2288. A Safe Place offers advocacy, culturally-specific services, assistance with filing protective orders, safety planning, counseling, support groups, legal support, law enforcement support, along with other services and resources to anyone experiencing family violence, sexual violence, stalking, or abuse against older adults and people with disabilities in one location.
Nationwide, you can also call the National Domestic Violence Hotline (www.thehotline.org) at 1-800-799-SAFE (7233).
If you or someone you love is in immediate danger, call 911.
Agencies can learn more about the warrant sweep — and sign up to participate — at www.clackamas.us/sheriff/domesticviolence.html
[END]
Brian McCall, Public Information Officer
Clackamas County Sheriff's Office
Communications Unit