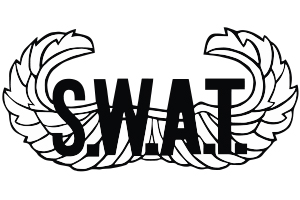 Special Weapons and Tactics Team
The two units coordinate their responses to deal with high-risk situations -- handling security details and situations involving hostages, barricaded gunmen, or disturbances at civil and corrections facilities.
The SWAT Team comprises 24 tactical operators. Seventeen operators are Sheriff's Office deputies, and 7 are from other police agencies within Clackamas County. Of the 17 deputies, 5 are Sergeants. One Sergeant acts as the overall team leader. The other 4 Sergeants fill the following roles:
Assistant team leader;
Sniper team leader;
Inner perimeter (IP) team leader; and
Breaching team leader.
In addition, the team has a tactical medicine program comprised of a trauma surgeon, an emergency room physician and 5 paramedics.
Crisis Negotiation Team (CNT)
Our Crisis Negotiation Team comprises 13 members. Eleven members are Sheriff's Office deputies and 2 members are from other police agencies within Clackamas County. Of the 11 deputies, one is a Sergeant who leads the team.
Both teams are managed by a Lieutenant who acts as Tactical Commander. They're are also supported by our K9 Unit, Explosive Device Unit (EDU) and Air Unit.
Our tactical team trains 280 hours annually -- studying firearms, specialized weapons, wooded movement and building-entry techniques.