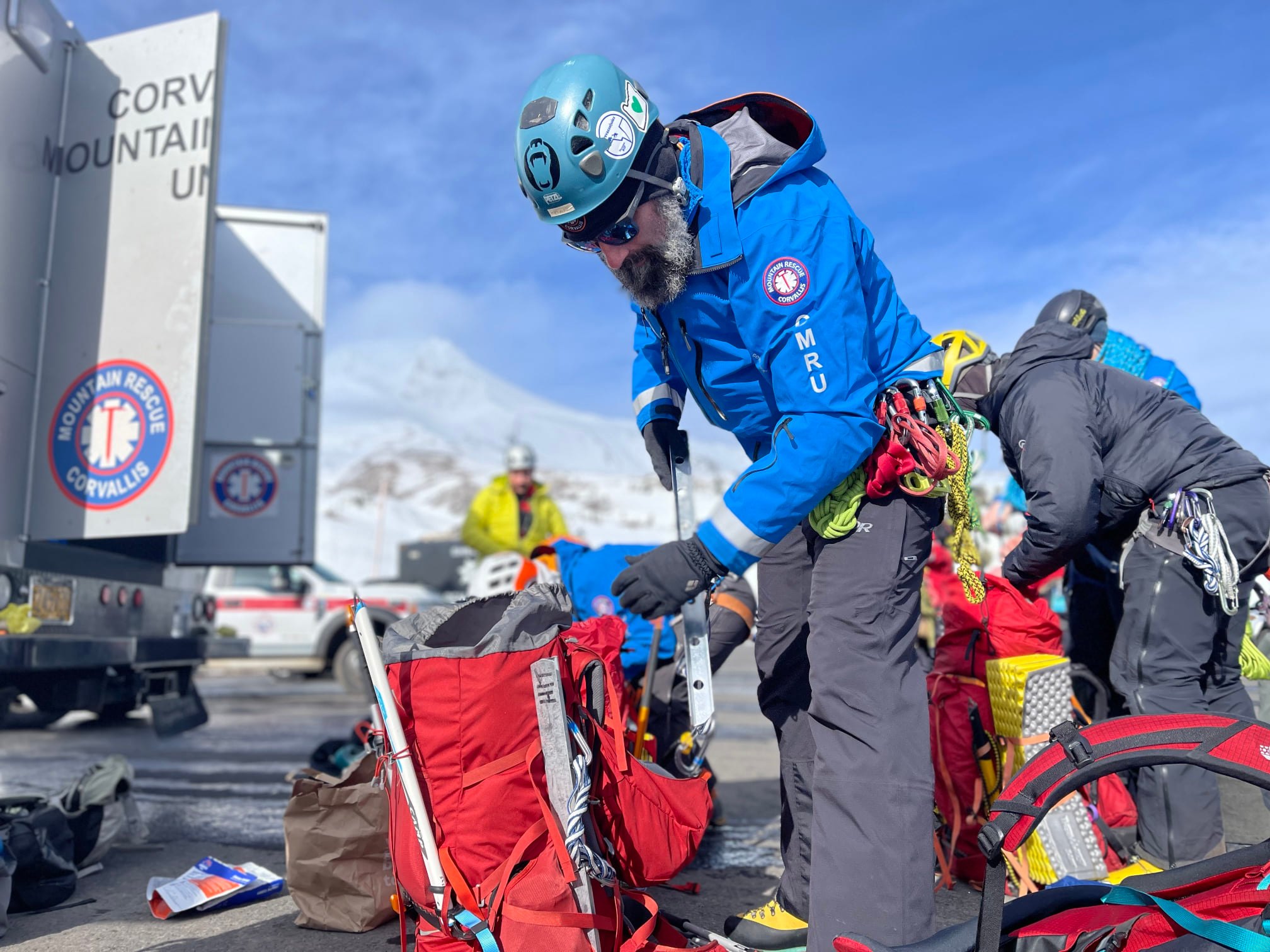 UPDATE: 

(Wednesday, March 30, 2022)

Rescuers eagerly await safe mountain conditions
Our hearts are with the family of Pradnya Mohite, her friends, and rescuers during this very difficult time. In partnership with Portland Mountain Rescue (PMR), we continue to monitor conditions on Mt Hood to allow for a safe recovery mission from the Leuthold Couloir. 
On March 7, rescuers faced conditions too dangerous to get both Pradnya Mohite and her injured climbing partner off the mountain.
To date, ongoing discussions with Portland Mountain Rescue, Hood River Crag Rats, and professional avalanche forecasters from the US Forest Service Northwest Avalanche Center have determined that conditions continue to be too dangerous on the mountain.
A successful and safe recovery requires several days of stable, cool, and calm weather. Over the past few weeks, new snowfall coupled with a warming trend substantially increased the avalanche risk on Mt. Hood. Solar warming and high winds have also considerably increased the amount of rock and ice fall from the high vertical cliffs above the glacier, a well-known danger to climbers on the west side of the mountain even with good conditions.
Rescuers continue to monitor conditions on Mt Hood and are mission-ready as soon conditions allow.
____
EARLIER (Wednesday, March 9, 2022) -- CLIMBER IDs
Family notifications are now complete, and the two subjects of the March 6-7 search-and-rescue mission can now be identified:
Lei Wang, 50, of Renton, WA was transported off the mountain and taken to an area hospital for treatment.
Pradnya Mohite, 34, of Issaquah, WA was declared deceased. A recovery mission will take place after mountain conditions improve.
_____
(Monday, March 7, 2022)
Please reference CCSO Case # 22-005373
The Clackamas County Sheriff's Office led a multi-team search-and-rescue mission in challenging conditions Sunday and Monday (March 6-7, 2022) after two climbers fell approximately 200 feet in the Leuthold Couloir area of Mt. Hood. One climber was transported off the mountain with critical injuries; the other climber was pronounced deceased.
Shortly after 5 p.m. on Sunday, March 6, 2022, two climbers fell approximately 200 feet near the top of the Leuthold Couloir, a long steep chute on the west side of Mt. Hood, visible from Portland. Both climbers suffered injuries in the fall. One of the injured climbers was able to call 911 by cell phone, and also used a Garmin inReach device to notify an emergency contact.
Clackamas County Sheriff's Office Search & Rescue Coordinators activated a mission and deployed to Mt. Hood, setting up a command center at Timberline Lodge. Volunteer searchers also deployed to the mountain from teams including Portland Mountain Rescue (PMR), the Hood River Crag Rats, and Mountain Wave Emergency Communications. The Oregon Office of Emergency Management (OEM) was also notified.
Climbing conditions on Mt. Hood were extremely challenging. Rescuers faced deep snow and other treacherous conditions, including avalanche conditions, with winds blowing between 50-70 mph. There were at least two natural-release avalanche events on Mt. Hood on March 7, the second day of the search, underscoring the concern for rescuer safety.
During the night, rescuers attempted unsuccessfully to reach the subjects by crossing the upper Reid Glacier and climbing the couloir. Rescuers encountered strong winds with repeated gusts up to 50 mph that knocked rescuers off their feet. The high winds were concentrated in the couloir and were blowing heavy sheets of snow down the couloir that created dangerous avalanche risk and extreme climbing conditions. The snow was deep and heavily wind-loaded, so with every upward step, rescuers sunk to their upper thighs. All this difficult and dangerous travel was on steep terrain at night, with limited visibility due the blowing snow and dim moonlight.
By approximately 11:40 p.m. on March 6, the first climbing team -- made up of personnel from PMR and the Crag Rats -- made it to within approximately 700 feet elevation below the two subjects, but were unable to reach them due to the poor climbing conditions. Rescuers were then forced to turn back due to heightened avalanche danger in the area.
OEM also advised they would be unable to deploy a military helicopter to assist with the rescue that night, due to altitude and weather conditions. Rescuers regrouped and prepared for a second attempt to reach the subjects at first light.
By daybreak on March 7, the operation had expanded to include personnel from PMR, the Crag Rats, Mountain Wave, AMR's Reach and Treat Team, the 304th Rescue Squadron, the Hood River County Sheriff's Office (which also provided an airplane to aid searchers), Clackamas County Search & Rescue (CSAR), Corvallis Mountain Rescue, and the Oregon Army National Guard (providing a helicopter and crew).
As the day began, two rescue teams headed up to the top of Palmer Lift in a snowcat to make a second attempt to reach the fallen climbers.
Although the winds continued into the day, improved visibility at daylight allowed a third team of rescuers to reach the two subjects by summitting the mountain and descending the west side to the fallen climbers' position above the Hourglass bottleneck at the top of the Leuthold Couloir. Conditions continued to be extremely difficult and dangerous for rescuers and limited what they were able to accomplish. A fourth team hauling rescue equipment over the mountain was forced back by severe winds and ultimately provided support lower on the Reid Glacier.
Rescuers were unable to obtain vital signs from Climber #1.
Climber #2 was in critical condition.
Dr. Christopher Van Tilburg -- medical director for Clackamas County Search and Rescue, Hood River Crag Rats and Portland Mountain Rescue -- concurred Climber #1 was deceased, based on direct communication with the medically trained rescuers on scene.
Weighing the hazardous conditions and danger to rescuers, the decision was made to evacuate Climber #2, whose condition was critical but ambulatory. Mission priority shifted to stabilizing Climber #2 and getting the injured subject off the mountain.
Due to the severe avalanche hazard and poor conditions, rescuers made the tough decision to leave the deceased on the mountain, with plans to mount a recovery mission when conditions improve.
An Army National Guard helicopter launched from Timberline in an attempt to airlift the subjects from their location above the Hourglass. However, challenging conditions persisted, and winds proved too strong to allow for a chopper hoist at their location.
Late Monday, rescuers evacuated climber #2 down the couloir and then carried the subject in a litter across the Reid Glacier. Using ropes, they raised the subject in the litter over Illumination Saddle and across the Zig Zag Glacier to a snow cat near the top of the Palmer lift. The snow cat transported Climber #2 to medical personnel staged at Timberline Lodge.
Climber #2 arrived at Timberline at approximately 6:50 p.m. on March 7, and was transported by AMR to an area hospital for treatment.
Four teams (32 rescuers today) were involved in today's (March 7) rescue effort, with numerous other volunteers providing support.
Updates (including the names of the two climbers) are forthcoming.
[END]
Deputy John Wildhaber
Clackamas County Sheriff's Office
Public Information Unit