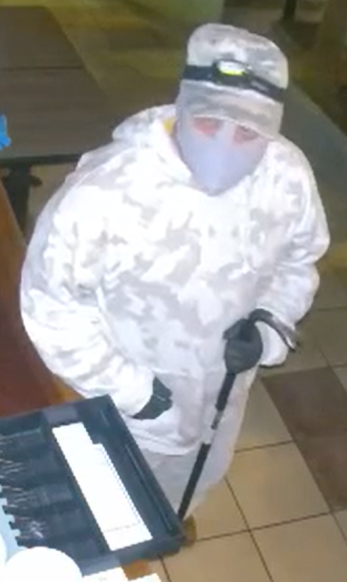 Please reference CCSO Case #s 22-008678, 22-008679, 22-010745, 22-011026, 22-011029, 22-012726
Happy Valley Police is asking for the public's help as it works to identify the suspect in a string of broken-window burglaries in Happy Valley Town Center and other nearby locations.
The most recent crimes in this ongoing burglary spree began May 11, 2022, with a break-in at Benny's Donuts at Happy Valley Town Center -- followed by break-ins at U.S. World Class Taekwondo Association and Noodle Man on May 15 and Peet's Coffee on June 4.
Authorities believe these burglaries may be connected to similar, earlier break-ins at a nearby Five Guys burger restaurant and Unami Ramen, both on April 16.
In most of the crimes, the suspect breaks a window or glass door to gain entry to each business under cover of darkness, while the businesses are closed, then steals cash or other items. The suspect has also attempted to (or successfully) broken into safes on the premises. 
The suspect is described as a heavy-set white male wearing a heavy, light-colored jacket, light-colored pants, dark-tan footwear, and a light-blue full face mask. In surveillance footage he is also seen wearing a headlamp over a light-colored, camouflage-pattered ballcap while carrying a crowbar. 
A photo of the suspect taken from surveillance footage is linked above.
Three Clackamas County cities -- Happy Valley, Estacada and Wilsonville -- contract with the Clackamas County Sheriff's Office to provide municipal police services.
TIPS SOUGHT
Happy Valley PD is asking for the public's help to identify the suspect in this case. Anyone with information is urged to contact the Sheriff's Office Tip Line -- by phone at 503-723-4949 or by using the online email form. Please reference CCSO Case # 22-011029.
[END]