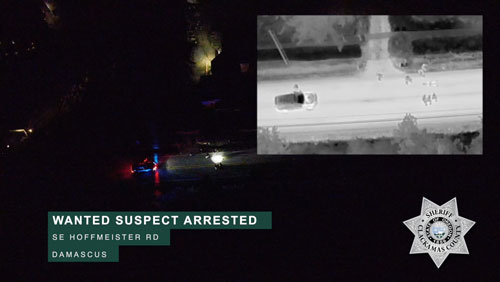 Arrest video (.mp4 format)
At approximately 3:10 p.m. on Friday, May 19, 2023,  Clackamas County deputies responded to a parking complaint about a motorhome parked at SE Hoffmeister Rd and SE 242nd Ave in the Damascus area. When deputies arrived, they learned the motorhome was associated with a man wanted for various felony charges in Clackamas County.
The suspect, identified as Logan Wright, ran into a nearby wooded area. Based on items found at the scene, deputies believed the suspect was possibly armed, so additional resources were called in to assist in finding him. In addition to CCSO SWAT, K9 teams and drones also responded to the area. After several hours, the search was called off.
Approximately an hour later, a neighbor called to report a suspicious person who had come to their front door asking for water. The information was relayed to deputies who quickly responded back to the area. The suspect again ran into the woods. Another search was launched, including SWAT members, patrol deputies, K9, drones and the CCSO Air Unit.
While searching the area, another neighbor spotted the suspect near the roadway, and deputies were able to take him into custody without further incident.
Logan Wright, age 21, is now being held in the Clackamas County Jail on the following charges:
Eluding a police officer x2
Unauthorized use of vehicle x2
Possession of a stolen vehicle x2
Escape in the third degree x3
Wright is being held on $1,000,000 bail.
VIDEO: https://www.dropbox.com/s/agpfmcakk0z8k13/Wright%20Drone%20Arrest-2.mp4?dl=0
[END]
Brian McCall, Public Information Officer
Clackamas County Sheriff's Office
sheriffpio@clackamas.us