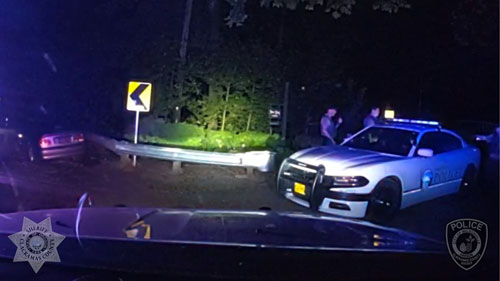 Please reference CCSO Case # 23-011203
Just after midnight on Monday, May 29, 2023, a deputy contracted to the Wilsonville Police Department was monitoring traffic on I-5 near SW Wilsonville Road when he spotted a 2005 gray BMW 325i without license plates traveling southbound at 90 mph.
The deputy activated emergency lights and began traveling south on I-5 to catch up with the BMW.
The driver exited I-5, heading west on SW Wilsonville Road before crashing into a guardrail along a curve near the 16100 block of Wilsonville Road.
The suspect driver -- later identified as Wayne Douglas Davis, 47, of Independence -- exited the car and ran from the crash scene on foot, leaving a female passenger and a dog behind.
The BMW turned out to be stolen out of Salem. The passenger -- Alyssa Renee Wright, 32, of Salem -- had an active felony warrant from the Oregon State Parole Board.
Tualatin Valley Fire & Rescue paramedics arrived at the scene to evaluate Ms. Wright. The dog appeared to be uninjured and was transported to Clackamas County Dog Services.
Meanwhile, additional deputies from the Wilsonville Police Department and the Clackamas County Sheriff's Office had arrived at the scene to search for Davis. CCSO K9 Valli completed a successful dog track -- locating Mr. Davis in a ravine approximately 150 yards from the crash scene.
Wayne Davis was transported to a local hospital to be checked out following the incident before being taken to the Clackamas County Jail, where he remains in custody on several local charges and multiple warrants from Polk and Marion counties:
Reckless Driving
Possession of a Controlled Substance -- Oxycodone
Driving While Suspended/Revoked
Unauthorized Use of a Vehicle
Attempt to Elude a Police Officer
Recklessly Endangering
Multiple Failure to Appear warrants for Driving While Suspended/Revoked, Theft II, and Reckless Driving
Bail was set at $150,000. Complete booking info is here: https://web3.clackamas.us/roster/#inmates
Twenty-three grams of suspected oxycodone/fentanyl pills were found on Davis' person. He was also given a traffic citation for speeding, unlawful signal, and failure to install an IID device.
Three Clackamas County cities -- Happy Valley, Estacada and Wilsonville -- contract with the Clackamas County Sheriff's Office to provide municipal police services.
ADDITIONAL TIPS, INFO SOUGHT:  Anyone with information on criminal activity by Wayne Douglas Davis is urged to contact the Sheriff's Office Tip Line -- by phone at 503-723-4949 or by using the online email form at: https://www.clackamas.us/sheriff/tip
Please reference CCSO Case # 23-011203
[END]
Brian McCall, Public Information Officer
Clackamas County Sheriff's Office
Public Information Unit