The Sheriff's Honor Guard was formed in 1995. The Honor Guard is the formal representative of the Sheriff at variety of functions. The Honor Guard participates at funerals, color (Flag) presentations, ceremonies, graduations and other special events around the Portland Metro Area, the Pacific Northwest, and on occasion, across the country.
The Team
With 8 members, the Honor Guard is made up of full-time employees from all divisions within the Sheriff's Office (Patrol, Support Services and Corrections).
The Crest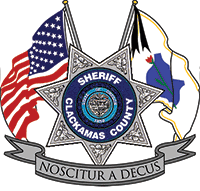 The Honor Guard crest was designed by team members in 2000. The crest consists of the Sheriff's Badge, the American flag and the National Law Enforcement Officer's Memorial flag. The two black streamers on the National Law Enforcement Officer's Memorial flag are in remembrance of the two Honor Guard members lost since inception of the team. The inscription "Noscitur A Decus" means "They are known by their honor."
In Memoriam
Dedicated to the memory of Sheriff's employees killed in the line of duty.
Sheriff John R. Shaver - April 30, 1906
Deputy Jimmy Lee Shoop - November 7, 1981
Deputy William D. Bowman - September 12, 2000
If you have a function and would like to use the services of the Sheriff's Honor Guard, call the Sheriff's Office to check their availability.