The Bubble Book

In this special coloring and activity book, Mik and Nero help responsible adults teach children that each of us has a personal space "bubble" that helps keep us safe. Children learn that their personal space, and their bodies, belong to them—and what they should do if someone violates their safe "bubble."

Safety Street

At a special fair, Mik and Nero teach a young person the basics of bike, pedestrian and road safety!

Mik & Nero Meet the Deputies!

You've seen Deputy Sheriffs in your community! But do you know everything the Sheriff's Office does to protect, serve and educate the public? In this coloring and activity book, K-9 Deputies Mik and Nero give young readers an action-packed tour of the Sheriff's Office -- and show kids how THEY can get involved!

The Safety Street! Coloring & Activity Book

This companion piece to the "Safety Street!" comic features puzzles, mazes and even a board game to reinforce lessons about road, bicycle and pedestrian safety.

Distracted Danger

Charlie thinks it's okay to text and drive. Charlie is about to learn a VERY tough lesson. "Distracted driving" is anything that takes your eyes off the road and your hands off the wheel. It's incredibly dangerous, but Charlie doesn't care -- not even when he's driving his little sister to school. He's about to learn the error of his ways -- but will he learn too late?

The Case of the Strange House

Chloe thinks there may be a drug dealer living across the street! She does the right thing and tells the police -- helping them to clean up her neighborhood! In this coloring and activity book, K-9 Deputies Mik and Nero teach young readers how they can work with police to help keep the streets safe!

Tough Medicine

Carly -- last seen in "Teen Drinking: The Hardest Lesson" -- is still making bad choices. She's been taking and dealing stolen prescription drugs. When Mik and Nero help find those drugs in her school locker, Carly is forced to deal with the consequences of her mistakes. This action-packed comic -- aimed at kids ages 10 and up -- teaches readers about the very real dangers of prescription drugs.

Teen Drinking: The Hardest Lesson

In this dramatic issue of "Mik & Nero," the dogs help deputies respond to a drunk-driving crash. Readers then learn about the bad decisions that led to that crash.
Mik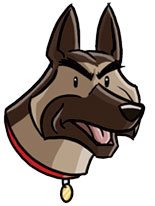 Mik was a Belgian Malanois, born in April 2003. He passed away from a medical complication in 2010. He was raised as a sporting dog in Holland, and was chosen and purchased by the Clackamas County Sheriff's Office in November 2006.
"We can't think of a better way to honor Mik's service than by letting him live on in these comics," said Clackamas County Sheriff Craig Roberts.
From the time he was a puppy, Mik learned about obedience and trained for competition in the KNPV Trials -- the famous Dutch police-dog trials. During those trials, Mik competed against other dogs in obedience, pursuit of suspects, gunfire exercises, and bitework. During the trials, he also swam across streams to engage suspects and found suspects hiding in the woods.
After a couple of years of training, Mik was purchased by Adlerhorst International, and imported to Riverside, CA in the United States to begin his training as a police dog.
Mik was chosen by the Clackamas County Sheriff's Office in November of 2006 and purchased for $9,500. Once at his new home in Oregon City with Deputy Don Boone, Mik attended a 240-hour basic K9 training course in which he learned how to be a police dog.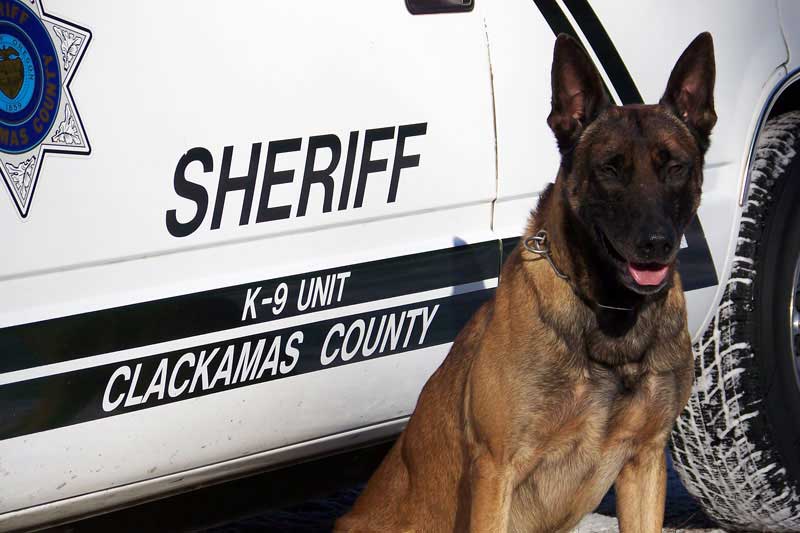 Mik's job at work was to ride in Deputy Boone's patrol car. When a suspect tried to escape or hide from the police, Mik was summoned and used to sniff out the bad guy.
On his days off, Mik liked to lie in the backyard, play with his favorite toy and get pets from Deputy Boone's kids. Mik was very playful and loved attention.
Although he enjoyed his time off, his favorite place was in the back of the patrol car -- rolling around Clackamas County, watching for and barking at bad guys.
Nero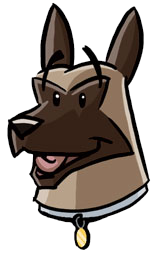 Nero is a three-and-a-half-year-old Shepherd/Malinois mix. He was born in March 2005 and raised in the Czech Republic.
Before Nero made the trip across the world to Clackamas County, he earned a Schutzhund 1 title -- an obedience, tracking, and protection title. The Clackamas County Sheriff's Office purchased Nero from Adlerhorst International in Riverside, CA in November 2006, when the dog was only 18 months old.
Mik and Nero went through the same basic 240-hour K9 training course together in the winter of 2007. After graduation, Nero was assigned to work the swing shift with Deputy Bradley O'Neil. Nero can't wait to go to work each night, and prefers working in the dark.
When Nero is on patrol, he tracks suspects who run from crime scenes and finds articles suspects try to hide while fleeing.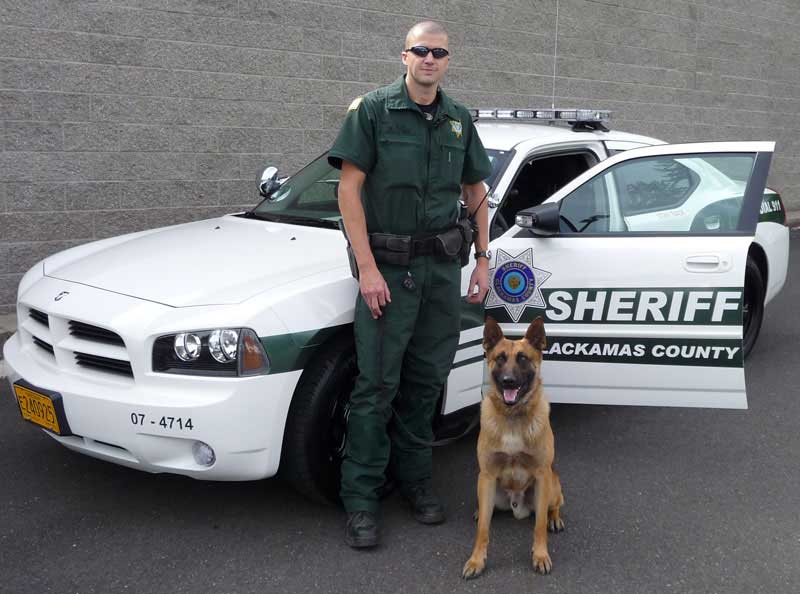 When Nero is relaxing off-duty, he loves to play with a weighted exercise ball in the backyard of his Clackamas home.