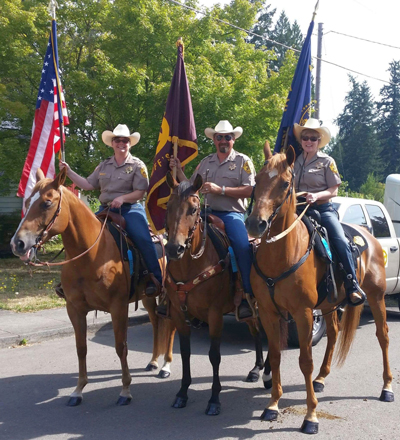 In 1938 some like-minded members of the Lake Oswego Hunt Club formed a western style riding group and were asked the following year by Clackamas County Sheriff Fred Reaksecker to serve as a mounted posse.
Led by Cedric Hollingsworth, a U.S. Cavalry veteran drillmaster, a drill team commenced.
They performed all over the Pacific Northwest and on the popular television show "You Asked For It."
The Clackamas County Sheriff's Posse (CCSP) was kept busy by their sheriff during WWII -- and has remained a popular volunteer organization to this day.
Activities have included a Pony Express Race from Lake Oswego to Timberline Lodge, blood drives, horse shows, and mounted searches.
The Posse has also been involved in the child safety program called "Hug A Tree" and the Cold Weather Survival Conferences.
They are one of the longest participating organizations in the Clackamas County 4-H and FFA Livestock Auction at the Canby Fair.
The horses are still a very popular attraction at Clackamas Town Center every December, where Posse members patrol the parking lots.
The Posse has evolved to the needs of the Sheriff and community over the years. Recently, the Posse teamed up with the Sheriff's Office to respond with deputies to calls of animal neglect and abuse. Called the Posse Equine Advocate Team (PEAT), its members have been trained to assist deputies and help equine owners by giving them information to better care for their animals. This has already proven to be a valuable service to the Sheriff and community members.
Connect with the Clackamas County Sheriff's Posse on Facebook.
Want to join the Posse?
Contact the Posse by email.