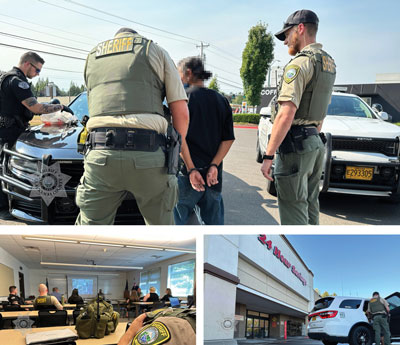 On Wednesday, July 19, 2023, the Clackamas County Sheriff's Office led a retail crime operation at multiple businesses in the area of SE 82nd Avenue and SE Causey Avenue in Happy Valley.
The all-day mission included Clackamas County Sheriff's Office deputies and detectives, as well as officers and detectives from the Milwaukie Police Department. They worked closely with loss prevention officers at participating retailers within Ross Center and Clackamas Square Shopping Center.
The mission resulted in the arrests of 22 people on multiple charges, and deputies and officers were also able to clear 11 arrest warrants. Stolen items ranged from food and clothes to tools and cosmetics. While the mission focused on retailers within the shopping centers, deputies and officers also responded to other shoplifting and theft calls in the area, resulting in more arrests.
The Clackamas County Sheriff's Office conducts these shoplifting details on a regular basis to help deter the continuing issue of retail theft in our communities. Info on our previous retail-theft missions: 
July 19 custodies included:
CCSO Case #s 23-015033 and 23-015035
Sean Denny, age 37
Charge: Theft II
Milwaukie PD Case # 23-005045
Casey Longtree, age 29
Charges: Theft III, Criminal Trespass
CCSO Case # 23-015039
Audrianna Arens, age 34
Charge: Criminal Trespass
CCSO Case # 23-015042
Eric Gmelch, age 39
Charges: Two arrest warrants
CCSO Case # 23-015042
Nichole Christensen, age 37
Charge: Arrest warrant
CCSO Case # 23-015050
Zack Wilson, age 32
Charge: Arrest warrant
CCSO Case # 23-015053
Victor Pacheco, age 29
Charge: Theft III, two arrest warrants
CCSO Case # 23-015055
Donny Calabaza, age 44
Charge: Theft III
CCSO Case # 23-015059
Charles Kane, age 30
Charge: Theft III
CCSO Case # 23-015060
Lisa Hutchinson, age 46
Charge: Theft III
CCSO Case # 23-015061
Analicia Sainz, age 26
Charge: Theft III
CCSO Case # 23-015066
Michael Charles, age 35
Charges: Theft III, two arrest warrants
CCSO Case # 23-015067
Donna Tenbush, age 37
Charge: Theft III
CCSO Case # 23-015067
Nigel Alexander, age 42
Charge: Criminal Mischief III
CCSO Case # 23-015068
Kaleb Tomsha, age 21
Charge: Theft III
CCSO Case # 23-015068
Glen Daniel, age 34
Charge: Theft III
CCSO Case # 23-015072
Najee James, age 36
Charge: Driving While Suspended (Misdemeanor)
CCSO Case # 23-015073
Lonnie Fredrick, age 41
Charges: Theft III, Criminal Trespass I
CCSO Case # 23-015075
Dominicko Goodwin, age 28
Charges: Theft III
CCSO Case # 23-015078
Darryl Easterly, age 43
Charges: Theft II
CCSO Case # 23-015079
Michelle Heinemann, age 58
Charges: Theft II
CCSO Case # 23-015079
Thadra Karr, age 52
Charges: Theft II
[END]
Sgt. Ross Clemson
Clackamas County Sheriff's Office
Communications Unit 
SIGN UP for ClackCo Sheriff News Releases in your inbox: https://www.clackamas.us/sheriff/constantcontact.html