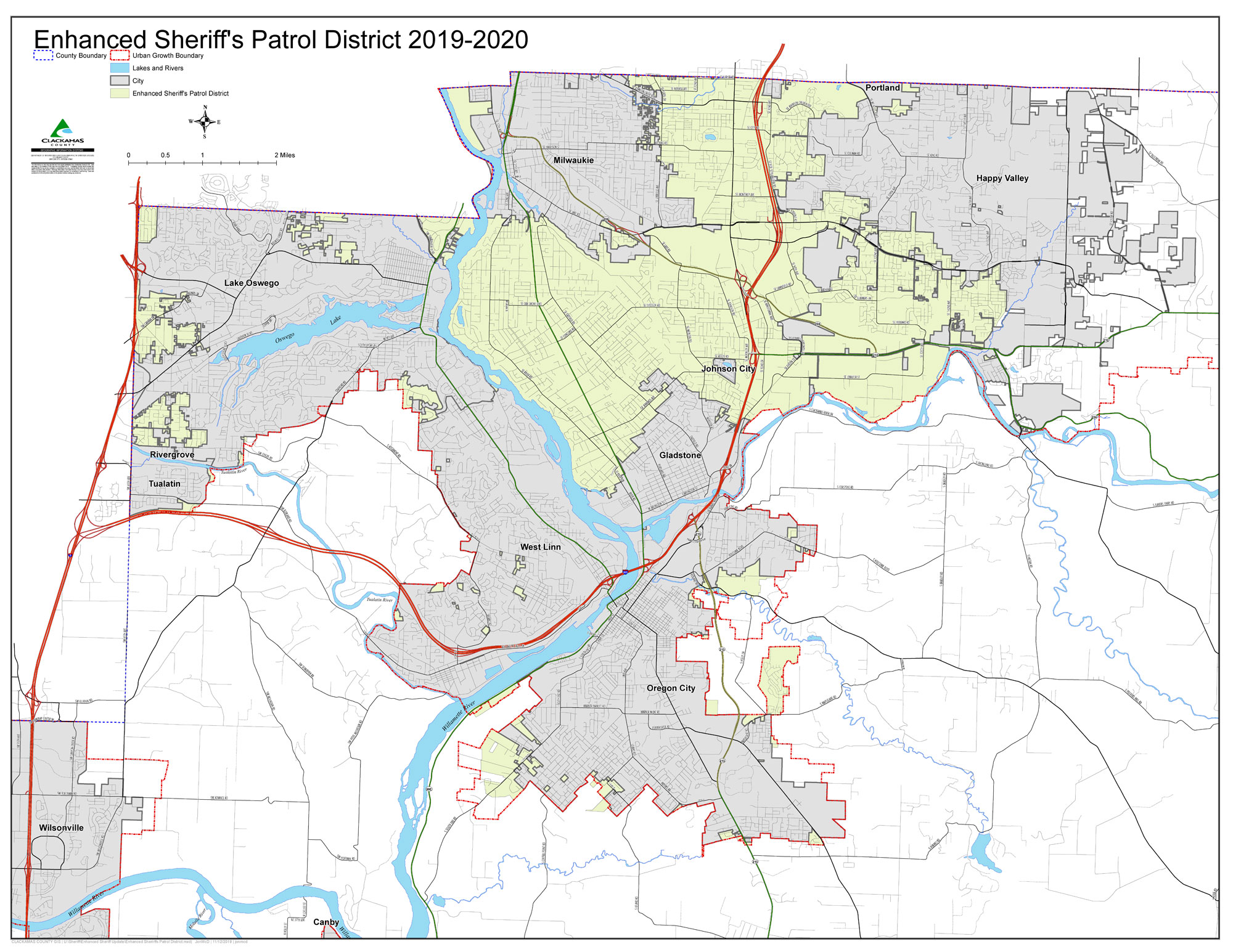 The Clackamas County Enhanced Law Enforcement District (ELED) was approved by voters in Nov. 1994. The ELED provides an improved level of patrol services in the unincorporated area of Clackamas County within the Metropolitan Urban Growth boundary.
The District is large and segmented, encompassing diverse communities, each presenting its own particular needs, challenges and opportunities.
Cost of the ELED:
The permanent tax rate of $0.7198 per thousand assessed value is used to assess taxes on properties lying within District boundaries.
Projected tax revenue for FY2019-20 is $7,275,046. This represents a $275,845 increase (or 3.94%) from the prior fiscal year's budgeted revenue of $6,999,201. Along with the $895,234 in projected beginning fund balance, the total proposed FY 2019-20 ELED budget is $8,290,780.
Major ELED budget items:
$6,171,517 to fund personnel costs for 36 positions: 1 Recruit Deputy, 28 Deputies, 6 Sergeants and 1 Lieutenant. This figure (a decrease of .09% from FY 2018-19) includes salary, fringe benefits, overtime, holiday pay and worker's compensation costs.
$644,097 for Professional Services, which includes a 4.65% increase in cost for dispatching services provided by CCOM.
$178,870 in building note principal and interest for the North Station building. This is a reduction of 0.01% from the prior fiscal year's $180,540.
UPCOMING ELED ADVISORY COMMITTEE MEETING SCHEDULE: 
Sept. 16, 2021, 6:30 p.m. [ agenda ]
Nov. 18, 2021, 6:30 p.m. 
Meetings occur at 6:30 p.m. at 9101 SE Sunnybrook Blvd., Clackamas, OR 97015 [ map ], unless otherwise noted above due to pandemic restrictions.
The above address is a secure building. Please check in at the main lobby a few minutes prior to the meeting start time if you would like to attend a meeting.
 
For additional information or questions and concerns, please contact Sarah Comstock at 503-785-5020.
ELED Advisory Committee Meeting Minutes (PDFs):
Additional Information & Resources: